A month ago, on March 25, Floyd Cardoz, chef extraordinaire, passed into the ages, a victim of coronavirus.
Ranjita Ganesan remembers the culinary genius.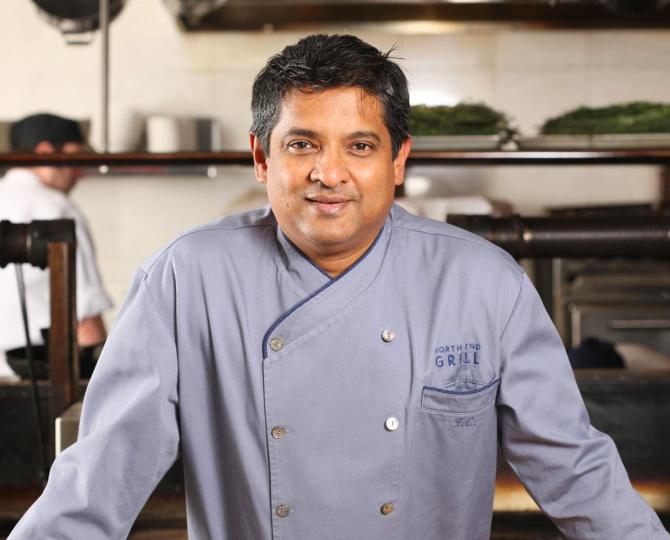 In the tiny universe of top chefs, where arrogance and excessive pride can often seem like necessary conditions, Floyd Cardoz stood out for exuding warmth and pleasantness.
On March 25, the chef partner of Mumbai's Bombay Canteen, who previously led the kitchen in the now-defunct New York establishment Tabla, died at 59, while being treated for coronavirus complications in New Jersey.
He is survived by his mother Beryl, wife Barkha and sons Justin and Peter.
Fellow celebrity chef Manu Chandra had his first taste of Cardoz's affability back in 2001 when he was still a culinary student in New York and Cardoz's Tabla was the hot new restaurant in a famously challenging market.
While an American friend had been eager to apply there, young Chandra declared he did not want to make Indian food.
"Floyd sort of laughed and gently explained how his French training and techniques were being applied to Indian flavours," recalls the founder of The Fatty Bao and Monkey Bar.
"That made me understand what contemporary Indian food may look like in the future." Chandra left that meeting inspired about possibilities.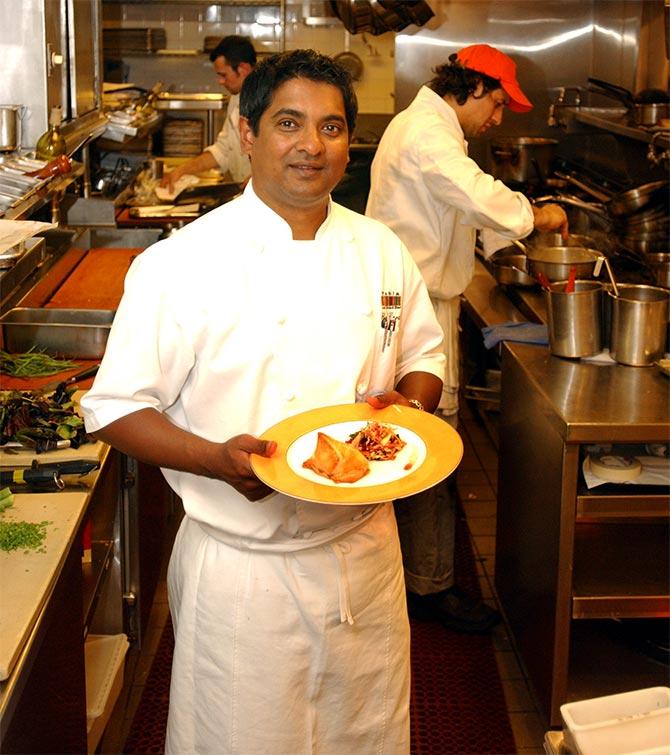 The Swiss-educated Cardoz opened Tabla in 1998 during a 17-year collaboration with Danny Meyer of the Union Square Hospitality Group.
The restaurant shut in 2010 owing to the 2008 financial crisis and for years afterwards emails would pop up asking him if a reopening was a possibility.
Some patrons still attempt to recreate the menu's poha-crisped fish and watermelon curry in their homes.
Cardoz and Meyer also launched the North End Grill in 2012 in New York, which earned a name for its shellfish pie.
Their first restaurant introduced Americans to regional Indian food beyond the cheap bog-standard curry-house fare, and their second elevated American food with a deft use of spices.
He also became a known face after winning a season of the reality show Top Chef Masters by reinventing the modest upma using mushrooms, kokum, coconut milk and chicken stock.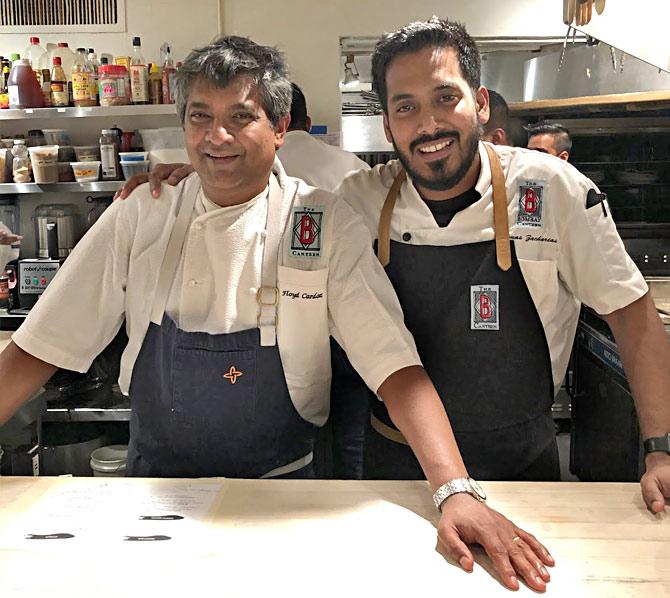 Before those exploits, Cardoz had sharpened his kitchen instincts at the four-star Lespinasse at New York's St Regis hotel, led by his mentor Gray Kunz.
The talents that came out of that French fine dining restaurant led to ground-breaking things.
Just like Kunz, who also tragically passed away from a stroke a few weeks ago, Cardoz went on to be a mentor to another generation of chefs including Dan Kluger and Eric Gabrynowicz in New York, and later Thomas Zacharias and Hussain Shahzad in Mumbai.
He knew how to push the team hard and still remain approachable. A mix of stubborn and soft.
In an Instagram post, Kluger recounted how he had once accidentally tossed out all the devilled eggs minutes before service at an event.
A rookie chef at the time, he remembered quaking in his boots at the possible consequences. But Cardoz simply ran out to get a pot and helped Kluger make another batch.
He was also the sort of boss who would throw barbecue parties at his home -- ribs with Boodie's ketchup and tamarind margaritas -- for his chefs.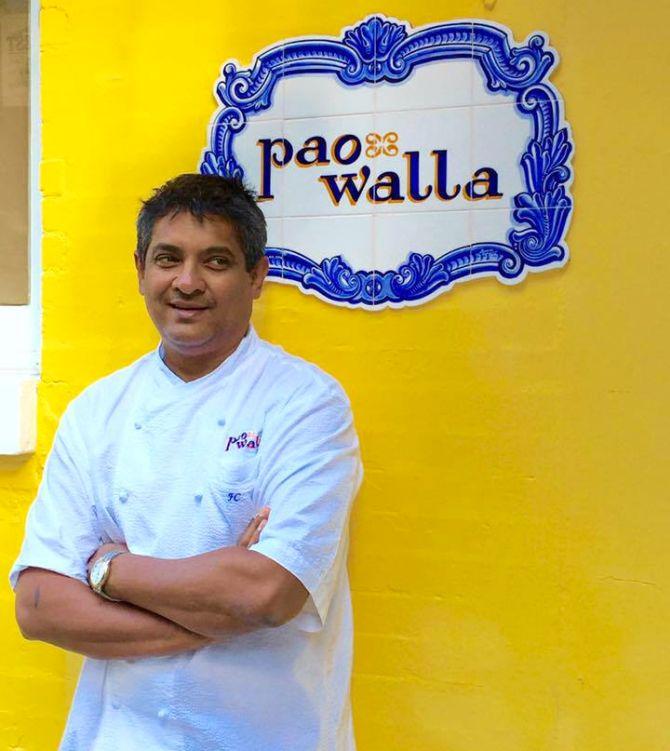 In 2014, the top chef quit the North End Grill to focus on his roots and work on a cookbook.
In that book, released as Flavorwalla in 2016, he said: 'My food (like my life) is a fusion of many different cuisines and cultures, with subtle Indian accents.'
In a tweet, fellow TV personality and Momofuku founder Dave Chang, who had on many an evening served spicy tripe at his noodle bar to Cardoz and his sons, called him 'easily one of the most beloved people in the business.'
Despite having introduced so many new flavours and techniques, Chang wrote, he was 'criminally underappreciated'.
Then, India discovered him. Entrepreneur Sameer Seth, who had worked at the North End Grill, invited the chef and, together with Yash Bhanage, his friend from university, formed Hunger Inc Hospitality.
They raised money to open the Bombay Canteen in Mumbai's Lower Parel in 2015.
At the restaurant, the chef made it his business to champion the cause of neglected vegetables, legumes and meats from various regions of India.
He pushed for using local ingredients -- picking lauki over zucchini, Mandeli fish rather than Basa -- and made humble fare like kuttu roti, thepla or eggs Kejriwal seem exceptional.
Food writer Vir Sanghvi says it was the most influential restaurant to open in the country in a decade. "This was very high quality, adventurous cuisine at non five-star prices."
A far cry from the rest of the scene in which restaurants palmed bad food off the back of alcohol. "Many restaurants today wouldn't be what they are if not for him," says Sanghvi.
When we met for an interview a few months after the Bombay Canteen opened, I asked Cardoz about his earliest memories of food.
He described his great grandmother's house in Goa, where he would sneak around the storeroom to nick bits of tamarind or pork sausages that were steeping in the barrel, and promptly be thrown out for being a pesky brat.
At the family home in Mumbai where he was raised, a young Cardoz would snag shrimp that the cook had fried for lunch. By age 10, he was making everyone Sunday breakfast -- omelettes.
Those simple childhood tastes would be celebrated in O Pedro, a Goan-Portuguese restaurant Cardoz and his partners opened in Bandra, north west Mumbai, in 2017.
He revived the Goan village-style sourdough poi and introduced the Portuguese custard pie, pasteis de nata, into the menu here.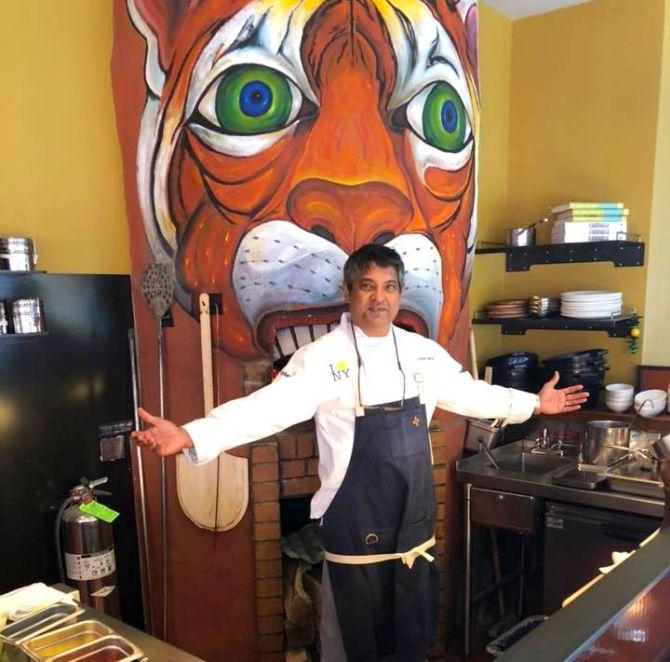 At both his restaurants, the vibe was fuss-free. "His food always had a sense of joy and fun and acceptance," Sanghvi observes.
Usually stopping for a chat with regulars, Cardoz was so soft-spoken that at times even the music at his restaurant, which is played at consciously restrained levels, drowned him out.
When Manish Mehrotra, who had befriended the chef close to the opening of Bombay Canteen, was preparing to launch his Indian Accent in New York, Cardoz took him around the local markets and helped him find suppliers.
His culinary legacy had both hiccups and fresh starts. His 2016 venture in New York's Soho district, Paowalla, which became the Bombay Bread Bar, shuttered last July.
Eight months later, just this March, he was in Mumbai to open a third venture in the city, a desserts retailer called Bombay Sweet Shop.
"Hats off to Floyd for being someone who always stayed relevant among the community of chefs," notes Chandra.
As tributes poured in from various world chefs, Dave Chang noted in his series of tweets, 'As great a chef as Floyd was, he was a better person and amazing Dad.'