In a career spanning nearly three decades, Floyd Cardoz has always drawn on food memories to create a new culinary language.
Avantika Bhuyan speaks to the Top Chef about what inspires his recipes.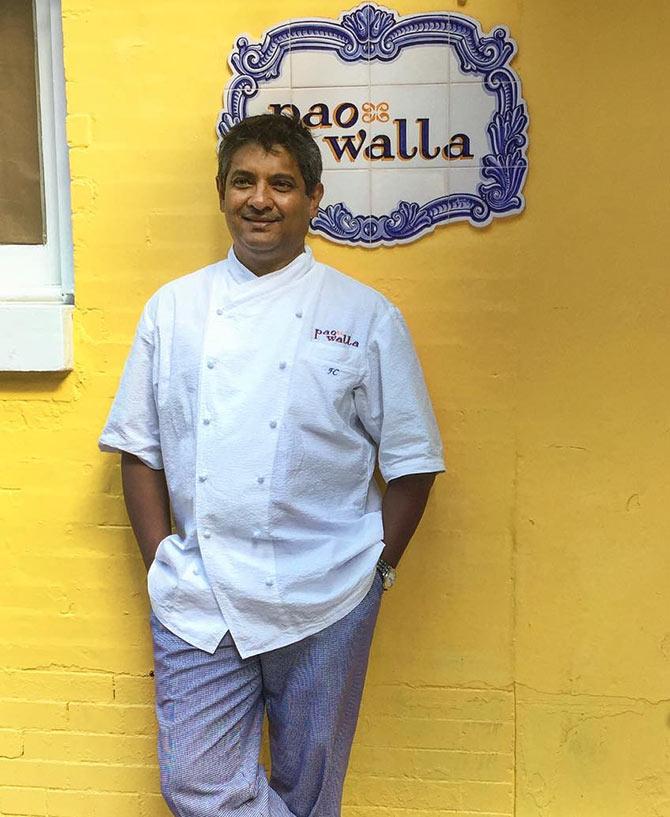 IMAGE: Chef Floyd Cardoz. Photographs: Kind Courtesy Chef Floyd Cardoz and Paowalla NYC/Instagram
Chef Floyd Cardoz's earliest memories of a paowalla (people who bake and sell bread and typically ride around the neighbourhood on their bicycles to deliver bread) date back to the vacations spent at his grandparents' home in Goa.
"The morning sounds used to be interspersed with the horns of the paowalla who used to come to the door with freshly baked bread," he reminisces.
It is to celebrate such warm, personal stories that he recently opened Paowalla in New York's chic SoHo neighbourhood.
The modern Indian restaurant -- the architectural style of which reinterprets old materials, typical to Goan homes, with new design aspects -- is reflective of Cardoz's intrinsic food philosophy -- re-imagining classic Indian cuisine.
An ode to diverse baked goods native to the subcontinent, the 72-seater features a bread bar that dishes out soft tingmos, mini vada pav sandwiches, pecan chai sticky buns, bacon naans, cheddar cheese kulchas and more.
IMAGE: Bombay Vada Pav, left, and house-made tingmos, right.
It carries forth the vision of Bombay Canteen, ensconced within Kamala Mills, Mumbai, of which Cardoz is the culinary director and partner.
In the kitchens of this chic Mumbai eatery, seasonal, regional ingredients are given a refreshingly new shape and style in progressive dishes such as Seafood Bhel, Shrimp Balchao Stuffed Calamari, Milk-Braised Raan and Horlicks and Badam Kulfi.
At Paowalla, he seeks to do the same, but by adding a playful twist.
Here, Cardoz works with local American ingredients to bring to life nuanced Indian flavours. "For instance, in Bengal, there's a tradition of frying pumpkin flowers. So, I use that to make fritters of squash blossoms, which are a huge favourite in the US," he says.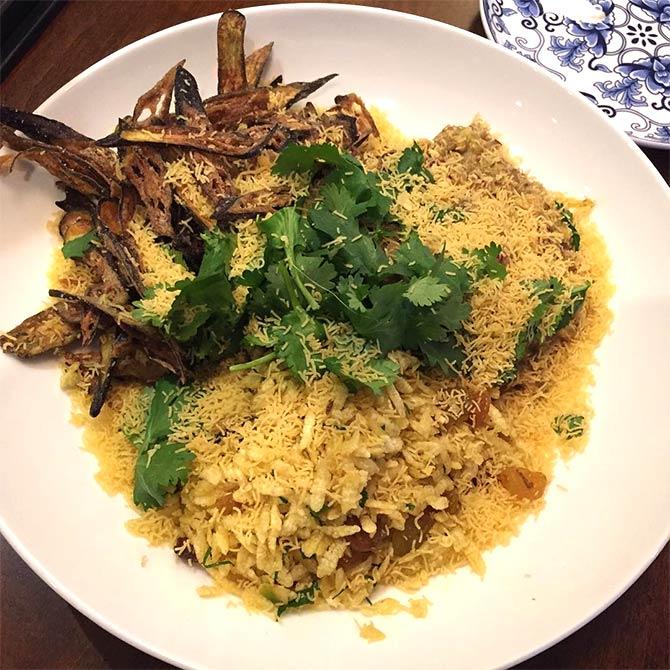 IMAGE: Tempted to dig into this plate of crispy Okra Bhel Puri?
In a career spanning nearly three decades, Cardoz has always drawn on food memories to create a new culinary language.
The Sol Kadi, which is a staple of most homes located on the western coast, is given a modern twist when combined with raw fish, almost like a ceviche.
Then there is the Goan Choriz Biryani, inspired by a unique breakfast dish that his grandmother used to make using Goan sausage, sauce and egg.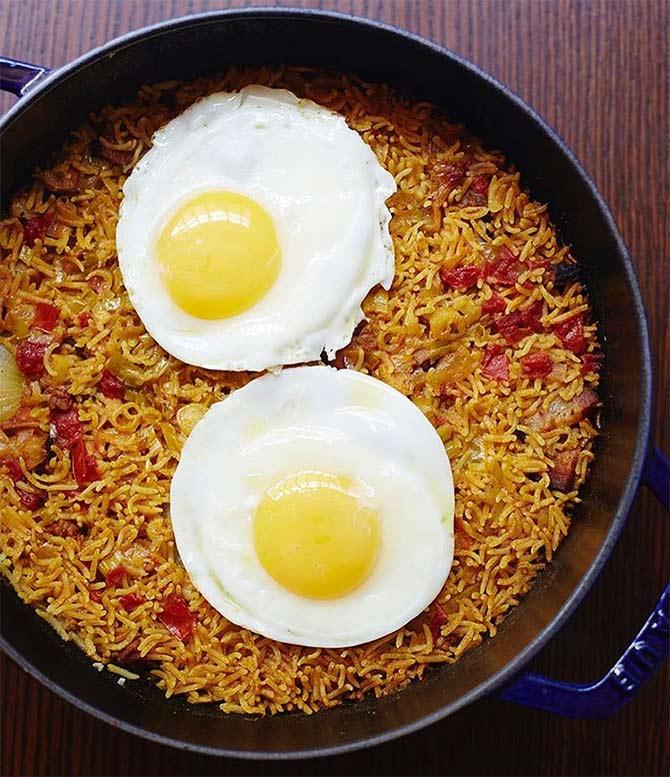 IMAGE: Goan Choriz and Bacon Biryani, the ultimate treat!
"Indian food needs to keep going forward. Back in 1998, when Danny Meyer and I started Tabla in New York, the idea was to prove that Indian food is not about Chicken Tikka Masala. There was a need to change the perception of Indian restaurants as mere curry houses. And that's what I seek to do now also -- to look at things differently."
So, you will see him making a dosa with a fried egg on top, served with garlic chutney, avocado and Refried Rajma Chilaquiles, or a Ghee Roast Benedict with Curry Leaf hollandaise.
"I also use dosa batter to make a waffle. People know these ingredients. Let's see what we can do differently with them," says Cardoz.
IMAGE: A whole roast baby goat at Paowalla.
Kashmiri Milk-braised Raan
Ingredients
Leg of lamb (1.5 to 2 kg)
4 onions (chopped)
8 cloves of garlic (smashed)
2 tbsp ground ginger
2 l milk
Fresh green chili split
1 tbsp Kashmiri chili seeds (finely ground)
4 tbsp coriander powder
1 tbsp black pepper (finely ground)
12 green cardamoms (roughly pounded)
8 black cardamom
4 cloves
2 cinnamon sticks
½ inch piece dry ginger (finely pounded)
4 bay leaves
Kosher salt to taste
Method
Trim the excess fat from the lamb leg and season it generously with salt. Let it stand for 45 minutes.
Tie the cardamom, cinnamon, clove and bay leaf in cheesecloth.
Combine all the other ingredients in a large pot and add the lamb.
Bring to a boil, cover with parchment and simmer until tender.
It should take about three to four hours.
Switch off the heat and take the lamb leg out of the broth.
Remove the cheesecloth with the spices and blend the liquid in a food processor or blender.
Pour this liquid back into the pot with the lamb leg.
Allow the lamb and the liquid to cool, preferably overnight.
When ready to serve, reheat the lamb leg with the liquid, covered in a large pot on the stove or in a deep baking dish in the oven.
Serve with rice, fried onions, boiled eggs and toasted almonds.
*****
Chargrilled Chilli Calamari
Ingredients
½ kg squid body (tentacles cleaned)
For the squid spice mix
4 tsp cumin
4 tsp coriander
4 tsp yellow mustard seeds
8 Kashmiri chillies
¼ tsp turmeric
Lime juice to taste
4 tbsp sliced pickled onions
For pickled onions
500 gm finely sliced onions
250 ml white wine vinegar
100 ml water
100 gm honey
1 tbsp whole black peppercorns
4 cloves of garlic (smashed)
1 dry red chilli
1 cinnamon stick
2 star anise
2 bay leaves
½ tbsp salt
Method
Grind the spices. Clean the squid and make score marks with a knife.
Marinate the squid body and tentacles.
Sprinkle salt and oil before grilling.
Heat up the charcoal grill of the pan on high heat.
Place the calamari on the grill and cook for about a minute on one side.
Turn the calamari over and cook on the other side for about another minute, till it is cooked through and tender, but not overcooked.
Remove from the grill, cut it into smaller pieces and transfer to a plate.
Garnish with sliced pickled onions.
For pickled onions
In a saucepan, put water, vinegar and honey.
Put everything, except for onions, into a sachet and add to the liquid. Bring to a boil.
Add the sliced onions. Simmer for five minutes. Allow to steep, while it cools.