Aseem Chhabra remembers Master Chef Floyd Cardoz who died of coronavirus in New York on Wednesday.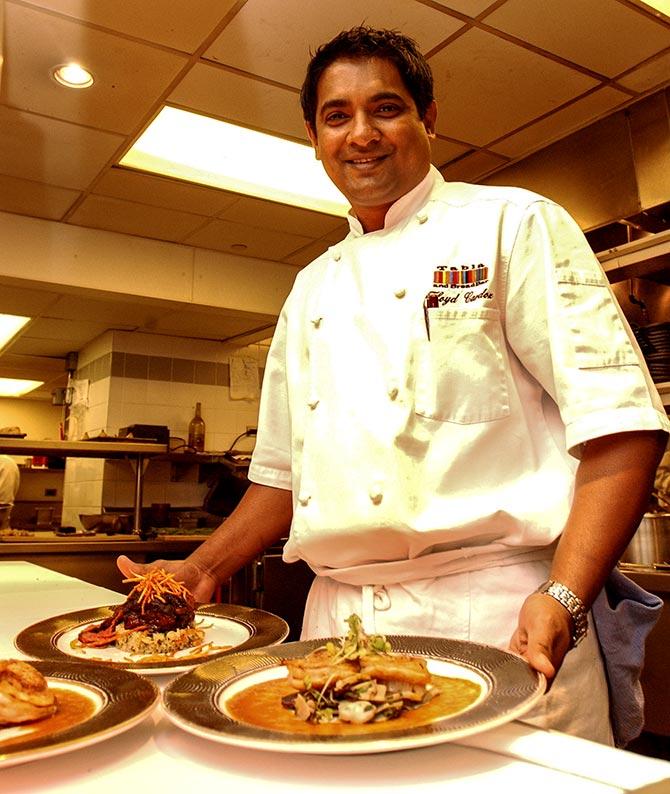 It was early January 1998. One evening I went to a new Indian restaurant that had just opened in the Met Life Building in Manhattan's Madison Avenue Park area. The restaurant was started by the well-known restaurateur Danny Meyer, who also owned Union Square Café and Gramercy Tavern (and now the world famous Shake Shack).
The restaurant was called Tabla. I remember a few things about that night. It was very cold. I arrived a little early and waited for my then wife, her parents and my then 6 1/2 year-old son. As I waited, Diane Sawyer, the ABC News anchor and her late film-maker husband Mike Nichols (The Graduate) walked in. I said to myself if Diane Sawyer and Mike Nichols were there then it must be a good place to eat.
While we were eating, the restaurant manager brought the chef to our table. He was a young, good looking, polite Indian man called Floyd Cardoz. I later learned Floyd had worked in Europe and was earlier trained at the Taj Mahal Hotel in Mumbai. I also remember we got the complimentary desserts that night.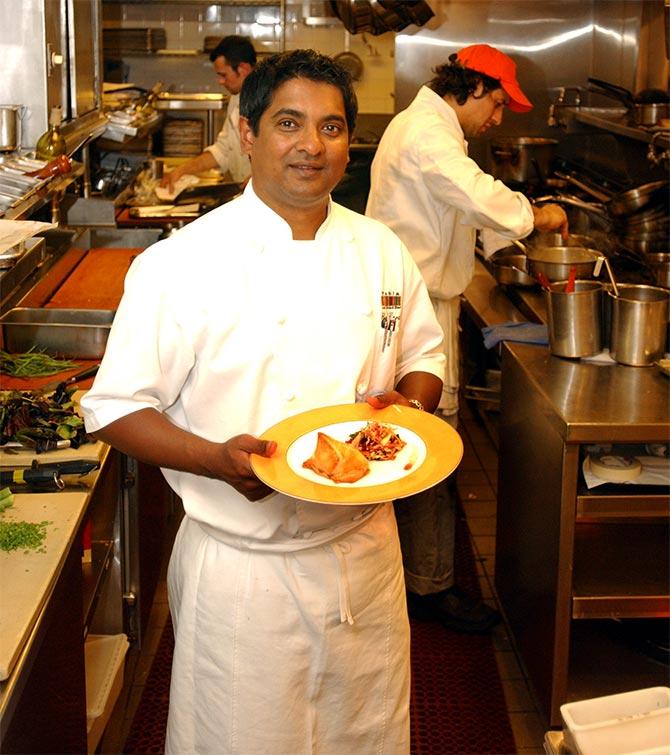 Floyd was a revolutionary chef who changed what New Yorkers perceived of Indian food. He introduced recipes from different parts of India and gave them innovative twists.
In the 1960s Madhur Jaffrey became a pioneer in walking Americans and British folks through the intricacies of Indian food. Floyd's contribution was no less than that of Madhur.
His death is a terrible loss to the desi community in New York, especially those of us who like to explore Indian arts, culture, films and foods with the rests of New Yorkers.
Tabla had two levels -- the downstairs relatively lower priced a la carte eatery called The Bread Bar and the more exclusive prefix section upstairs. It was expense to eat at Tabla, but I always had a good time there with friends, family.
I once had a meal there with Madhur Jaffrey, author Bapsi Sidhwa and Aroon Shivdasani, founder of the Indo-American Arts Council. And the restaurant was always packed, with an electrifying energy.
My most favorite thing on the Tabla menu was the tamarind margarita. I had never had such a delicious cocktail before in my life. It was a perfect blend -- not too strong or sour, and well balanced with the taste of alcohol. A perfect concoction designed by Floyd and his staff.
I would order one (maybe more) every time I would go eat there. Sometimes in the summer I would sit it the late afternoon in the restaurant's porch with friends, overlooking the Madison Avenue Park.
And Floyd would send us complimentary drinks. It wasn't because I was a journalist. But it was because we were regulars at Tabla, he recognized us and appreciated our patronage.
There are other items on the Tabla menu I remember rather well -- the tandoori black pepper prawns, crab cakes with Goan guacamole, stuffed naans with different kinds of chutneys including one with tomatoes and kalonji. And I loved the Tahitian vanilla bean kulfi.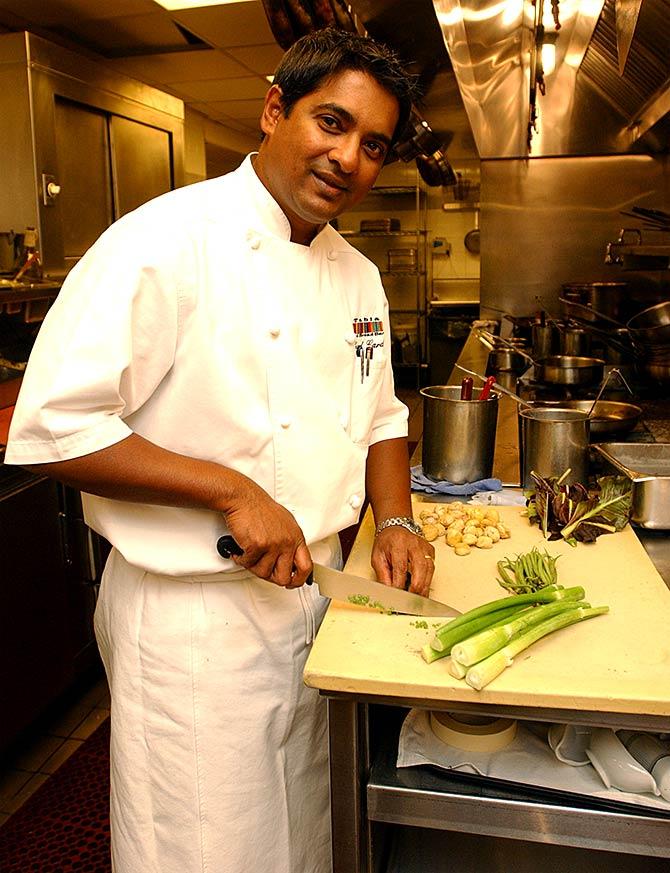 Every visit to the restaurant and Floyd would stop by our table to say hello. He always had that lovely child-like smile on his face. Padma Lakshmi in her tweet yesterday called it 'an impish smile'.
Then in December 2010 we learned that Tabla was going to close. Even though the restaurant was always packed, Danny Meyer had been losing money since he opened the eatery in 1998.
I went to Tabla one last time in its final week of existence with a friend. We managed to get a table although the restaurant was supposed to be booked for the whole week. I remember my friend Sree Sreenivasan was eating at a large table with parents and family.
Floyd stopped by every table and thanked the guests for their last visit. And I remember telling him that I will miss the place. His responded by saying "I will also miss it. It has been my life for 12 years."
In October 2012 I was stranded in Tokyo because Hurricane Sandy had shut down New York City and its airports. Quite by chance I met a Brooklyn native in my hotel lobby. He had worked as a manager at Tabla. He was impressed that I remembered the restaurant's menu rather well.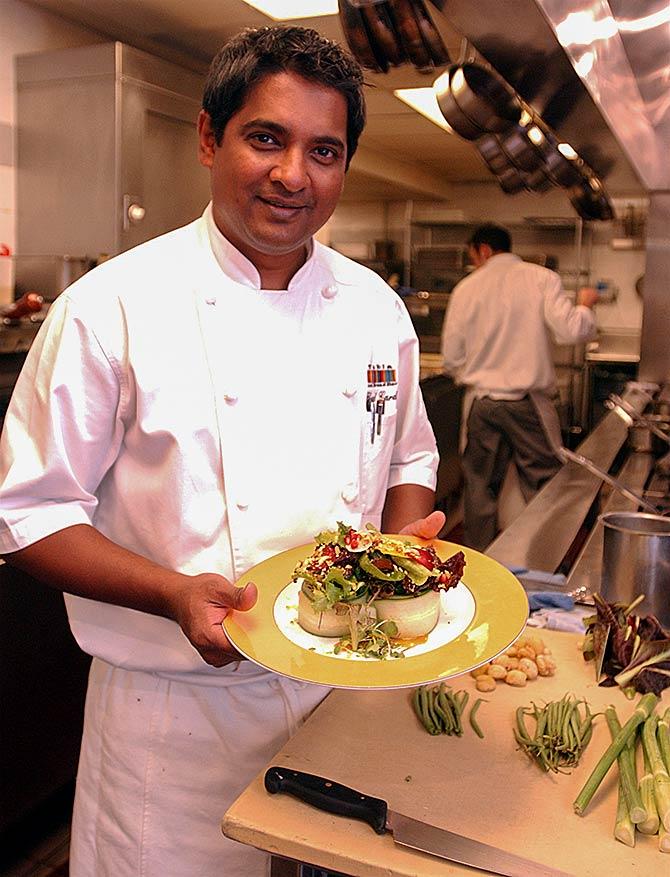 In August 2013 my friend S Mitra Kalita invited me as her guest to Floyd's new restaurant -- North End Grill located in Battery Park City. That evening Floyd hosted a Summer Harvest dinner for a small group of journalists. We were seated in a private dining area and Floyd described every dish that was being served.
Later after the wonderful meal, Floyd took us by the elevator to the roof of the building overlooking the Hudson river and the Statue of Liberty. And he showed us his organic vegetable garden. North End Grill did not source vegetables from an outside vendor. The eatery grew its own vegetables right on the tip of Manhattan.
In the summer of 2014 I interviewed the Swedish film-maker Lasse Hallstrom for his film The Hundred-Foot Journey in which Om Puri and his son played by Manish Dayal open an Indian restaurant in France and manage to win a Michelin star.
Lasse told me that the Indian dishes they prepared for the film were tasty but did not look visually appealing. And so the film's producers -- Steven Spielberg and Oprah Winfrey -- brought Floyd on board to cook food for the film.
If you watch the film now, remember all the Indian food you see in it was prepared by Floyd.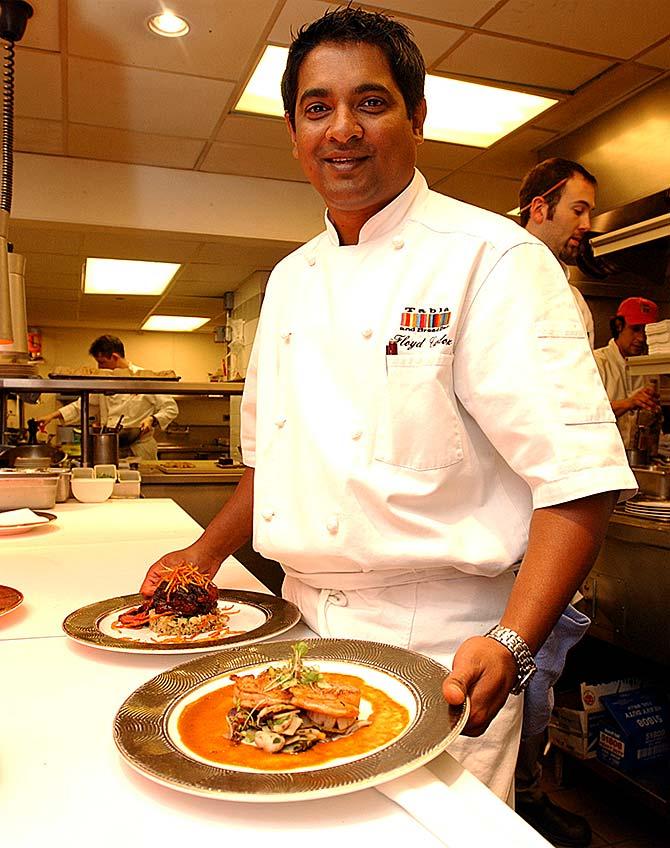 I saw Floyd, perhaps for the last time, at his new restaurant, Paowalla located on Spring Street in SoHo. I was there in its opening weekend with two friends visiting from Singapore. I remember not being too impressed with the food and the drinks. Plus it was very expensive. But despite the fact that he was very busy Floyd came to our table to say hello.
My last contact with Floyd was in 2018. I was in Mumbai and went with some friends to Floyd's restaurant O Pedro. It was a terrific meal. Later I tweeted some pictures of what I ate and thanked Floyd for the meal. He responded to my tweet by writing 'Happy guests = happy chefs'.
I have eaten at O Pedro a couple of times and I also love Floyd's Bombay Canteen, its space, the energy and, of course, one of the best prawn dishes I have ever had -- cooked in butter, garlic with a generous helping of black pepper.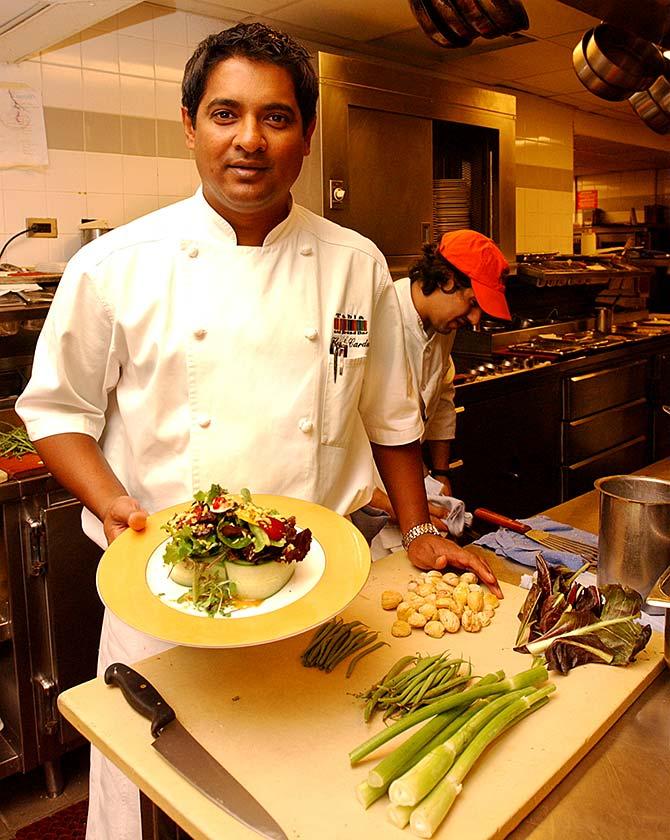 Floyd's death was so sudden. Losing him really puts a different perspective on the coronavirus pandemic. So far over 21,000 worldwide deaths related to the virus have been reported. I know Floyd will become just another number, a statistic.
But he is the first person I personally knew who has died after contracting the virus. And it sounds very scary.
But right now I am missing Floyd's presence, especially at Tabla. And I miss his tamarind margaritas.
---
Aseem Chhabra -- author of Irrfan Khan: The Man, The Dreamer, The Star, Priyanka Chopra: The Incredible Story Of A Global Bollywood Star and Shashi Kapoor: The Householder, The Star -- divides his time between New York and Noida.