Hidma Madavi, who had a Rs 12 lakh reward on his head, was arrested without a single bullet being fired.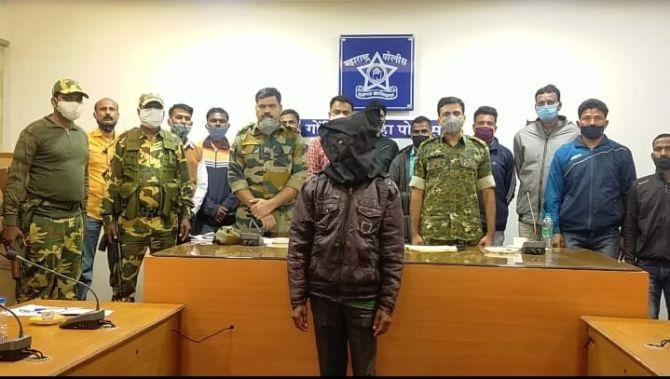 Six C-60 commandos from Gondia district in Maharashtra led by Sub-Inspector Abhaysingh Shinde, assisted by the Sukma police and Central Reserve Police Force commandos. arrested Hidma Madavi, a Naxalite 'commander' with a Rs 12 lakh reward on his head, from a remote village in Chhattisgarh's Sukma district where he has been in hiding for ten years.
A member of the Devri dalam (an armed squad in Naxalite military hierarchy), a remote village in Maharashtra's Gondia, Madavi aka Ramesh was active between 2002 and 2010 and was wanted in several serious cases ranging from destruction of public property, murder of police informers and injuring several policemen in different ambushes in the district where Naxalites hold sway.
Based on intelligence inputs from the Gondia police, a Sukma police team kept a close watch on Madavi for several days before the joint operation was launched on the village where he has lived since 2010.
"We had received information that he was staying in Sukma district in Chhattisgarh," Additional Superintendent of Police, Gondia, Atul Vikas Kulkarni, who planned the operation in coordination with his counterparts in Sukma, tells Prasanna D Zore/Rediff.com.
"He was residing in this village and we got information from local informers about his whereabouts. We also got additional information from the Sukma police after we requested them to confirm his presence," adds Kulkarni, a 2015 Indian Police Service officer, over the phone from Gondia.
"After they verified our inputs we sent a team from Maharashtra and conducted a joint operation to nab him from the village in Sukma."
Kulkarni did not divulge the name of the village from where the outlaw was arrested early on the morning of November 10 in insurgency-hit Sukma for operational reasons.
Madavi, who is wanted by the Maharashtra police in 13 different cases, lived for almost ten years in the village where he was engaged in farming. He lived a normal life without the villagers suspecting his background.
"We sent a small team of seven people including six C-60 commandos from the Devri police station led by Sub Inspector Abhaysingh Shinde to Sukma. And since the local support from the CRPF and Sukma police was very good we nabbed him without resistance," says Kulkarni.
"The CRPF, since they know the territory quite well, helped in bringing about Hidma's arrest," adds Kulkarni, who has a degree in computer science from the National Institute of Engineering, Mysore.
"We caught him by surprise. The joint operation team cordoned off his village and since he had been staying in that village for ten years and since nobody had actually questioned him in these ten years he was surprised by the raid," reveals the police officer.
"All these years of living unnoticed and unquestioned had made him very complacent. He could not believe that we were in the village to arrest him. He was doing farming and nobody ever asked him about his background," adds Kulkarni.
"The locals had no clue about Hidma's background since he had committed criminal activities 500 kilometres away (the distance between Gondia in Maharshtra and Sukma in Chhattisgarh)," says Kulkarni, who trained as an urban planner at the Tata Institute of Social Sciences, Mumbai.
This Hidma Madavi is the namesake of the most wanted Naxal commander Hidma Madavi, the alleged mastermind behind the massacre of 25 CRPF jawans in an ambush at Burkapal village in Sukma.
"This Hidma is different from the one involved in the Burkapal killing of 25 CRPF jawans in April 2017," says Sukma Superintendent of Police K L Dhruw.
"This most wanted Hidma in Chhattisgarh works at the level of battalion commander in the Naxal hierarchy. Hidma Madavi is quite a common name among tribals in the Bastar region," explains Dhruw, a 2008 batch IPS officer.
"This is a different guy. He (the Hidma Madavi arrested in the joint operation) is just a namesake and belongs to Sukma district in Chhattisgarh," adds Kulkarni.
Hidma Madavi was produced before a first class judicial magistrate in Gondia and sent to five days of police custody. His interrogation is helping the Maharashtra police gather more information about Naxal activities in Maharashtra and Chhattisgarh.
"Hidma, during his interrogation, accepted all the crimes in which he was involved in Devri, Chichgad and Duggipaar (rthe police station jurisdictions in Gondia). He has accepted killing civilians who were police informers," says Kulkarni.
"He was involved in 13 different cases of murder, attempt to murder, destroying public property under these three police stations in Gondia district," he adds.
"A police team was on an area domination exercise inside the jungles (in Gondia) in 2008 when the Devri dalam led by Hidma and his men led an ambush and fired upon several policemen, injuring them seriously," Kulkarni says about Section 307 of the Indian Police Code under which Hidma was arrested.
"We have arrested him under Section 307 in the 2008 police ambush case and Section 302 for the murder of police informers and civilians," Kulkarni says.
"He is telling us new stories and new cases. He was an active commander in the Devri dalam. He has confessed to attacks on policemen in Gadchiroli (another Naxalite affected district in Maharashtra), but he says he does not remember about his Naxal activities in Chhattisgarh," adds Kulkarni.
"He confessed that he was a Naxal when the Sukma police went to his village for his arrest. All the police in the bordering districts in Naxal-dominated areas have information about the most wanted Naxals with them," says Sukma SP Dhruw.
"This Hidma Madavi has no criminal record with the Sukma police and he was not wanted in any cases here," says Dhruv explaining why the Naxalite was not arrested earlier by the Chhattisgarh police.