CRPF troopers confront loneliness, poor network connectivity, poor work conditions, dismal work-life balance, and immense psychological stress.
Rediff.com's Prasanna D Zore and Uttam Ghosh report on the challenges CRPF jawans face while battling the Maoists.
Photographs: Uttam Ghosh. Video: Prasanna D Zore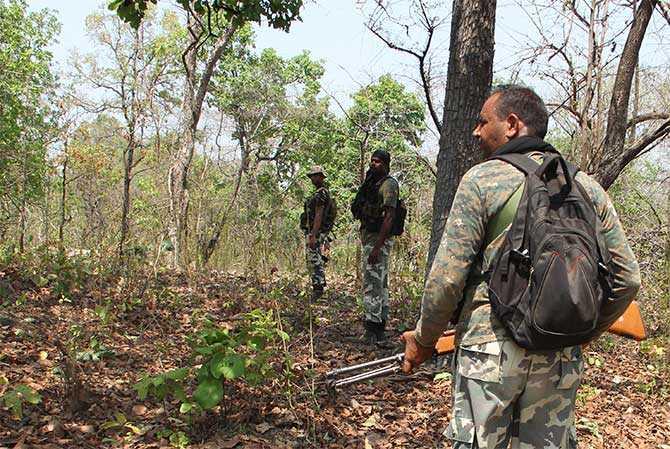 IMAGE: A CRPF party moves into the jungles between Dornapal and Jagargonda on an area domination exercise.
25 jawans of the CRPF's 74th battalion were killed by Maoists in an ambush near Burkapal village on April 24.
Imagine this:
You are a CRPF jawan deployed for patrolling in a densely Maoist-affected area. As part of your duty, your job is to go into the forests and dominate the area.
While doing so, you stand for hours with nobody to talk to; staring at trees that you feel could have Maoists atop, around, behind them.
After a few hours, you realise there is nobody out there, just you and your fellow jawans further away from you.
What do you do at such times?
Talk to the trees around you?
Talk to your colleagues?
Or talk to yourself?
Of course, the best way not to draw attention of your adversary (real or perceived) is to stand silently.
Then your thoughts begin rolling... you begin thinking aloud...
'Will I get leave to go home and meet my family? It's months since I saw my loved ones.'
'Why was my leave cancelled?'
'Why can't I get leave when I most need it?'
'Forget leave, why can't I even get to talk to my family on the phone?'
'Why is the network here so poor that I have to wander aimlessly in search of those three vertical lines on my phone?'
'Is there a Maoist hiding there atop that tree? Is he waiting to hit me with an arrow or a bullet?'
'How will my family react if I die now? How will they cope with life?'
All your thoughts are broken by the voice of your party leader. He orders the team to get ready to leave for their camp. There is slight relief. But only that.
Once inside the camp, which again is in the middle of a forest, you are faced with problems of sanitation, potable water, mosquitoes waiting to sting you with malaria-causing viruses and, of course, the chain of thoughts you had burdened yourself with while on patrol duty.
Imagine your mental condition if you were a part of an area domination exercise or road opening party that had met with an ambush -- like the jawans of the 74th battalion who lost 25 men at Burkapal on April 24 in a Maoist ambush -- but are still alive unlike others who are not.
***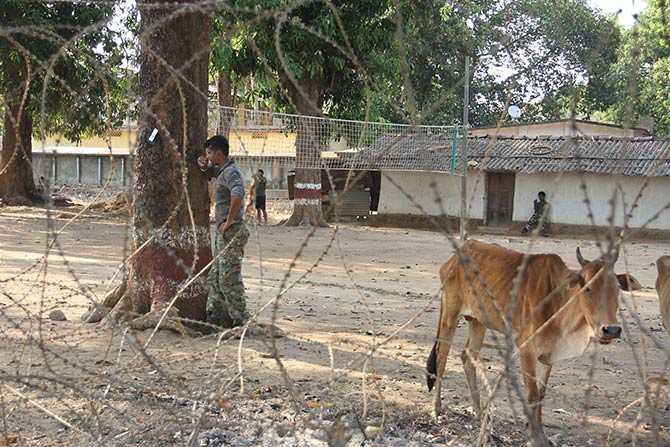 IMAGE: A CRPF jawan speaks with his family on the phone; mobile network connectivity in Chhattisgarh's Bijapur district is erratic and it becomes an ordeal for these jawans to get in touch with their loved ones.
"Pata nahi peechle janam main kaunse paap kiye the ki is janam main hame bhari dopahar main patrolling ke liye jana pad raha hai? (What sins must I have committed in my past birth that in this birth I have to go for patrolling an area that has a dense presence of Maoists in the hot afternoon?)," a tired jawan says loudly.
He wants to strike a conversation; he knows we are from the media; the pen, the notebook, the camera are all there on display; there was no way he could have mistaken us for somebody else.
The jawan was part of a team that had just completed one round of patrolling and after a brief while, was slated to head out again.
He isn't completely demoralised after the death of his fellow jawans in the Burkapal ambush, but wants to convey he is not happy about what he is doing.
"Yes, Burkapal was a setback for us, but our men fought bravely. They are not demoralised at all and will not shun away from their responsibilities," says a CRPF officer at one of the many camps along the Dornapal-Jagargonda stretch. All CRPF personnel spoke to Rediff.com on the assurance that they would not be identified by name for this report.
"They are battle ready and have been trained to do their jobs," he asserts when asked about the reaction of the jawan who is headed for patrol duty.
The officer admits that the CRPF needs more man management techniques, counselling sessions that will help the jawans steady their nerves after such bloodshed.
"We need man management techniques to avoid violation of standard operating procedures (SOPs). After every ambush these jawans should undertake counselling sessions," says Dr Varnika Sharma, a military psychologist and researcher who has stayed with CRPF battalions and conducted surveys to help improve the jawans' well-being.
"Just imagine the psyche of the jawans who came back from the Burkapal massacre," adds Dr Sharma. "They feel completely demoralised. If at such times they undergo cognitive behaviour counselling, then it can go a long way in helping them overcome the horrors they face."
Lack of proper leave rotation, a hostile geographical and social environment, lack of proper communication infrastructure like mobile network connectivity, sensitisation about their area of operation, Dr Sharma feels, will go a long way in preparing CRPF jawans mentally for nerve-sapping roles in the conflict zone that Chhattisgarh's Bastar division has become.
For the CRPF jawans coming from different parts of India there is no difference between Rajnandgaon ('least' Maoist impact) or Sukma ('densely' Maoist affected). It's only when they spend some time here that they understand the ground situation.
Dr Sharma has categorised Bastar into 'densely-', 'medium-' and 'least-' affected regions.
In a survey she conducted among CRPF jawans, 37 per cent respondents had no clue about the goings-on in their area of operation.
***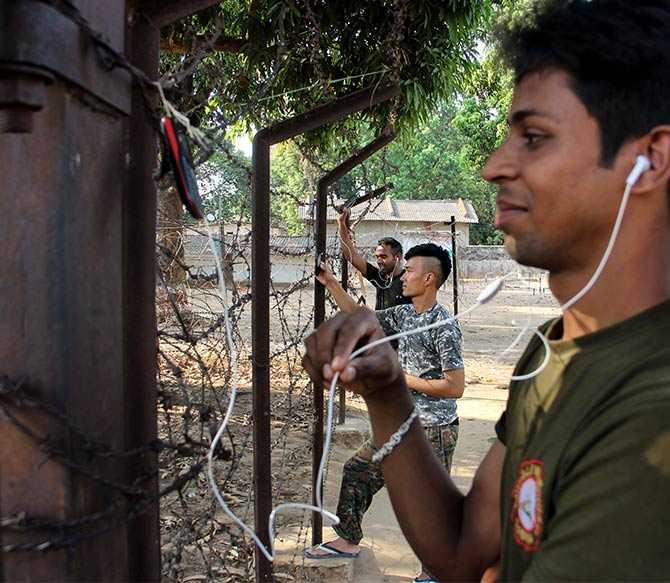 IMAGE: When Rediff.com's Prasanna D Zore and Uttam Ghosh visited Gangaloor camp in Bijapur district on May 6, they discovered jawans of the CoBRA (Combat Battalion for Resistive Action, a specially trained force of the CRPF) battalion hooked onto their mobile phones along the gates of the Gangaloor police station.
The jawans said it was the only location around the entire CRPF camp that had some network connectivity.
It is not that the CRPF jawans face a tough time only during operations or patrolling. Once inside their camps, other factors come into play that sap their morale.
Most of it relates to their families, their being alien to the area of operation, poor living conditions (like 3 toilets for 300 jawans).
"The work-life balance of the jawans who get posted in Naxal-affected regions is very dismal," says Dr Alka Vashisht (name changed on request), a psychologist who studies the Maoist-government conflict.
"One entire battalion (name of the battalion withheld on request) was sick with malaria. There is hardly any mobile connectivity where the CRPF camps are located. Given their work conditions, they remain mostly frustrated," Dr Vashisht says.
"To overcome their loneliness they often go out in big groups and that is the main reason why the casualties rise," Dr Vashisht explains.
Dr Sharma offers a glimpse into how the CRPF jawans think and why they prefer moving out in groups and why they are always keen on an area domination exercise or be part of a road opening party.
"Their situation is such that they stand for hours and there is nobody to talk to them. When they get a chance to be part of a road opening party, they do not hesitate. I was not able to keep myself occupied and happy for even three hours (in a CRPF camp) and these jawans have to spend almost three months at a stretch in such conditions."
Dr Sharma talks about a CRPF jawan who reached his village three days after his father's death because he could not get out of his area of operation.
"He took almost three days to get out of his area of operation by when his father had been cremated. And when he comes back he is directly sent into the field," she says.
"In these circumstances, can anybody be fully prepared to handle the operation assigned to him? Somewhere, such people will loathe the lives they lead."
Dr Sharma had suggested that such jawans should not be directly sent on operation when they resume work or after visiting their homes.
Pointing out an increasing trend of CRPF jawans turning suicidal or fighting among themselves, she says, "This happens because of mental fatigue."
To help jawans get out of this mental fatigue, Dr Sharma had recommended man-management techniques in which the jawans should do yoga when they are idle or even on the move and requested that books should be made available for them to read in their leisure time.
"There is nobody to talk to them," Dr Sharma says. "At such times they think about their families and the tensions at home. That's when they get demoralised and lose themselves to depression."
"When they come back to their stations after patrolling they become very irritable," she explains. "We have to take care of their psychological well-being; after all, they are there for our security."
***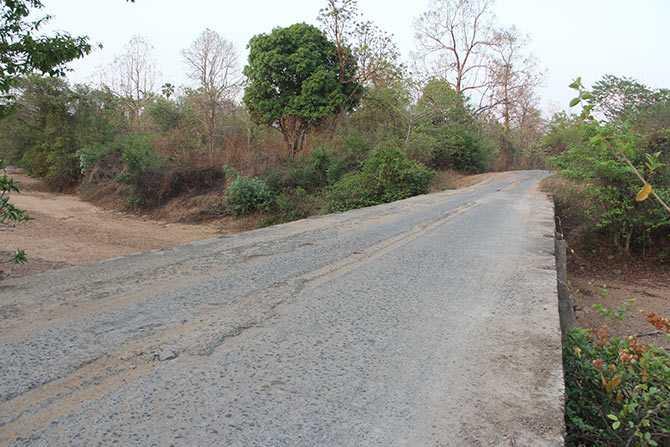 The most dreaded bridge over a nallah en route to Gangaloor: A favoured ambush spot for the Maoists.
IEDs -- improvised explosive devices -- are discovered here regularly.
The Maoists choose this spot to attack CRPF jawans as the road ahead takes a sharp turn, making the extremists invisible to troops approaching this bridge.
A CRPF officer confesses that the villagers don't trust them at all.
"We run a lot of welfare measures for them under the civic action programme (every CRPF camp is assigned 10 villages for this purpose, says Dr Vashisht), but the cillagers only help the Maoists," he says.
Steel and aluminum utensils distributed by the CRPF, he reveals, found their way to the Maoists, who used it to make utensil bombs.
"The villagers consider these jawans alien," says Dr Sharma.
The villagers and human rights activists, she alleges, spread propaganada about the jawans raping Adivasi women when the CRPF launch operations against the Maoists.
"It's not just human rights activists who make these allegations, the entire village alleges rape. Cases of rape under Section 376 is like white propaganda. Well-educated, well-heeled human rights activist go to these areas and spread white propaganda," Dr Sharma alleges.
Two or three per cent of such allegations, Dr Sharma admits, could be true.
As a result of all these tensions the jawans do not enjoy their stay when they go home.
"They don't behave well with their families when they visit them after a few months or years' stint in such conflict zones," Dr Sharma adds.
***
And then there is Maoism, the main reason, why Bastar teems with CRPF camps.
It is not just hostile locals, but the region's geography and the Maoists' guerilla tactics that make this conflict zone such a horror for the CRPF.
While there are CRPF camps every 5 ot 7 kilometres in Bastar, what lies between these camps are villages and thick jungles.
"Do you realise that right now you are sitting in a Naxal 'liberated zone'?" a CRPF officer asks. Pointing towards a tree-lined pond, he adds, "You are right now within the target range of Naxals who could be hiding behind that tree!"
"You won't even know you are hit by an explosive-laced arrow or a bullet that could come flying from anywhere," he says.
"I am not kidding," he adds. "This has happened to us many times before."
"Welcome to Sukma," he says ominously.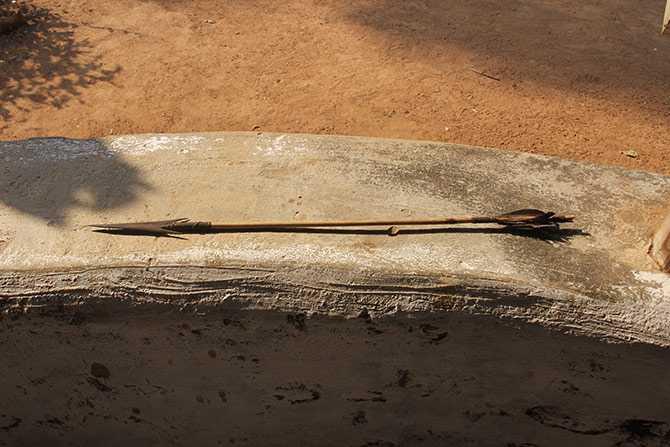 IMAGE: This arrow seriously injured a policeman attached to the Gangaloor police station. Abdul Sameer, the policeman in charge, says the policeman who was struck would not have survived the attack had the arrow struck him a little lower his upper chest.
In Gangaloor, a Maoist-affected village in Bijapur district, we meet Abdul Sameer, who is in charge of the local police station. In his mid-30s, Abdul is tall and well-built.
Inside the heavily-fenced police station, he shows us the crude, yet innovative, weaponry used by the Maoists to attack the police and the CRPF.
While bows and arrows and IEDs (Improvised Explosive Devices) are regularly used by the Maoist militia not trained to handle guns, Abdul shows us a three-nailed spike raised on a wooden base that has caused grievous injuries to security personnel.
"It's a simple trick," the policeman says. "They dig small pits in the ground and keep this spike in it. They cover this pit with dry leaves and small twigs; on the top they cover it with green leaves so that it is camouflaged."
"No sooner do you step on such a trap you hardly get any time to react," Abdul says. "Before you realise, one or all the nails have penetrated your legs inside out."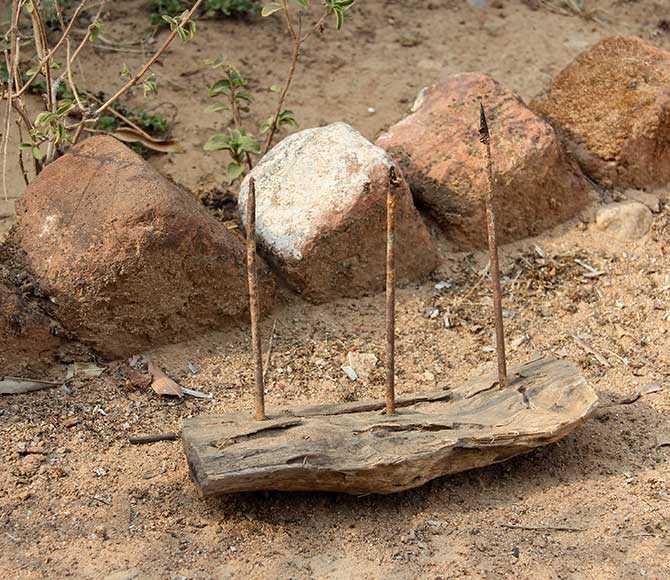 IMAGE: A lethal contraption devised by the Maoists: A three-nailed spike
Abdul shows us the scar left behind by such a spike on his left leg. "I was wearing heavy shoes, yet it penetrated my foot," he adds.
VIDEO: Accompanying a CRPF party into the jungle on an area domination exercise was an ordeal.
A 10 minute walk into the woods under the scorching sun left us panting for breath.
The jawans, always on their toes, kept looking for hidden adversaries every few feet.
On May 5, a day before we met Abdul Sameer, and after our conversation with the officer who welcomed us to Sukma, we accompanied a patrol party of CRPF jawans into the jungle.
The assistant commandant, who led the troop, had covered his face with a black cloth. Heavily armed with rifles, guns, grenade launchers, bulletproof vests and thick, heavy, shoes, the patrol party took us inside the forest.
"You must join them," a commandant encouraged us earlier inside his camp. "Experience what our jawans experience every single day, here in the jungle, surrounded by Maoists."
100 to 150 metres into the jungle, we realise the crushing of dry leaves under our feet is noisy, but the CRPF jawans move with stealth, halting every few steps to check the surrounding trees and the earth beneath their feet with taut faces.