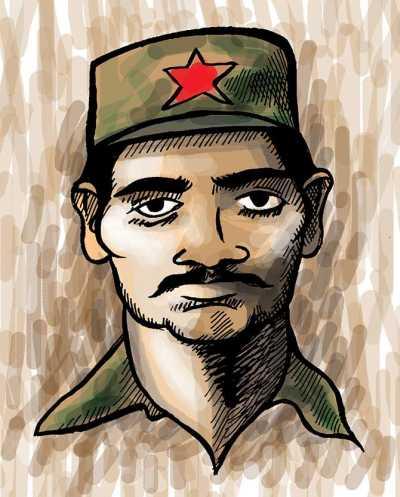 Rediff.com's Prasanna D Zore and Uttam Ghosh spoke with CRPF officers who are hot on the chase to arrest the Maoist who has emerged as a major threat to the security forces in Chhattisgarh's Sukma district.
"I can't share his recent photographs with you," says a CRPF officer grimly, as we discuss Hidma Madvi.
"He will find out the person who leaked his photographs to us through the location, his dress, the people around him in these photographs. He will then hunt down the informer and eliminate him ruthlessly," he says explaining his refusal to share Hidma's photographs with the media.
Brushing aside your disbelief about Hidma's extraordinary prowess to discover the identity of the person who leaked his pictures just by seeing the photograph, this officer emphasises that he means every word he has spoken about one of the most dangerous Maoists operating in Sukma today.
The man under discussion is believed to have planned and executed the ambush that killed 25 CRPF jawans in an ambush in Burkapal, a tiny hamlet in Sukma district.
Hidma is also being touted as the mastermind of yet another ambush along the Bheji-Injaram axis, about 30-odd kilometres from the April 24 ambush, where in a similar manner, Maoists killed 12 CRPF personnel and looted their arms and ammunitions on March 11.
Based on the information provided by the local police and CRPF, the Maoists escaped with 20 AK-47 rifless, four under-barrel grenade launchers, a score of INSAS rifles and more than 500 rounds of bullets after the April 24 ambush that lasted almost 45 minutes.
"The operation has Hidma written all over it," says the CRPF officer.
"He not only plans killings, but also makes sure his men loot our weapons too."
Ask him if mutilating bodies of dead jawans is also a hallmark of operations planned and executed by Hidma, he says, "the wounds on the chests and arms of our dead jawans was the result of the Maoists taking away their weapons."
"They dragged the dead jawans to places that were safe for them and then stripped them of their weapons and ammunition using sharp weapons," he says.
Hidma Madvi, known to his Maoist comrades as Hidma, is 32 years old, though some experts who study him closely and local CRPF informers reckon his age could be anywhere between 30 to 40.
According to Dr Girish Kant Pandey, former head of the department of defence studies, Government Science College, Raipur, Hidma is known to be active along the Dornapal-Errabore-Konta and Golapalli tract and has been tasked with disrupting construction of roads along this axis, considered a stronghold of the Maoists.
"He is very sharp and ruthless. He is hero worshipped by his followers, mostly his close friends, and commands military operations along this axis with the help of five rigorously-trained companies of 100 men each," says Dr Pandey.
Dr Pandey, however, contests claims that Hidma masterminded the April 24 ambush.
"The police usually registers an FIR against the Naxal who is active in a particular area. Now, Hidma has come to the forefront after the Burkapal attack because this area is considered to be under his command," says Dr Pandey.
Yet another CRPF officer says the Maoist leadership, who mostly hail from Andhra Pradesh and Telangana, has in recent years began to groom Adivasis to take leadership of their armed battalions and that explains Hidma's swift ascension.
"Hidma belongs to the military dalam that has armed wings like 'section', 'platoon' and 'company'," he says.
"The military dalam is the most rigorously trained in the use of heavy weapons, and does not have area limitation. These dalams are quick on their feet, operate in small numbers and go to any area to execute Burkapal-like operations," adds Dr Pandey.
Given such a reputation, Hidma is a marked man in Sukma.
The local police and CRPF are pursuing leads from informers and assessing intelligence inputs coming in from the state and Centre to arrest or eliminate Hidma.
"Hidma is like Napoleon Bonaparte," says the CRPF officer who refused to share his photographs, "he may have been successful till now, but he too will meet his Waterloo."