If you want to get a handle over current Maharashtra politics while retaining your sanity, watch Director Jabbar Patel's classic film, Simhasan, says Syed Firdaus Ashraf.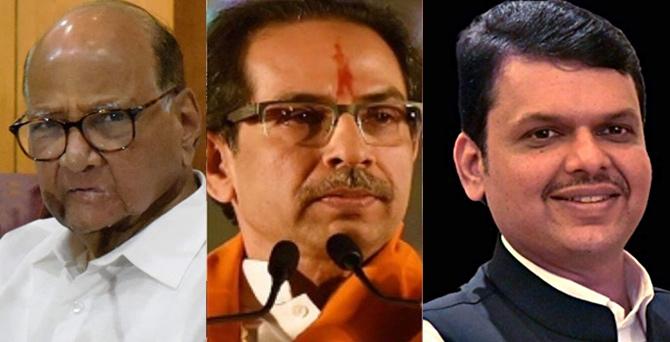 If you are scratching your head over the latest developments in Maharashtra politics -- from the Bharatiya Janata Party's Devendra Fadnavis blindsiding everyone to take oath as chief minister along with the Nationalist Congress Party's Ajit Pawar as his deputy, to the Shiv Sena calling him a traitor -- and are wondering what comes next, then you need to watch the 1979 movie Simhasan, directed by Jabbar Patel, for answers.
The movie tells the story through the eyes of journalist Digu Tipnis (played by Nilu Phule), who sees drought, poverty and unemployment rampant in Maharashtra, but Chief Minister Shinde (Arun Saranik) is more concerned about holding on to power after he gets an anonymous phone call that his rivals in the party led by Vishwasrao Dabhade (Shreeram Lagoo) are all set to oust him.
Interestingly, the movie released a year after Sharad Pawar broke the Congress government of Vasantdada Patil to become Maharashtra's youngest chief minister at 38. Even though he had not won the popular mandate, Pawar along with his supporters walked out of the Congress to form a Progressive Democratic Front government backed by the Opposition.
In other words, Pawar's government was not an elected one, but a defected one -- just like his nephew Ajit Pawar has done now, by defecting from his uncle's Nationalist Congress Party to join hands with Devendra Fadnavis and become deputy CM.
The lust for power made Ajit Pawar, who turned 60 in July, ditch his ideology and family to form a government with Fadnavis just as his uncle had done many years ago.
The people's mandate was for the BJP-Shiv Sena, but the latter walked away from the electoral alliance over the CM's post. Now, the BJP too has ditched the mandate to form a government with Ajit Pawar.
This need for power is well depicted in Simhasan.
In one scene, a barber tells the journalist (Phule), 'Ramlal, gareebon ki zindagi se khelna achcha nahi. Ek din aag bhadak hi jayegi (don't play with the lives of the poor as one day their anger will consume everything).'
To which Phule replies, 'Shinde aaley kaai, Dabhade aale kaai tumchaya avaishyat kaai farak padnar? (whether Shinde becomes chief minister or Dabhade becomes chief minister, how will it make a difference to your life?).'
In reality, while politicians are busy playing their power games, Maharashtra is experiencing tough times in the form of unseasonal rains owing to which farmers have lost crops worth crores of rupees. The middle class is groaning under the high prices of essentials like vegetables.
Simhasan also depicts how some MLAs are weak willed when it comes to women. The chief minister knows this and exploits it to his advantage.
Initially in the movie Phule accepts this as a way of life and observes everything quietly. But later, he is unable to bear the indifferent and callous attitude of the elected representatives.
After his partner passes away, Phule gets disillusioned with life and the political system and keeps wondering why people elect MLAs.
When he discovers how Shinde, the chief minister, plays a double game and wins over the finance minister's MLAs, he is shocked and his conscience starts pricking him.
Things go further south when Dabhade is packed off to a low grade ministry on the excuse of poor health, and the chief minister retains his seat, just as Fadnavis has done now through backdoor dealings.
Phule's indifference turns to seriousness and he starts taking things to heart, and by the end of the film he cannot bear the naked power play and goes senile.
So if you want to get a handle over current Maharashtra politics while retaining your sanity, watch Simhasan today.