'While it seems that the sole option left for the Shiv Sena chief is to sit in the Opposition and wait and watch, there are two other choices before him to show his party rank and file if he is a quitter or a fighter.'
Syed Firdaus Ashraf/Rediff.com reports.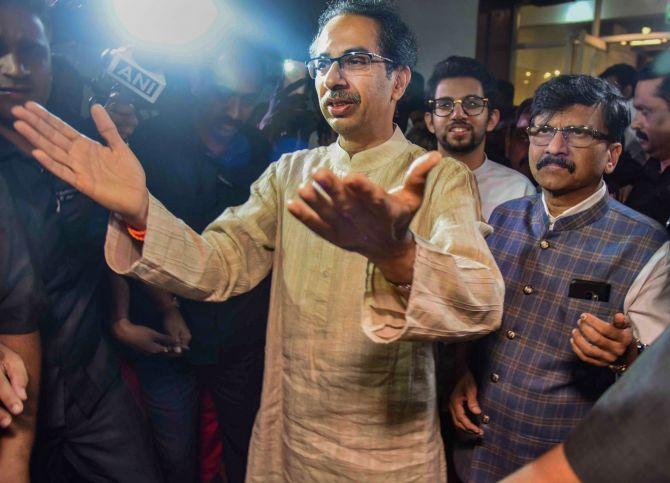 Saturday's edition of the Shiv Sena newspaper Saamana screamed the headline 'Uddhavch! (It's Uddhav!)', gloating over the fact that Shiv Sena President Uddhav Thackeray will be the next chief minister of Maharashtra.
It may have erred only in its enthusiasm, not reportage -- all newspaper headlines on Saturday morning announced the same news though with a lesser degree of enthusiasm.
But that was all Friday night's story.
Little did Sanjay Raut, Shiv Sena leader and the outspoken executive editor of Saamana, and others realise that at 5.47 am on Saturday Governor Bhagat Singh Koshyari had revoked President's rule in Maharashtra, and invited Bharatiya Janata Party leader Devendra Fadnavis to be sworn in as chief minister for a second term.
By 8 am, the most surprising news emerged -- that Nationalist Congress Party leader Ajit Pawar, Sharad Pawar's nephew who till Friday night was involved in the tripartite discussions among the Shiv Sena, NCP and Congress on government formation, had been sworn in as deputy chief minister of Maharashtra.
With this, it's no more about Uddhav.
So what was the mistake that Uddhav Thackeray made when he decided to break the pre-poll agreement with the BJP and pursue the NCP and Congress after the election results?
The first mistake he made was that he did not approach the Congress directly and depended on Sharad Pawar as a go-between.
Uddhav did not pursue the Congress leaders hard, who were also taking their own time to decide whether they as a secular party should join hands with the Hindutva party which considers Vinayak Damodar Savarkar as its icon.
A delay on the Congress's part was inevitable, as its leaders had to consider the fallout of tying up with the Shiv Sena on its electoral fortunes in other states.
Even as the three parties went into huddle after huddle to decide on the contours of their tieup, BJP leaders were sitting pretty, quietly observing the tamasha being played out in public.
The second mistake Uddhav made was not to strike when he had to strike. He depended on Sanjay Raut too much and it was Raut who was talking on behalf of the Shiv Sena rather than Uddhav. No wonder, Raut's name even cropped up as a dark horse for the CM's post.
In times of crisis a leader has to be seen to be leading, but Uddhav was missing in action, happily playing the role of a backroom strategist.
But it's not that he did not make any effort to form the government.
Earlier this week Uddhav did go to the Trident hotel in south Mumbai in the middle of the night to meet Congress leaders to discuss the common minimum programme, but then, it only showed that unlike his father Bal Thackeray who used to summon allies and Opposition leaders to his home at Matoshree in Bandra East, north west Mumbai, Uddhav was himself going elsewhere to save face after splitting with the BJP.
Uddhav also forgot an important fact that in early 1992, Sharad Pawar as the Congress chief minister had split the Shiv Sena, luring top leader Chhagan Bhujbal and some legislators to the Congress, and giving a jolt to Bal Thackeray. The Shiv Sena could recover from the shock in the post-Mumbai riots of 1992-1993, and formed the first saffron government in the state in 1995.
Though Sanjay Raut now says Sharad Pawar had no role to play and it was Ajit Pawar who broke ranks, many in the Shiv Sena do not buy this theory.
Sharad Pawar on Saturday morning said his nephew Ajit had betrayed him, but many Sena leaders wonder what the need was for Pawar to meet Prime Minister Narendra Damodardas Modi and BJP President Amit Anilchandra Shah, reportedly to discuss the wet drought in Maharashtra. What exactly was playing on the Maratha strongman's mind?
The only saving grace for Uddhav at the moment is that all the Shiv Sena legislators are with him as he had taken them into confidence and ensured that they were corralled against any inducements.
While it seems that the sole option left for Uddhav is to sit in the Opposition and wait and watch, there are two other choices before him to show his party rank and file if he is a quitter or a fighter.
The first challenge will be the Brihanmumbai Municipal Corporation elections of 2022.
That will be Uddhav's chance to show he can retain the city which his father had ruled for the three decades before his death.
But it won't be easy. Mumbai's demography is changing with the influx of newcomers and with the Marathi population in decline, there is little chance that he will be able to hold on to the city barring a miracle.
The other challenge is deeper. His own future seems fraught because unlike his father who worked at the grassroots, Uddhav for the last one decade has only been chased power.
Uddhav will have to come out of this power politics fixation which Bal Thackeray never had; the latter did not go after power or any post, even when it came to him, as in 1995, he thrust it aside and posted someone else in the CM's chair. Little wonder Bal Thackeray was considered a people's leader, a saviour of Hindus and a Hindutva icon. Uddhav is none of them.
So what is he then?
The senior Thackeray formed his party in 1966 and was never in a ruling position in Mumbai for two decades until the 1980s and in Maharashtra only in 1995.
He slogged for the party and put in his efforts for three decades.
Uddhav, in contrast, has inherited his father's organisation and cadres and has never slogged on the ground. Even his son Aditya Thackeray's entry into electoral politics comes at a time when the people of India have started resenting dynasty politics.
A father's love for his son must not hinder the growth of his party, and here Uddhav must learn from Pawar who never puts his daughter Supriya Sule in the forefront.
Uddhav may now go public to criticise the BJP for joining hands with Ajit Pawar who the Fadnavis government had dragged to the enforcement directorate before the assembly election.
But then, it is a two-edged sword as the people also know that Uddhav was planning to go with the same Ajit Pawar to form a government.
Given the unenviable circumstances he finds himself in, the only option before Uddhav is to go back to the old style Shiv Sena and start working at the grassroot level.
But the question is, is he cut out for it?