'I try to say to myself, 'Don't cry in front of people'. But sometimes I can't help it.'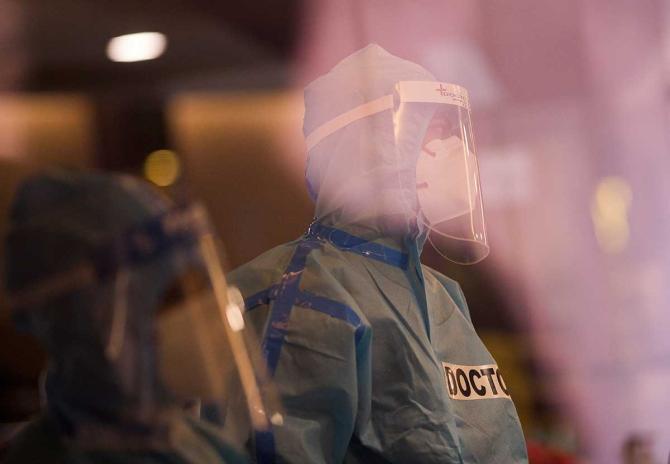 There was the frail, elderly gentleman, silver haired, whose eyes gently closed, forever, one afternoon, alone, and before, he got to see the sweet little drawing his fond grandson had sent, of him, balloons and his 'Dadu' and his brokenhearted son requested the get-well card be placed in his body bag.
And the amiable, affable doctor who loved recounting, to those treating him, elaborate tales of his own medical exploits and "really kept us entertained" with medical jokes and more.
Or the anxious, young mother -- extremely and dangerously breathless, who didn't want her family to see her "struggling to breathe" - in need of plenty of reassurance, who fretted unhappily throughout her stay, because she had never been away from her three small children and wondered how her husband would cope and what he would feed them.
And the patients, who unfailingly recognised each of their doctors, every morning, maybe by gait, even though they were clothed head to toe in anonymous PPE suits, merely their eyes familiar and eloquently human, and solicitously asked of their carers how they were, about their families and if they had eaten.
There was the 93-year-old gent, whose children were far away abroad and phoned him, but he didn't know who those strangers were and who, in his moments of severe delirium and tremendous distress, thought his doctor was his daughter and "called me by his daughter's name" looking for her and "I had to keep conversing with him, telling him, I'll do that in five minutes, if you sleep for a while, or if you keep your oxygen mask on for longer."
Then there was the dying lady, whose loving son haltingly and tearfully sang Tera mujhse hai pehle ka naata koi to her over a video call, during her last hours alive on this earth, as nurses stood solemnly around and the doctor, feeling hollow, empty and shattered, desperately trying to remain dry-eyed, held the phone for her.
Dr Dipshikha Ghosh cannot ever forget the faces of those special people who occupied the beds in the ICU at Apollo Gleneagles Hospital, Canal Circular Road, Kolkata, where she has been indefatigably working for the 14 months straight, nine or 10 hours a day, seven days a week, treating the very COVID-19 sick.
They are engraved on her mind forever more.
Stamped too on her memory are those poignant, haunting moments, where life and death fragilely, but searingly intersected.
They will stay with Dipshikha always too.
"I think any patient who presented with moderate disease, when they came in and, initially, they were conscious, but deteriorated over a period of time, and we had to put them on a ventilator -- all of those are bad memories," Dikshika tells Vaihayasi Pande Daniel/Rediff.com.
"I remember talking to them all. I remember asking them what they wanted to eat or if they wanted something to be sent from their home. Some people requested for a book. Some people requested for their favourite music or their favourite food. And having to then to see them go on the ventilator, remain unconscious and then ultimately not make it... all of those are not things I want to have to remember.
"During this wave many of them have been young people. Mid-20s, 30s, 40s. It's bad. It's difficult (to see a young person deteriorate) -- it makes you scared."
Taking care of the COVID-19 afflicted, particularly, is a mixed blessing that necessarily brings with it terribly depressive lows and joyously manic highs.
It is both an especially, deeply onerous duty and yet, at the same time an extraordinarily traumatising responsibility.
To be the very last person caring for someone, who has absolutely no one else familiar at their bedside, a few moments before they relinquish life forever, makes that precious ebbing time with them so much more momentous. So much more fateful. So much more sacred.
Equally meaningful is participating in the gloriously happy moment when someone seriously sick finally turns the corner, gets off the ventilator and eventually goes home, healed, saved, in a good measure by your efforts as a doctor.
How the hand of cards, dealt by enigmatic Fate, to patients sharing the same ICU space, can differ so drastically or be so short of aces for some, is, of course, unfathomable for their medical guardians, specially given the highly unpredictable nature of COVID-19.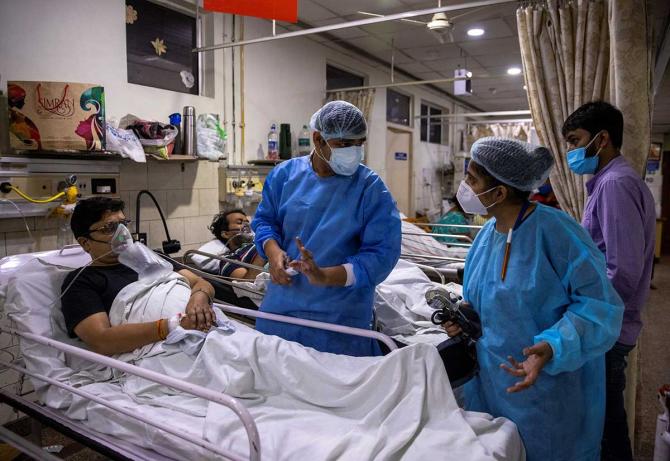 The tears and joy that co-exist in a huge 400-bed COVID-19 ward like Dipshikha's, are both exhausting and uplifting and the stuff that changes your life evermore.
Dipshikha can recall each patient, each one who made it, each one who didn't...
"I don't think I'll ever forget any of them. Memories of those conversations come and go in waves. Our patients are just people, coming in as individuals, who have been able to talk, who have been able to hold conversations and then they have deteriorated very fast and, in spite of best efforts, they are not making it through.
"It's very crushing. Constantly feeling like we are failing our patients by just not doing enough -- not enough time to do anything for patients who present late, not enough doctors to give people more time, not enough beds or medications for every patient."
And then those wonderful, heartwarming opposite scenarios: "A doctor will come and tell everybody else: 'Do remember this patient? Do you remember how we had put him/her on the ventilator, who required very extensive treatment? This person just sent me a picture of them eating at home themselves. Or this person just sent me a picture of them standing up'."
How does one rein in the emotions? Or stop yourself from crying?
"I don't cry that easily. It takes a lot for me to get choked. Sometimes, something happens and tears well up and I don't have any control. I'm surrounded by nurses, ward boys and cleaning staff, so I try to say to myself, 'Don't cry in front of people'. But sometimes I can't help it.
"The job is demanding enough and the patients are sick enough for me to not have much time during the shift to process what happened and how I feel. When I'm on my way back, or when I'm home -- it suddenly hits me."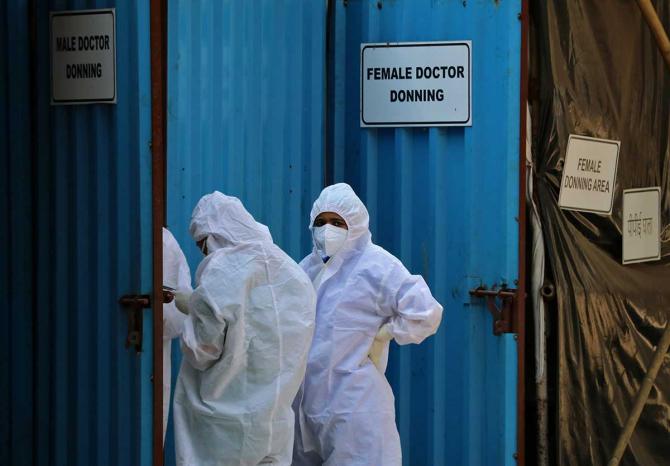 For Dipshikha, who graduated from the KPC Medical College, Kolkata in 2014, and is a resident earning a post-graduate degree in critical care, working with pandemic patients, apart from being an intense, never ending emotional roller coaster ride, is "improving my medical knowledge" and offered many lessons towards making herself the better doctor.
For one, it has taught her how to work "without a break for eight to nine hours" and to handle double the number of patients -- "I think I've become better at multitasking."
Eight or nine exhausting hours, in a suffocating PPE suit, without sustenance or access to a bathroom, in an ICU, where futures and fortunes change every few minutes, would have been the most formative days of her life.
Her instincts on what line of treatment might work and picking up when a patient is heading for a downward trend have sharpened considerably she feels. "I've become better at predicting which patient is heading towards a sudden deterioration... I think doctors as a whole have become more empathetic, in spite of being so overburdened."
Doctors in India, remarks Dipshikha thoughtfully, never had the requirement to master the softer, human relation skills, that go with the profession, like the extremely tough job of dealing with death and breaking bad news. It's something Dipshikha, faced with so many ill and declining patients, quickly had to master overnight, without even the benefit of being able to break news in person.
She describes, with poignant anguish, "Many of the times, we don't even see their faces. We just give them a phone call. And sometimes, if two patients are crashing at the same time, or if one person crashes in the middle of a phone call, we have to cut it short.
"You have to say that 'Okay, I'll call you back. I have another critical patient'. And then go and handle the emergency and then call them back again. So, to have to add that to a pandemic, to deal with this, to lose patients, and then have to break bad news is doubly draining and absolutely horrifying."
Long COVID-19 might be what those, who suffered severe cases of COVID-19, have when symptoms continue to be manifested months later.
But doctors suffer another species of long COVID, even if the lucky amongst them never actually get COVID-19 themselves. Ultimately, understandably, those bleak lows and the arduous strain and stress they deal with, day in and day out, will take their toll. Seeing so much continuous death, despair and severe disease, particularly as young doctors, early in their careers, is overpowering and is causing post-traumatic stress disorder for many.
Dipshikha, says quite a few of her colleagues are already tackling issues. "I think it's already started being expressed in some people more than others. This effect is going to spill over into our personal lives. And some people are really struggling with how it is affecting them mentally in other spheres of their lives.
"I've already become extremely judgmental about people who don't follow COVID-19-appropriate behaviour. I, inadvertently, say some things that are, you know, borderline rude, if I see somebody not following protocol. It's difficult to not be judgmental when you're seeing people die from the disease almost every day. There is always the anxiety that other diseases could hit and you don't really know what the future holds."
While she says as a doctor their fight to have COVID-19 defeated -- or she asks pensively of you and herself "then what are we working for? We have to assume that we are going to be able to beat it at some point?" -- it is not easy to imagine a future normal scenario. Ie the bright, shiny day when one can take one's mask off and hang it up for good.
"It's a long way off."
Dipshikha loves to travel: "I don't think I will travel all that much, unless it's absolutely necessary. Even then, I will think about it because I don't want to go and take my mask off somewhere and then get something and give it to somebody else. I think that is my biggest fear of being infected myself and then giving it to somebody else."
Apart from the anxieties that are part of the trauma, there is often huge amounts of exasperation and anger for Dipshikha.
Firstly, more deeply felt, towards those who could not foresee that a medical system, so grossly underfunded, so carelessly neglected, utilised by so many millions, would not get so grievously overwhelmed and bring on heartbreaking devastation for India.
And then the fury and frustration towards unthinking individuals: "I think that's the main thing -- everybody saying COVID-19 is not real, that it's just another flu, that people don't require additional oxygen because we have plenty of 'free' oxygen in the air.
"These people who belittle the suffering of so many other people, either suffering from the disease, or struggling to help those who are.
"Their statements just take away everything that we are doing!
"And it's really draining when you have to explain to somebody what they should do to save themselves. And then seeing them not do it."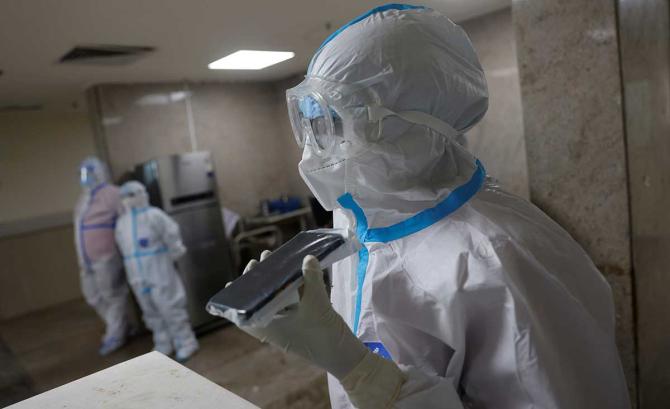 As a doctor, working around the clock battling COVID-19, to see people walking about unmasked or ridiculously improperly masked or people not taking precautions, sparks huge moments of fierce anger.
"Masking is something so basic. I will continue to keep telling people to mask appropriately, that it shouldn't go under their nose or under their chin or around their neck -- we've seen all permutations and combinations of inappropriate masking. I mean these are things that you expect of kindergarten level IQ -- Just wear a mask, save your life."
The rage grows for Dipshikha when "the same people, who don't mask, who don't take precautions, go to places, get exposed, get COVID-19 and they come to the hospital, they feel entitled to demand. They shout and they yell and their relatives do the same just because 'They're paying money for it'. They want you to do everything possible, when they didn't themselves. They somehow think their health is the doctors' responsibility and not their own."
The growing shortness of one's temper and the burgeoning stress apart, there are many other essential ways in which COVID-19 has changed Dipshikha's life.
The tiny, beautiful little things one took for granted earlier are now the most important items on her agenda. Like she is waiting for the day she can sit down at a table with her family and have a meal -- she lives with her parents, sister and rescue dog Rocco.
"Ever since COVID, started, I have been distancing from my family. I actually speak with my parents, who are situated just downstairs, over video calls, more than I speak to them face to face. Spending time with my family is something that I did not prioritise as much, before COVID-19 happens. I have always thought I have time to do this. Or it's one meal, I can I can afford to miss it, I can afford to be late..."
For her and her medical colleagues, "our entire focus has shifted from material things to health, wellbeing and family and relationships."
Dipshikha talks longingly of the day when COVID-19 will be over. She and her colleagues vicariously shared the joy New Zealand went through when they sent their last COVID-19 patient. "That day, everybody in the hospital was talking about how we will celebrate the day we can close our COVID-19 unit."
In January they, with frail but growing hopes in their hearts felt that time was imminently coming for India too, only to see the country descend into medical hell, and then to themselves be facing the worst, terrifying days of their young doctor lives.
Dipshikha, who has a strong presence on Twitter, offering medical advice, help, views and a touching peek into the life of a COVID-19 ICU doctor, appears, like she does for all her hundreds of patients, with her face masked.
"I said on Twitter to those asking to see my face: The mask will only come off when the pandemic is over."
We are also waiting, expectantly, for the day when our heartless war is over and when Dr Dipshikha's mask comes off and we may dry our collective eyes.
*Kindly note the image has been posted only for representational purposes.
Feature Presentation: Ashish Narsale/Rediff.com