A beloved actor and filmmaker, a generous promoter of theatre, a family man... the late Shashi Kapoor was all this and more.
In Shashi Kapoor: The Householder, The Star, Aseem Chhabra gives us glimpses of one of Bollywood's best loved actors: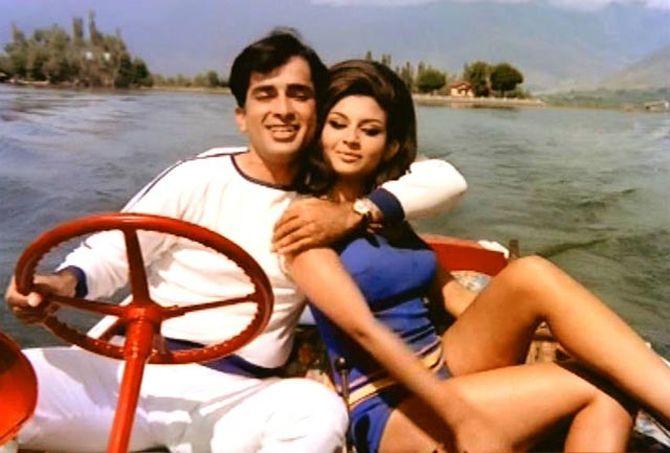 IMAGE: Shashi Kapoor seen here with one of his favourite co-stars, Sharmila Tagore.
Shashi (Kapoor) developed a reputation as an eminently likeable star. In fact, when I speak to Sharmila (Tagore), I realise that this impression cut across not only the industry's pecking order, but also age groups!
Sharmila tells me: "Shashi and I were in Jaipur for Paap Aur Punya. My son, Saif (Ali Khan, now an actor), who was just two years old, was with me, as were Shashi's wife and kids. The Kapoors would take my son around, and Shashi, I imagine, spent time playing with him -- because soon, Saif grew quite attached to 'Shashi Uncle'."
"One day, Shashi happened to be shooting a scene where a villain put a noose around his neck, while he yanked at the rope and struggled quite desperately. Suddenly, the villain, who was in complete command of the scene, screamed!"
"Unknown to him, Saif had crawled up and bitten him on the leg! You see, Saif thought that his Shashi Uncle was being beaten up, was in huge danger, and nobody was helping him. He had to act! Shashi Uncle was really his favourite." What's rare is that the star didn't even have to work hard to get into the little boy's good books.
"Shashi was just a very likeable guy," Sharmila smiles. "It came to him naturally. He didn't need to pretend."
***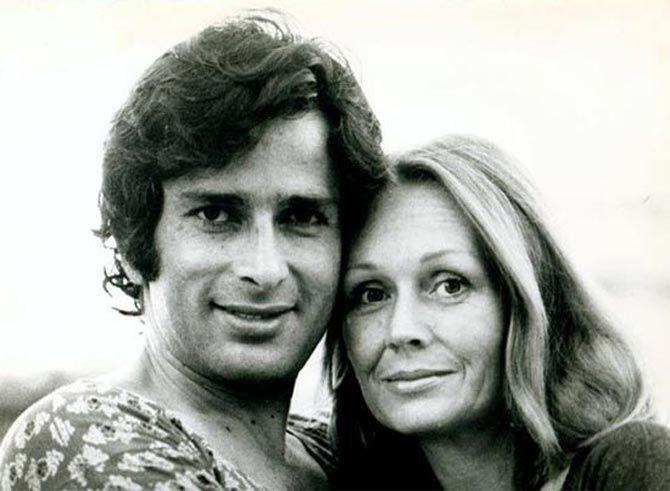 IMAGE: Shashi Kapoor with his wife Jennifer. Photograph: Kind courtesy Shammi Kapoor's official Web site http://www.junglee.org.in/
Writer and former head of the Film Finance Corporation, Anil Dharker -- who first met Shashi for a BBC radio interview, and soon became his close friend -- recalls the actor's food habits.
"I remember when Shashi and (his wife) Jennifer (Kendal) had come to our house for dinner for the first time. Shashi went for a second helping. But when Jennifer very sternly said, 'Shashi!' he quietly sat down."
Then, there were the times Shashi would invite Anil over for lunch. "I'd be offered a special kind of mutton, prepared by Raj Kapoor's cook, with ghee, salt and mirchi (chilli). It was called jungle gosht because, back in the day, when people went on shikar (hunt), they could only carry a few ingredients to make a wonderfully tasty dish! The problem was that it was also extremely rich because of the copious amounts of ghee used."
"So, Shashi would call me and say, 'Look, Jennifer is out of town. Let's have this together.' I would go over post-haste. The two of us would eat to our hearts' content and suffer for the next two days!"
But even when Jennifer imposed strict restrictions on his diet, Shashi enjoyed a couple of drinks of alcohol. Neetu Singh Kapoor says, "I recall Kabhi Kabhie ki party hui Bukhara main (there was a party for Kabhi Kabhie at Bukhara) and all of us were there. Shashi Uncle had two or three drinks and became even cuter. The smile would not leave his face. I used to tell him, 'You are the happiest drunk I know.'"
"Some people get angry after a few drinks. But Shashi Uncle seemed to become an even better person. Very mast! I adored him that way."
***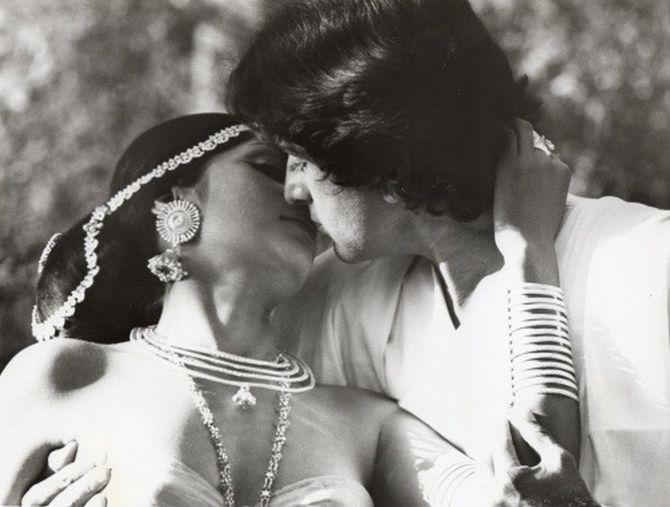 IMAGE: Shashi Kapoor taught Simi Garewal how to kiss for the camera in Siddhartha.
Then came the time to shoot the intimate scenes between Siddhartha and Kamala (the movie, Siddhartha, starred Shashi Kapoor and Simi Garewal) -- for which Conrad (director Conrad Rooks) was inspired by the sculptures of Konarak and Khajuraho. "There wasn't a lot of sex," David (co-producer David McKibben)is quick to clarify. "It was suggestive and tastefully done."
But the scenes did require kissing and Simi had to be shot partially in the nude. "I can't tell you how nervous I was before these scenes," Simi says. "The Swedish crew couldn't understand my anxiety. Sven (Nykvist, the legendary cinematographer, who shot many Ingmar Bergman films) told me, 'In Sweden, when we set up a nude sequence, the actors just remove their clothes and sit around waiting!'"
"I finally wore a body-stocking from the waist down, but when I had to go topless, I was stricken. I couldn't look up and just lowered my eyes. Shashi sensed what I was going through and said to me, 'Don't be shy, Simi. You are beautiful.' Buoyed by his words, I found the courage to go through it all with confidence."
It was an extremely patient Shashi who also taught Simi how to kiss for the camera. "Since he had performed love scenes in Hollywood films, Shashi explained to me how one should keep the angle of one's face for a screen kiss," she says. "Also, he added, 'Limited pressure, so it doesn't distort the face.'"
***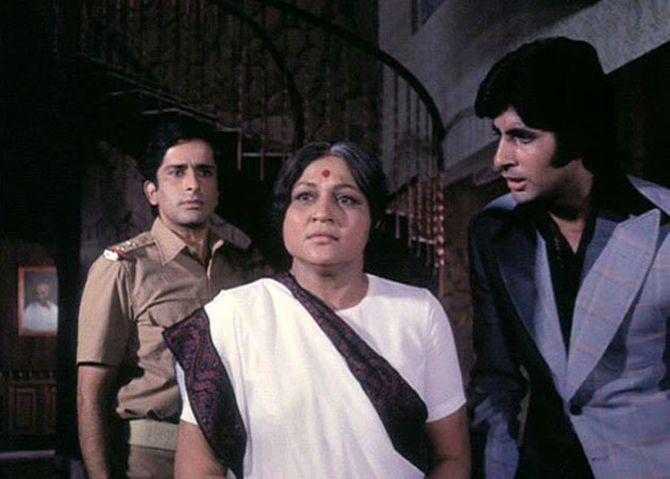 IMAGE: The unforgettable clash of two brothers: Shashi Kapoor and Amitabh Bachchan in Deewar.
The casting decision -- of having Shashi assume the more 'noble' role, and Amitabh (Bachchan), the more passionate one -- has made critics and audiences comment that Amitabh is the more memorable of the two in Deewaar. However, Ramesh Sippy, who would later direct the two actors in Shaan, points out that such comparisons fail to appreciate the conscious decisions Shashi had to make as an actor:
"If Shashi had to play that role (in Deewaar) and be sincere to it, he had to underplay it... However, if he had tried to stand out as a performer and give the kind of performance that gives you stardom, he would not have done justice to the role.... He did it right."
...Later, at the premiere of Deewaar, Amitabh sat next to Shashi. Amitabh recalls: "We never said a word. But (at) the 'Mere pass maa hai' moment, I felt a gentle hand on mine. It was Shashiji's. He never spoke, but the way he held my hand said everything."
"It was reassurance, it was affection, it was acknowledgement, it was complimentary, it was appreciation, it was everything that a struggling actor that had once played an extra in a film that starred this gentleman sitting next to him (in James Ivory's Bombay Talkie) had never ever dreamt would happen."
***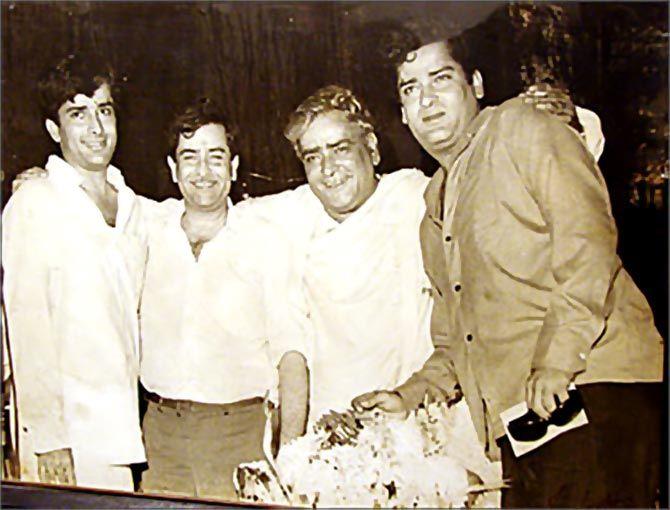 IMAGE: Shashi Kapoor's love for theatre was a legacy from his father, the legendary actor, Prithviraj Kapoor. Also seen in this photograph are Shashi's elder brothers, Raj and Shammi. Photograph: Kind courtesy Shammi Kapoor's official Web site http://www.junglee.org.in/
According to Dev Benegal, who had secured his first film unit job in Kalyug, Shashi, upon accepting the role of Karan, "was an absolutely professional actor. He would get into the skin of the character -- almost as though he were on stage. He would be in the wings within an hour of receiving the script and dive into the role."
There is a crucial scene in Kalyug, where Shashi's Karan learns about the identity of his mother -- again, bearing a strong resemblance with Karna, who learns, to disastrous consequence, that his mother is Kunti.
Karan is so devastated that he takes an embryonic position, curling up in a bed -- making this among the greatest scenes shot in a Hindi film and one of the most outstanding collaborations between Shyam (Benegal) and Shashi.
"He worked very hard on it," Shyam says.
Dev adds, "It was top-angle shot and it took a long time to set up. After the scene was done, Shashi came out and asked if it was okay. We didn't have monitors at that time but I was allowed to stand by the cameras. I told him he was absolutely brilliant and set the mood perfectly."
"Shashi grinned and said, 'Well, you know what I was thinking about?' I was a young, green boy, very quiet and shy -- Shashi and his wife were so warm and welcoming as a couple that those inhibitions should have disappeared -- still, I looked at him blankly. And Shashi said, 'I was thinking, I hope my wife is not making baingan for dinner tonight. I hope there is something else to eat.' I just smiled. But that statement stayed in my head."
Excerpted from Shashi Kapoor: The Householder, The Star by Aseem Chhabra, with the permission of the publishers, Rupa Publications.
You can buy a copy of the book HERE