'Kashmir is the main issue between the two countries.'
'We have not been able to resolve it bilaterally.'
'As the two major countries in South Asia, we have to go back to the drawing board and start engaging.'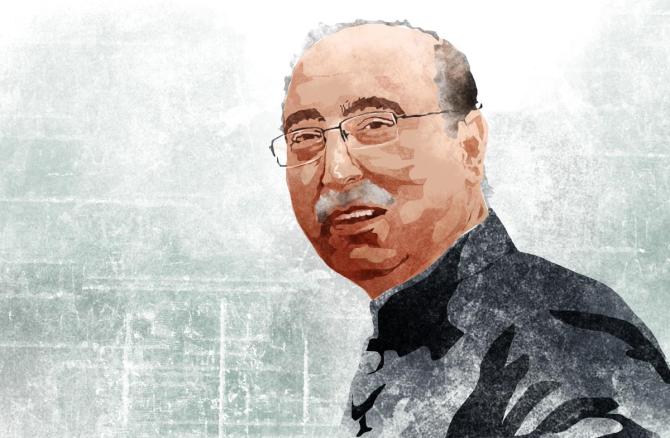 Getting to speak with a Pakistani diplomat is a rare opportunity for an Indian writer.
So I want to make the most of my Zoom call with Abdul Basit, who served as Pakistan's high commissioner to India from 2014 to 2017.
This period, which forms the first three years of the Narendra Modi government, are chronicled in his new book, Hostility: A Diplomat's Diary on Pakistan-India Relations, published by HarperCollins.
It also includes his reflections on bilateral relations after his tenure.
The title is forbidding and I hope the meeting will be friendly.
I rarely dress up for online meetings, but I make a special effort for this one.
A gorgeous blue kurta calls out from my wardrobe.
I had purchased it on a short trip to Lahore in 2012 as part of the Exchange for Change programme that brought together educators and students from India and Pakistan.
Basit, who joins me online from Islamabad, is pleased to hear that I have visited Pakistan. He is seated in a library in the basement of his house.
What has he been reading lately? Turkish writer Mustafa Akyol's The Islamic Jesus: How the King of the Jews Became a Prophet of the Muslims (2017), India's External Affairs Minister S Jaishankar's The India Way: Strategies for an Uncertain World, and former US president Barack Obama's A Promised Land.
He gave up on the last one because he "lost interest", but read the sections on India and Pakistan.
I show him my coffee mug, a present given to all the Indian delegates by a school in Lahore.
Basit is in a jovial mood. When I ask if I am the only one with the beverage, he assures me, "I have my coffee. I will keep sipping it. Don't worry."
Prior to Delhi, he has served in Moscow, New York, Sana'a, Geneva, London and Berlin. What, according to him, is the most important quality required to be an effective diplomat? He thinks for a few seconds, and says, "Cool-headedness! It allows you to look at things more carefully and objectively; then you can formulate your responses and make decisions in a rational manner."
His first posting in Moscow and the last one in Delhi were the most memorable, he says.
He recalls the excitement of being a young diplomat who was the only Russian-speaking officer in the Pakistani embassy back in 1985, the year I was born.
Given the relationship between Pakistan and the Soviet Union at that time, it was a tough environment.
Speaking of the similarities between Moscow and Delhi, he says, "I ended my career in India, where there is bonhomie at many levels, but there is also hostility. It is certainly a dream posting for any Pakistani diplomat."
"I was there at a very interesting time for India and Pakistan, when the Bharatiya Janata Party won the election and Prime Minister Modi came to power."
Though he enjoyed Delhi the most, he also visited other cities including Jaipur, Hyderabad, Shimla, Kolkata and Lucknow.
In his book, he writes warmly about the many Indian friends that he and his wife made here.
Basit says he is enormously satisfied with his work as a Pakistani diplomat in India.
He tells me that he still receives invitations from colleges and universities to address students via Webinars.
"Some people may have thought that I was very hawkish in my outlook. Despite that false image, I enjoy a good friendship with many Indians. We exchange greetings and thoughts on several issues."
If he gets along so well with Indians, why is he perceived as hawkish?
Among other things, he met Hurriyat leaders despite then Indian foreign secretary Sujatha Singh's clear message to avoid doing so since it could undermine constructive diplomatic engagement between the two countries.
In his book, Basit also expresses the feeling that Pakistan's then prime minister Nawaz Sharif came across as too soft on the Kashmir issue, and kept "pandering to India" in a way that he should not have.
Basit tells me that one of his fondest recollections of India is a visit to the house of cinema legend Dilip Kumar (who died last month).
Basit was scheduled to be in Mumbai for work. Sharif, who is a great fan of the actor, urged Basit to meet him and spend some time with him.
"When I told Dilip Kumar that I am from Peshawar, he got so excited. He started talking in Hindko, which is my mother tongue," he says.
"I was supposed to be there only for 30 minutes but stayed for three hours. He did not let me go. I even offered evening prayers with him."
Basit also met actor Amitabh Bachchan in Mumbai, and says he was touched by his "warm hospitality".
Does he think that Pakistan and India might re-open their consulates in Mumbai and Karachi? He is hopeful but measured in his words.
"If the two countries re-engage with each other formally, there is now a possibility to reopen consulates. Whether Pakistan is willing to drop the demand to get Jinnah House, I don't know," he says, adding that "many other things need to be settled first."
Acknowledging the importance of both Mumbai and Karachi in order to expand trade and cultural relations, he says the road to peace in South Asia goes via Kashmir.
Without resolving the conflict between India and Pakistan over Kashmir, the mistrust is unlikely to melt away.
"Kashmir is the main issue between the two countries. We have not been able to resolve it bilaterally. As the two major countries in South Asia, we have to go back to the drawing board and start engaging."
"Do we want to continue to live in this pattern or try something new so that we can put our relationship on an irreversible trajectory of positive and mutually helpful relations?" he says.
After his stint in Delhi, he served as president of a think-tank called the Islamabad Policy Research Institute, which focuses on matters of national security, international relations and public policy.
Currently, he heads the Pakistan Institute for Conflict and Security Studies.
He also taught university students for a semester, but says the job did not suit his temperament.
Grading students was a challenge for him.
"I was too hard and strict. The management thought that nobody would be able to pass. I could not reconcile myself, so I stopped."
Before we conclude, I ask if I could say hello to his dog Oreo, who appears in his book.
Oreo is not around, and neither is Oreo's companion, Brownie.
As we bid goodbye to each other, Basit says, "Optimism and the aspiration for peace must be kept alive."
Feature Presentation: Aslam Hunani/Rediff.com