'No prime minister of India is averse to normalise relations with Pakistan, if it is possible to do so without altering our fundamental position on Jammu and Kashmir,' notes Ambassador T P Sreenivasan.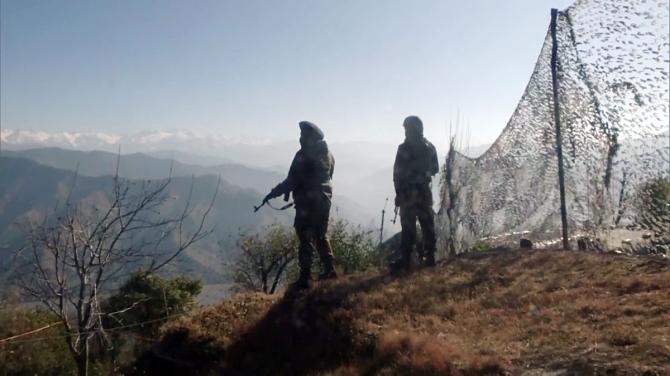 Russian Foreign Minister Sergei Lavrov let the cat out of the tightly closed Indian diplomatic bag when he said in Islamabad after a visit to Delhi that Russia welcomed the recent efforts made by India and Pakistan to improve bilateral relations, ending a long period of denials by India about a possible backchannel dialogue taking place between the two countries.
Now there is more hope than ever before that Prime Minister Narendra Modi's effort to reset relations with the US, China, Russia and Pakistan will prepare India for the post-COVID-19 world.
Some stray blossoms heralding a possible spring on the India-Pakistan border became visible in recent months, even when India was locked in tough negotiations with China in Ladakh.
The first hint of it came from Moeed Yusuf, special assistant to the prime minister of Pakistan on national security and policy planning in October 2020 when he said that Pakistan had received a message India had desired to have a dialogue with Pakistan.
Later, India permitted Pakistan Prime Minister Imran Khan to fly over India to Sri Lanka in a gesture of non-reciprocal goodwill.
Many commentators dismissed these as illusory. Even when the directors general, military operations issued a joint statement agreeing to observe the 2003 cease-fire strictly in future, many did not believe that there was anything more to it than meets the eye.
Then the Pakistan army chief General Qamar Bajwa called for a resolution of the long-standing issue of Jammu and Kashmir in a dignified and peaceful manner in accordance with the wishes of the Ppople of Jammu and Kashmir.
He also said that Pakistan would not interfere in the internal affairs of States and urged India to forget the past and create a conducive atmosphere for peace.
He even mentioned the enormous benefits that India and Pakistan would have if there was peace in the region.
The holding of the Indus Water treaty talks, granting of sports visas and an unusual lack of use of any strong words against Pakistan in the election campaigns appeared to indicate a soft approach.
At this point, even the sceptics began taking notice and felt that something significant was brewing.
But since neither India nor Pakistan confirmed any consultations leading to these developments, whispers began that some backchannel diplomacy was taking place somewhere to normalise relations.
The immediate suspicion was that President Biden might have been prodding Pakistan and India to enter into a dialogue, particularly since he is working on a way out of Afghanistan, in which Pakistan is a major player.
It was also believed that India might have also desired some calm on the Line of Control when the Line of Actual Cpntrol was aflame for almost a year.
A two front conflict would not be in India's interest. Since India has a position that no dialogue is possible without an end to terrorism, India cannot take an open initiative.
So it was logical to resort to backchannels, it was believed.
It was even suggested that back-channel negotiations were being held between our National Security Adviser Ajit Kumar Doval and General Bajwa in some neighbouring countries.
A former Indian ambassador, Satinder Lambah, who was engaged in backchannel diplomacy during then prime minister Dr Manmohan Singh's time, not only suggested that backchannel diplomacy was desirable, but also that Doval and Bajwa were ideally suited because of their high stature and proximity to the leadership.
Reports were also heard that high commissioners would be exchanged between Pakistan and India.
To add to the speculation, Pakistan mooted a proposal to resume trade with India in certain goods, but retracted it the next day.
Pakistan accepted the five proposals India had made for collaboration among SAARC members to combat COVID-19 without raising the Kashmir issue.
None of these developments were acknowledged as significant by the ministry of external affairs, which maintained that the best avenue for communications between the two countries is the channel between the high commissions in both countries and that no other channel was necessary.
This did not carry any conviction, but the Indian official position was that no backchannel communications had taken place.
One interesting feature of the present situation is that if the conversation is between Doval and Bajwa, it can hardly be considered backchannel diplomacy, as they occupy high positions in the two countries and committed to the positions of their countries.
The whole point of backchannel diplomacy is to try out ideas without any commitment by the governments concerned.
The secrecy of backchannels can permit a small elite to escape oversight and scrutiny to achieve unaccountable aims.
Once the interlocuters come to some kind of an understanding, the official negotiators can take over and reach an agreement.
Backchannel or Track 2 diplomacy is virtually a cottage industry in Delhi and Islamabad and any number of experts can be found to engage in the exercise in some exotic destinations.
We have had a long history of backchannel contacts even during wars, terrorist attacks and military action, whose work came to be known only years later.
Much has been accomplished by them, but the details are normally not released.
They may remain unsung, but that is in the nature of the game. No prime minister of India is averse to normalise relations with Pakistan, if it is possible to do so without altering our fundamental position on Jammu and Kashmir.
The abrogation of Article 370 and the claim on Pakistan occupied Kashmir have introduced recently and it is all the more reason that backchannel diplomacy should be used before formal talks can commence after Pakistan has renounced terrorism as an instrument of policy.
Every prime minister, whether of India or Pakistan has an eye on the Nobel Prize, which is within their reach.
Whether backchannel discussions are confirmed or not, any movement towards normalisation will be welcomed in both countries and the world.
Ambassador T P Sreenivasan (IFS 1967) is a former Ambassador of India and Governor for India of the IAEA.
A frequent contributor to Rediff.com, you can read his fascinating columns here.
Feature Presentation: Aslam Hunani/Rediff.com