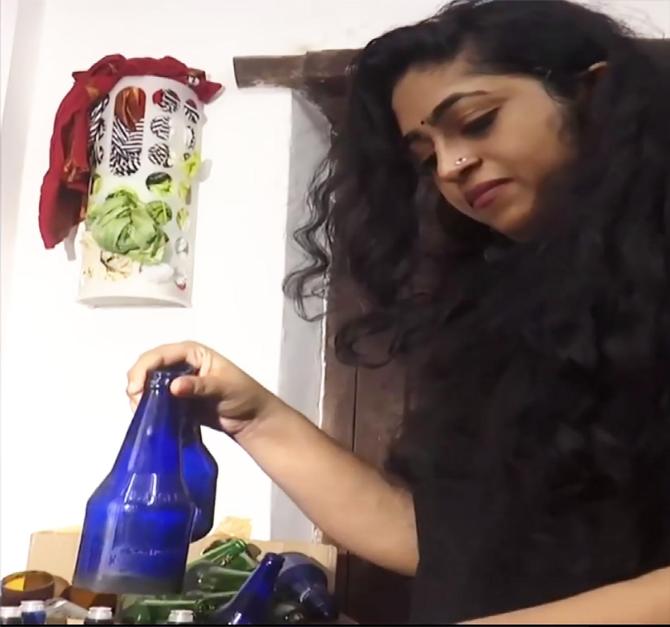 Nouf Mohammed Al Marwaai was suffering... until yoga came to her rescue.
The Top Videos of the Week, listed by Shailajanand Mishra.

Also see: Hyderabad's 'tunnel' aquarium.
A tale of true love.
Videos chosen by you through your likes on iShare.
---
An Ambulance For Trees
Location: Udaipur
Guess who stands in the summer heat all day? Rooted to the ground, unable to move? Shrivelling in thirst? And, at the same time, uncomplainingly providing welcome, cooling, lifesaving shade to other living beings?
Trees, that's who!
Udaipur -- like Indore did last year -- has decided to take better care of these silent sentinels of Nature.
They, too, have introduced a tree ambulance to take care of the city's green cover.
---
Now, That Is True Love!
Location: Chhatarpur
Vandana Chansauria had a dream -- she wanted to build a temple dedicated to Radha-Krishna at Chitrakoot.
When she passed away with her desire still unfulfilled, her husband gave her a last, incredible gift.
B K P Chansauria spending all the money he had saved over the last 32 years and, "at an estimated cost of Rs 1.5 crores", built the temple exactly as she wanted it.
---
Historic! Navy's Latest Achievement
Location: Arabian Sea
Watch the MiG-29K make its maiden night landing on the INS Vikrant.
---
Hyderabad's 'Tunnel' Aquarium
Location: Hyderabad
On both sides, water rises above you and fish rush in.
Yet, you walk through calmly and, yes, even click selfies with the finned creatures.
That's what the Underwater Tunnel Aquarium Expo -- which is part of the Summer Festival Fair in Hyderabad -- is offering visitors.
---
How Yoga Changed Her Life!
Location: Chennai
She used to suffer from lupus erythematosus, an auto-immune disease.
Then, Nouf Mohammed Al Marwaai -- who is from Saudi Arabia -- discovered yoga. And it changed her life.
Today, she is the founder-chairman of the Arab Yoga Foundation and trained "more then 10,000" yoga enthusiasts.
---
Are The Himalayas In Danger?
Location: Shimla
Yes, from our ugly habits.
We Indians are a lazy lot and think nothing of dumping garbage -- especially plastic waste -- wherever we please.
And that's exactly what Indian tourists visiting the Himalayan regions are doing.
This is left environmentalists, farmers and locals worried as it is negatively impacting the ecosystem.
Local residents, in fact, have demanded that the authorities take action to stop this behaviour and make arrangements to collect the plastic waste.
The Nigiris, incidentally, has banned use-and-throw plastic items in the region.
---
See What She Does With Waste Glass Bottles!
Location: Kochi
Nope, she does not throw them into the bin.
Instead, Renjini Thampi transforms them into beautiful home decor items.
Her passion and creativity have become the foundation of her sustainable business, Vapasee.
Over the years, Renjini has upcycled more than 21,000 glass bottles into items of home decor and art pieces.
---
What's Sara Praying For?
Location: Ujjain
If she was asking the gods to look kindly on her latest release when she worshipped at the Mahakaleshwar temple in Ujjain, they definitely heard her.
Zara Hatke Zara Bachke, which sees her romance Vicky Kaushal, has hit the sweet spot at the box office.
---
Feature Presentation: Ashish Narsale/Rediff.com