'It was a privilege to work for the country.'
A group of nursing students have been on the frontlines of the war against COVID-19.
The final year BSc Nursing students at the Gambhirchand College of Nursing in Matunga, north central Mumbai, have discharged their duties admirably at Mumbai's largest COVID-19 facility, the National Sports Club of India dome in Worli, south central Mumbai.
With statements like "Difficult is Nothing", and "We are soldiers of this war", they are an exceptional story of courage in these distressing times.
Archana Masih/Rediff.com spoke to these young covid warriors.
Doff your hats to them, folks!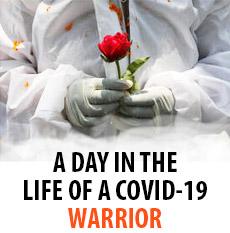 Kajal Jadhav, 22
It has been two weeks days since I returned after doing covid duties for one-and-a-half months.
The one thing that I realised in those weeks was that difficult is nothing.
What I remember most was the response from the patients in our care.
They said we were like Bhagwan.
I liked talking to the patients. When we reached for duty, we would say, 'Good morning aunty' or 'Good morning uncle, how are you, feeling better or not?', and they would say, 'Good morning sister' with a smile.
They said we were like their family members.
Wearing the PPE was challenging at first, the goggles left red marks on the face. It would fog up and make it difficult for us to write.
Then we got face shields which made it easier. In a few days we got used to the PPE.
We were provided hotel accommodation near the Covid facility. I used to wake up at 6 am and leave for duty at 7.30 am and relieve those on the night shift. The morning shift would end at 3 pm.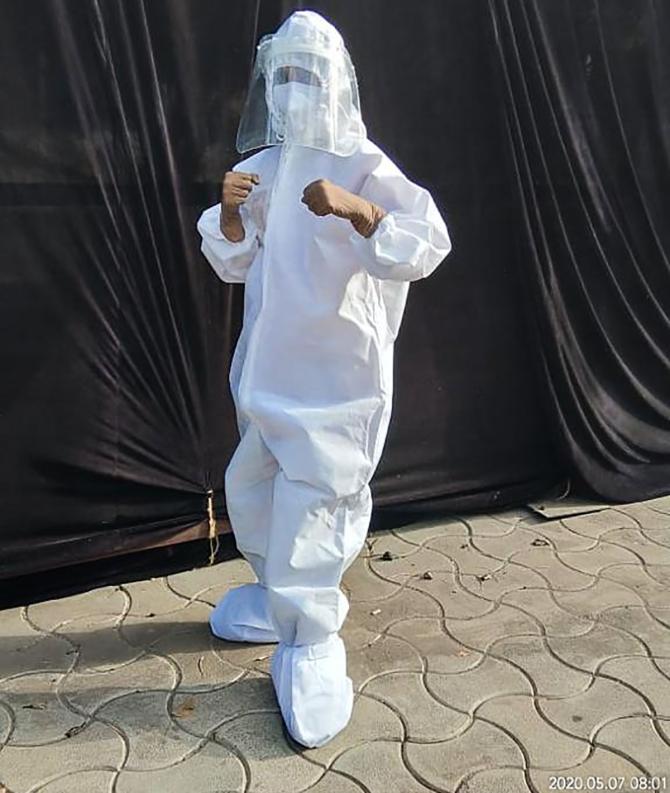 The early days were tough because the patient ratio was high and we were 24 students and few doctors and staff.
My father is a farmer in Raigad and I came to study nursing in Mumbai. I stay with my aunty. My family was worried initially, but they encouraged me.
I used to speak to my parents and my aunty every day on video call. I met my parents one year ago and don't know when I will get a chance to meet them.
I was personally only scared in the beginning of contracting the infection. There were many questions in my mind, but our teachers motivated us.
When I returned home, my neighbours had lined up according to social distancing norms to welcome me.
They welcomed me with flowers and did aarti. Though I already had a Covid negative report, I quarantined in another room for a few days and then came into the house.
I want to get a job as a nurse and help my parents. I will do an MSc after gaining some experience.
I learnt so much during this time and feel lucky to have got an opportunity to work for the nation.
***
Nency Krishna Pille, 22
Working for Covid patients has been the best experience of my life so far.
I realised in the beginning that society had stigmatised those with Covid. People were not talking to them and did not want to come near them.
These patients were very grateful that in spite of us being students we were looking after them.
Many a times they used to tell us that 'You are like god'.
I remember I had taken the admission of a 70-year-old patient. When he got discharged, he came to me and was bending down to touch my fee to say thank you. I politely stopped him from doing so and he said, 'Sister, you healed me'.
One family said you saved us from death and no harm will ever come to us. They said if there was anything they could do for us, we must contact them in the future.
Patients used to take selfies with us while leaving.
I will never forget that experience ever.
When we were told that we had to go for Covid duties, my mother was reluctant, but my uncle encouraged me.
'You are soldiers and this is the time to serve the world,' he said.
My father is no more.
My family did a special prayer on my return.
Neighbours had so many questions about everything I did there. They are all proud of me.
I want to get a job to help my family and then pursue higher studies.
My teachers and the doctors have been very encouraging. The doctors -- Dr (Rais) Ansari, Dr Hansel (Misquitta) -- could even recognise us in our PPE.
They always asked us if we were alright.
I worked at the Covid facility for three months and came back with the experience of a lifetime.
We were treated with love, respect and dignity.
It was a privilege to work for the country which would not have been possible without the support of our teachers and college.
Feature Presentation: Aslam Hunani/Rediff.com