Sheela Bhatt drives from New Delhi to Agra and Firozabad to capture the stories of an India under lockdown.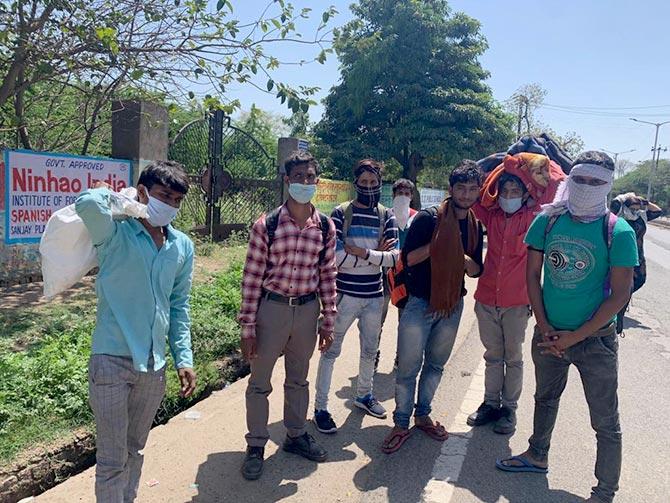 In these unfathomable times of ruthless lockdown, when you leave New Delhi and travel in any direction deeper into the interiors, you face no crowd, no traffic, no chaiwallah, no loud noise, no colours -- but you will meet policemen aplenty.
On March 30, I travelled from Delhi to Agra and Firozabad in Uttar Pradesh. The sky was unusually blue, the air clean and clear with the chirping of birds louder than ever.
Movement-less, undisturbed highways, human-less huge grey overbridges, and rows of building after building without a human in sight -- the skyline around seemed like ghastly, abandoned modern cityscape.
Indian towns and cities now look like as if they are characters in modern day fables.
I was on the national highway through which an unbearably tragic exodus of migrants had trudged many miles away from the peripheries of Delhi.
After a serious lapse in judgement, the Narendra Damodardas Modi government and the state governments of Haryana, Rajasthan, Madhya Pradesh, Uttar Pradesh, Bihar and the Kejriwal government in Delhi had swung into action to provide the inter-state migrants with transport, food, shelter and medical facilities.
But the thing to note is that Delhi wasn't the only place where this exodus had erupted on inter-state junctions.
In urban areas whoever lost their daily income or held a temporary job, the thought of going back to his/her native villages and towns to be with family.
In these fearful times, the issue before them was how to feed oneself and their dependents since incomes have suddenly vanished in the complete, never-seen-before lockdown of the country.
After travelling some 200 km, when I reached near Agra, I met a group of 19 young men from Urva village in Madhya Pradesh. They workedat an alcohol factory in Jodhpur, and the day after Modi announced the lockdown, their employer paid for their bus transport home. The bus dropped them at Bharatpur in Rajasthan that borders Uttar Pradesh.
Punjab Singh, Mulayam and Suraj were part of the group walking restlessly towards Madhya Pradesh via UP.
The urban migrants exodus may have shaken the nation to its core, but when one speaks to labourers individually one understands how the people in power are lucky. Because these poor people have the least expectations from the rich and powerful. Their emotional quotient drives their lives.
Seeing his torn pair of shoes I asked Punjab Singh, "Aap ke pair nahi dukh rahe hain? (Aren't your legs paining?)"
"Kisan ka pair dukhne lage ton kaam hone se raha (if a farmer starts complaining of pain, then nothing would move). In the liquor bottle-packing factory we are asked to stand for 10 hours at a stretch."
"From Agra our village is at hardly much of a distance," says Suraj. "We will walk another 130 km (bas, itna sa door) and will reach our sarhad (border)."
Walking 130-plus km on forlorn highways was hardly a long distance for them.
Notwithstanding Modi's address to the nation and the police presence at every corner to prevent an exodus, these migrants wanted to "be home".
Neither the police could do much nor could any local leader stop them because their collective desire to reach home was so intense -- their economic condition, family ties, community bonhomie and the region's tradition and habits guiding them.
Of course, the migration of workers from urban to rural India after the lockdown is an unforgettable evidence of Indian society's inequality, class difference and the great rural-urban divide.
But, in the same society, everything is not lost.
There are layers within layers -- of our dark side as well as our beautiful side.
When asked about water and food, all of them said the media coverage has helped them. As people come to know about us," says Mulayam with a spark in his eyes, "we are offered food and water at every 10 km. We have enough till we reach home."
When I asked why they didn't stay back in Jodhpur, Punjab Singh says, "Our malik said the factory is closed for three months, so go home. He paid Rs 800 per person for transport up to the Rajasthan border, and we took a bus."
"How could we pay rent if we stayed back? Who will feed us in Jodhpur for three months? Better to go home, in our villages no one goes hungry. It is time for harvesting, also, so we can earn money if we help cut crops."
A little further on the road, another migrant, Riku, below, wasn't even wearing shoes. He was walking barefoot. "Kuch nahi ho sakta. Dukaane bandh hain (can't do much, shops are closed)."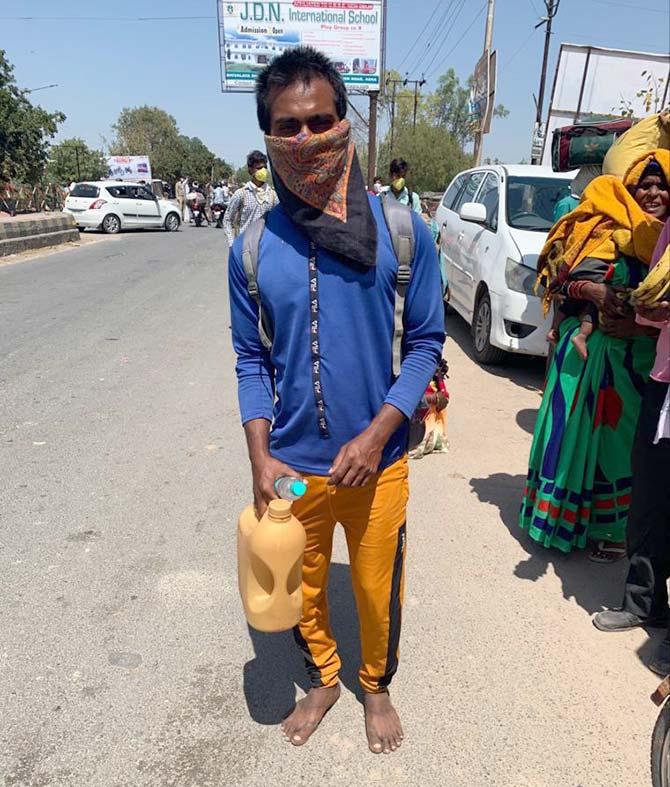 So he was walking from Haryana to his village in north UP via Agra. In the bazaars of Sonepat he carries his belongings on his shoulders. "Boza uthata hu (I am a loader)," he describes his job. His chappals came apart while walking on the uneven roads.
When someone gave him a pair of socks he was speechless! With trembling hands and moist eyes, he wore them and almost started running.
************
When I entered Agra city it was a ghost town.
The lockdown, as was expected by the state and central governments, was successful. In middle class neighbourhoods and in gated colonies one could see the people were themselves insisting on following the government's orders and wanted to remain indoors.
The fear of coronavirus is so intense that you could almost feel it while moving around in the lanes and bylanes of Agra.
By the end of March the city had 11 positive cases of coronavirus (a week later there are many more cases due to the dispersal of Tablighi Jamaat followers). So much so that four-five people I knew in middle and upper class societies were afraid to meet "someone coming from outside".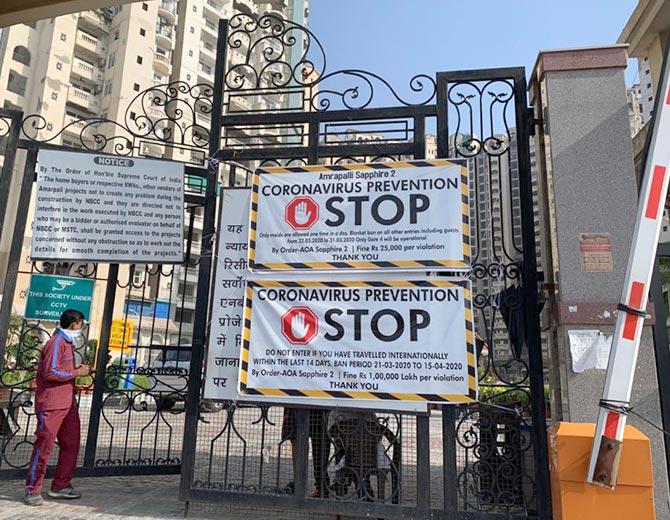 At every nook and corner one could see the police providing security and helping the citizenry in many ways, including delivering fruits and medicines to homes.
"The lockdown proves the fact that our reach across India, at all levels and up to the doorsteps of homes, is the deepest and widest. Nobody can reach out as fast and as far as we do," says Ajay Anand, the additional director general of police, Agra division. Eight districts of Uttar Pradesh fall under his jurisdiction
Three authorities are the busiest in all the districts of India to execute Modi's seemingly impossible demand to see that 1.3 billion plus Indians remain inside their homes.
District magistrates, chief medical officers and superintendents of police -- these three district heads are handling logistical issues and a tsunami of emotions from the people that no chief minister's office or Modi's office faces as directly.
To keep Indians inside their homes is a mammoth task and an impossible goal. 'The State' has entered every Indian's life right now.
In Agra, police officers have the telephone numbers of those living alone in the city.
'Every alternate day," says ADGP Anand. "we have asked them (local police officers to contact them and help get essentials. There are officers who have been asked to visit them personally between 4 and 6 pm."
When one travels in the districts it strikes one more forcefully that the ongoing efforts are the collective exercise of the Centre and states of India.
Right now, 'federal India' is at work. In a conventional war against the enemy, New Delhi has more to do, but here the states have to work much more because COVID-19 is a health emergency and health is in the states list under the Constitution.
Take Agra. Residents are asked to dial 112 for essential services if they are unable to find them. The police then responds to civic issues on the phone. Every day more than 1,800 calls come in, says senior city police officer Shulabh Saran.
"The beat constable takes care of local demands, do whatever it takes," says Saran. "It's his job to see that nobody is seen on the roads."
All police thanas have been provided with more than dozen two-wheelers and six four-wheelers to deliver essentials to families in their respective precincts.
In Agra, one could see junior police officers carrying vegetables to deliver in housing colonies. Another group of policemen and civic staff were searching for people with a travel history.
Another group in khaki helps civic authorities distribute food in areas where Agra's poor live. Vegetable pulao or puri-subzi is the preferred dish to pack.
"On March 30," informs ADGP Anand, "we distributed more than 63,000 food packets, out of which around 34,000 food packets were given to migrants who were crossing Agra to reach MP or northern UP."
The duties of the civic staff and the local police have blurred since the lockdown. In Agra, online booking of many kinds has been enabled. The forms are available online for people to list their requirements of food and medicines.
The police have been specially asked to encourage and help vendors and hawkers to move around in the city.
In localities where the poor live, the serious issue of income and hunger exist, but the people also tell us, quoting from Modi's address to the nation, "Jaan hai to jahan hai."