A Rediff.com journalist reveals what it's like to live in a building sealed by the authorities because one of the residents is COVID-19 positive.
Illustration: Dominic Xavier/Rediff.com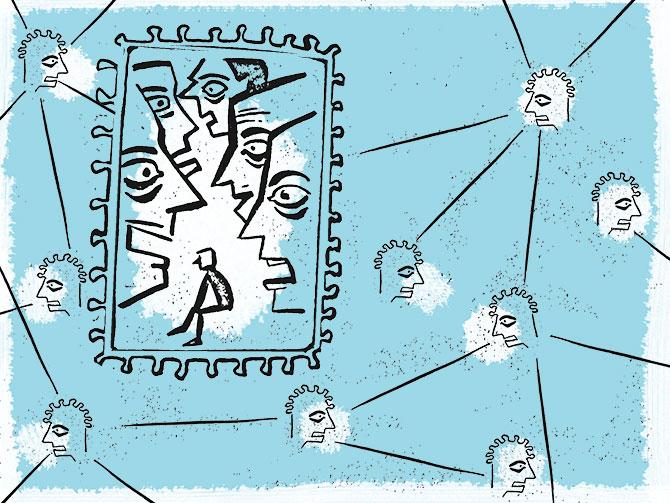 These are difficult times.
Sometimes, even though you try your best to be sensible, you will feel a frisson of panic.
When I woke up this Sunday morning, it felt like any other day of the week.
We had moved into a new apartment barely two weeks before the lockdown and were just finding our feet.
I freshened up and sat down for my first Sunday chore -- making a list of things we may need for the rest of the week so that I could decide which ones to buy from the shops nearby and which ones to order online.
At 8 am, I got a call from Grofers (the grocery app).
Their delivery boy wasn't being allowed to enter the building so I went to the gate to collect my order.
My husband, who was still half-asleep, came with me to help.
I asked the watchman if this new restriction had anything to do with the animated discussion that had taken place in our residential complex last night.
"Someone flouted the quarantine norms," he said, so the security staff were ordered not to allow anyone inside.
The story didn't add up so I sent my husband upstairs with the groceries and stopped at the milkman outside the main gate.
Both he and his wife looked worried and said two policemen had asked them to shut the shop soon.
As I bought milk and curd, I noticed one vegetable vendor quickly packing up though it was only 8.10 am and people were just stepping out to buy stuff.
Clearly, something was not right.
Back inside the gates, another watchman shared a rather unpleasant update.
A resident in the adjacent wing had tested positive for COVID-19 that morning. The municipal corporation could seal our building complex soon.
As the mother of a 33-month-old child, I was doubly worried. My elderly parents live with me.
I rushed home, bathed, disinfected my clothes and mopped the floor.
My husband had already shared the news with my parents who were in super panic mode, cleaning and disinfecting the packages that were delivered.
I went through the complex's WhatsApp group on my father's phone, hoping to get some clarity.
There were some deleted messages and the group's settings had been changed. Only admins could post messages now.
The latest message from the building chairman read: 'As you all are aware, a resident in our adjacent wing was tested positive for COVID-19. We have informed the relevant authorities and due process has been initiated.'
'Our complex will be sealed and all members will be stamped. We are all under quarantine for 14 days. Kindly co-operate and do not step out. It's an order.'
I informed my office because I didn't know what would happen next. To me. To my family.
An hour later, a team of policemen and two-three municipal officials entered our building. They disinfected every floor and the surroundings.
A little later, a team of four masked people, including the secretary, rang the bell to let us know that a medical team would visit us within 24 hours.
At that point, I realised something important.
No matter how much news you read, how many interviews or reports you follow, no one -- and I repeat, no one -- is prepared to deal with this situation.
Not physically.
Not mentally.
My mind couldn't process what to do next.
My father is diabetic.
My mother has low blood pressure and often gets panic attacks.
My son recently recovered from pneumonia.
Most of Sunday was spent in speculation; we wondered who the patient was and how he contracted the virus.
On Monday, two officials -- a man and a woman wearing personal protection kits, masks and gloves -- rang the doorbell.
When we opened the door, they asked us to maintain a safe distance, wear our masks and not step out while they interviewed us.
The elderly couple who lived opposite us was too frightened to understand the instructions.
They stepped out on the corridor while the officials, both standing a metre apart, spent 5 to 10 minutes asking them questions and taking their temperatures (using a contactless, digital thermometer aimed at their forehead).
Then, it was our turn.
Starting from the eldest member of the house, they took our names and temperature readings along with our ages, worrying symptoms and travel histories if any.
They expected us to be honest, which I hope everyone in our complex was.
In approximately 25 minutes, they had finished questioning the 12 members who lived in the three flats on my floor.
I was expecting them to take throat swabs or maybe blood samples, but they didn't.
I double checked if that was all they needed to ensure we were "safe".
The officer said "yes. Agar fever ya breathing mein difficulty hai to turanth call karneka (If you get fever or have difficulty breathing, immediately inform us)."
The family members of the patient in the adjacent building and his relatives in our building all tested negative, so it didn't seem like there was cause for worry. At least, for most of us.
Soon, several congratulatory messages poured in on WhatsApp... 'Good news', 'God is with us', 'We are with you'...
My parents heaved a sigh of relief; they thought it was all over.
Only, it was not.
Within minutes, we started getting calls. Some were concerned, some had called out of curiosity just to know the what, the when and the why.
Someone forwarded us a picture of our building.
I would have said it looked beautiful had it not been captioned: 'Sealed' with a huge red cross, which had obviously been Photoshopped in for impact.
When my mother saw it, her face fell again.
Meanwhile, on a common Facebook group, a self-appointed reporter posted this 'breaking news' without even verifying it.
He posted an unrelated Google sourced image of a company, with details about the victim -- how irresponsible he and his family were, how he had infected his family (untrue) and his relatives (again, untrue) and the place where he worked (fact check: He volunteered to be tested when his boss tested positive; he informed the municipality so that they could seal his office and gave a list of people he had come in contact with).
The Facebook post had done its damage -- the letter the COVID-19 positive patient wrote to the municipality had his name, age and residential address and it was now public.
It didn't feel like social distancing any more. This was social discrimination.
Isolating and targeting people.
Sharing personal details to shame victims and create more panic and fear instead of uniting and fighting like a community.
The pandemic has exposed our ugly side through our insecurities, fears and anxieties.
The same people who excitedly banged thaalis on their balconies were now looking at each other with suspicion.
We had already started Monday with no milk. And were thinking how much our lives had changed in just a few hours, when our thoughts were once again interrupted.
There was another knock at the door.
Three municipal officials appeared in PPEs, masks, gloves and blue marker pens.
Starting again from the eldest member of the house, they manually wrote the date 3.5.2020 on our hands and inked our ring fingers.
When I mentioned to the lady that the year wasn't clear, she said: "Yeh toh paani se chala jayega (this will be wiped away by water)."
They informed us that we would have to follow the quarantine rules and not step out for 14 days.
I asked if I should wake up my infant, who was sleeping inside.
They said it was not required.
They didn't seem interested in answering questions.
Their job was to stamp the people listed in the roster they were carrying.
One of them ticked off names while the other two scribbled with marker pens and inked us.
A debate was blowing up on the building's Whatsapp group.
There were those who wanted to know why they had to get stamped if there was no risk.
'No one will believe us,' a member wrote.
'Isn't it better to be safe than sorry?' the building's secretary answered.
Meanwhile, three bank executives, including a couple, wanted to know if they would be allowed to step out and if they would be welcomed at their place of work with the quarantine stamp on.
'I had promised to come to work from Monday.'
'I am already marked absent for 15 days because I can't work from home.'
'If I am not allowed to go to office, I don't know if I'll get my salary this month.'
The only comfort we could offer was a request for a letter from the municipal corporation notifying that she could not step out of the building because we were under quarantine.
The journalist, who is following quarantine rules, has chosen to remain anonymous.