'The government and railways are looking after us, but I just want to get home.'
For a month now, the Varanasi railway station has been a refuge for 49 stranded rail passengers.
Hailing from far off states like Karnataka, Tamil Nadu, Gujarat and Maharashtra, the passengers have been housed in a large Yatri Ashray or waiting complex at the railway station.
Far from home and uncertain about when they will finally get a ride back, the passengers follow a daily schedule and are being looked after by staff at the station.
Senior railway officials usually responsible for the 220 trains and 100,000 passengers that would pass through the station on a regular day now conduct yoga classes, provide notebooks, clothes, shampoo, oil, soap, food and arrange medical checkups.
A large television was installed when Station Director Anand Mohan noticed a dip in morale on March 30.
"I have given them pens, pencils and notebooks so that they could document their experience. This way we can add some newness to their lives. I have desperately advised them not to watch the news because I don't want them to harbour negative thoughts with the 24-hour coronavirus updates when they are far away from home," Anand Mohan, the senior-most officer at the station, tells Archana Masih/Rediff.com over the phone from Varanasi.
Every morning, the passengers wake up around 6.30 am and freshen up before the yoga session at 8.30 am.
The Yatri Ashray can accommodate 400 to 500 people and is airy with plenty of natural light, says Mohan.
The passengers are not allowed to leave the station, but can walk on the 20 to 30 metres concourse just outside the hall. Police personnel have been deputed at the station to see that no one comes in or goes out.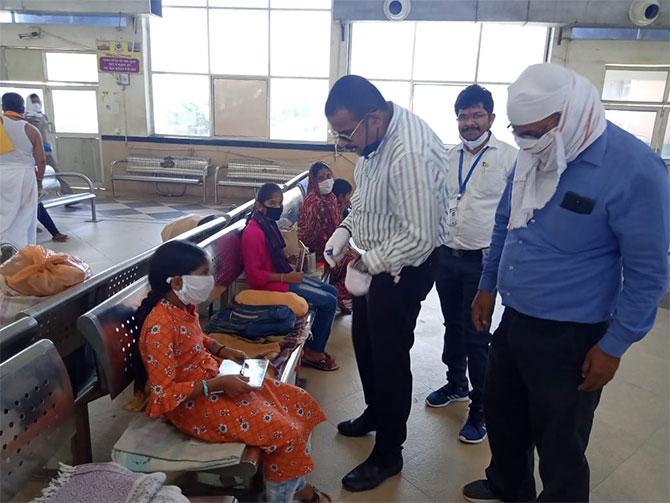 The passengers have access to 10 to 12 toilets that are cleaned several times a day. The benches are sanitised every two hours and is overseen by a supervisor, says Deputy Station Superintendent Raj Kumar, a national hockey gold medalist who conducts the yoga and exercise session every morning.
"I make them do the warm up exercises that we do before playing hockey, along with yoga and stretching. Those who are interested join in and I have found them to be nice and cooperative," says Raj Kumar, manager of the Northern Railway hockey team that won the inter-department tournament in 2019.
The exercise and meditation session is followed by tea/biscuits and breakfast.
Lunch is served at 1 pm, tea at 6 pm and dinner at 8 pm. The district administration and some NGOs provide food which is supplemented by the railway canteen.
A State Bank of India ATM is located near the hall in case passengers require money.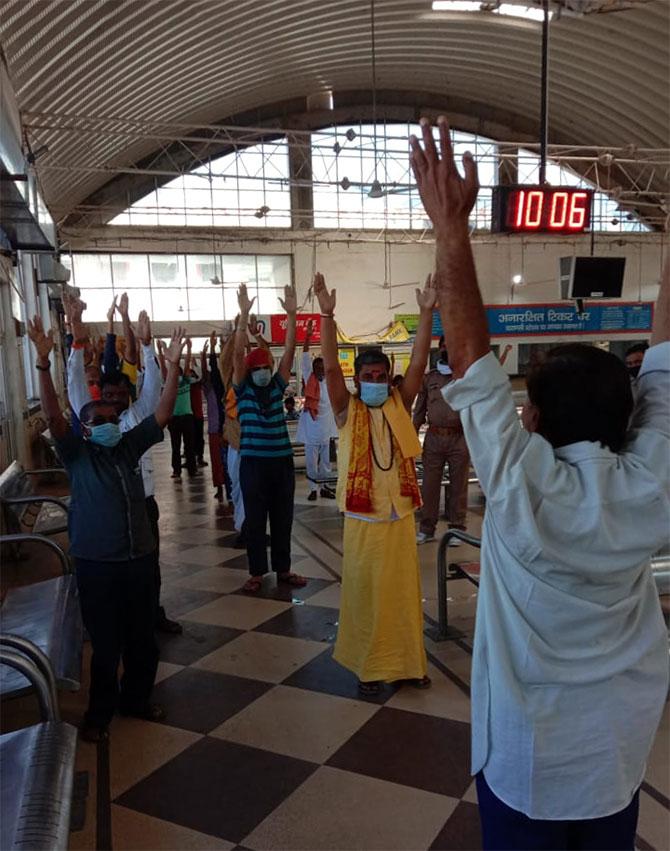 Since mostly grocery and vegetable shops are open for a few hours every day, Station Director Anand Mohan suggested that the officers bring some rubber slippers from their own homes when the passengers needed them.
"He also provided saris and t-shirts because many passengers did not have enough clothes. They would have never thought that they would be stuck at a railway station for over a month," says Raj Kumar.
When the trains were halted, stranded train passengers who had to reach destinations within a 200 to 300 km radius were transported by buses with the district commissioner's help.
Around 1,000 passengers were transported from the railway station in buses. But the 49 who remained belonged to far-off destinations -- with nowhere to go, the station was to be their shelter.
Passenger trains have halted, but 30 to 35 goods trains continue to pass through Varanasi junction. The guards carriage and driver's cabin are sanitised at every duty change.
"Such a lockdown has no reference in history," says Anand Mohan about the virus that has brought passenger train traffic to a halt all over the nation. "This is a situation that has never happened before. We are all novices in dealing with this crisis which is new to everyone, but we are trying our best to serve our passengers give the circumstances."
Narendra Singh Dhakre, an advocate from Madhya Pradesh, is among the passengers at the Varanasi junction. He had come to visit the city on March 21.
"I first thought that the Janata Curfew was for a day and I could be on my way the next day, but it was extended. Those from UP were transported in buses, but I am from Ujjain so no bus or train," he says over the phone.
"I spent the first night in the train and the second one on the platform. The first two days were hard, I couldn't sleep, there was no bed and bare amenities. Then the station director arranged food and other requirements," he says. "They arranged clothes, shampoo, oil, soap etc."
"Life is going on, but I miss my home and speak to my family over the phone. The government and railways are looking after us, but I just want to get home," says Dhakre who keeps busy by reading the newspaper, watching TV and on his phone.
Coolers have been installed to keep the hall cool and carrom boards are going to be provided so that passengers have another activity to engage in.
Masks, hand sanitisers have been provided and social distancing is practiced.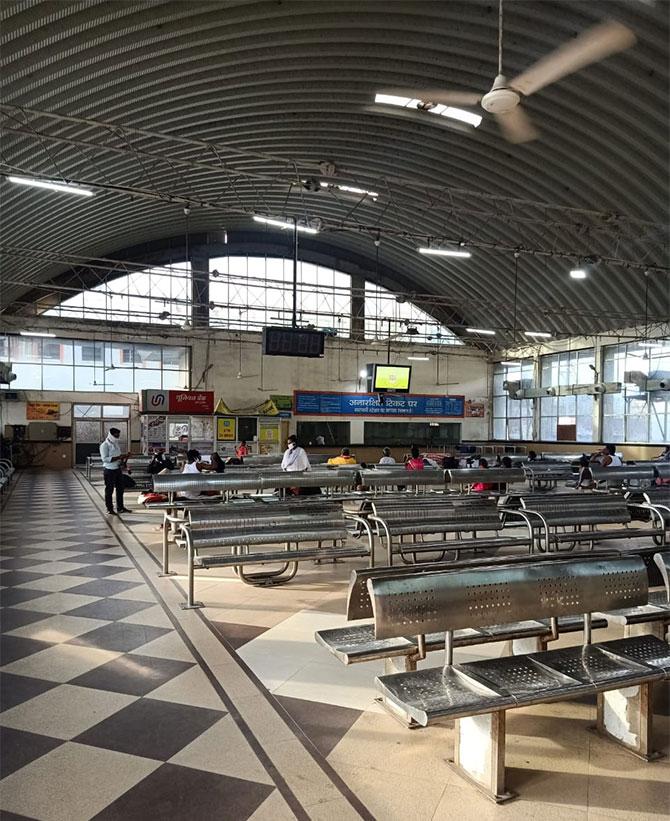 "Human beings don't need training to help others," says Anand Mohan, "We all can help others if we start thinking in that way and have the intention."