'There are 80 million tonnes of foodgrain in our godowns and yet, 200 million people go to bed hungry.'
'So I decided to fight hunger.'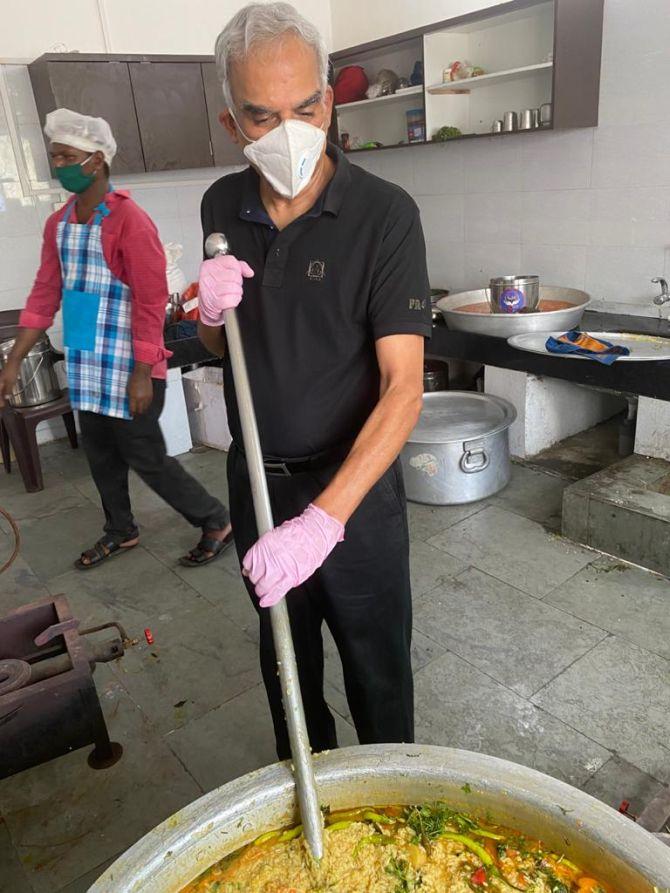 When D Sivanandan, Maharashtra's former director general of police, launched an NGO, the Roti Bank Foundation, in January 2018 to fight hunger, he could not have imagined how badly India needed an initiative of this kind.
From supplying 4,000 meals to the poor every day, today, at the height of the national lockdown, the Roti Bank now supply 35,000 meals to the poor all over Mumbai, with the city police, of which he was once commissioner, helping in the distribution.
"You put money in this bank and roti comes out," Sivanandan tells A Ganesh Nadar/Rediff.com.
What made you, a police officer, start an NGO to fight hunger? And why this particular name, Roti Bank?
I have seen poverty during my younger days. Also, when I was working in the police department I observed that street children take to crime because they are hungry.
To control crime I realised that they have to go to school where they will get a mid-day meal. Once they are educated, they are qualified to work.
Roti, Kapda, Makaan (food, clothing, a home) are the basics, and so I named my NGO Roti Bank Foundation.
You put money in the bank and roti comes out of it.
There are 80 million tonnes of foodgrain in our godowns and yet, 200 million people go to bed hungry. So I decided to fight hunger with my NGO.
What were the initial problems when you started the initiative?
In the beginning there was no money and no support. Extra food from hotels or functions was available only in the night and if we had to distribute it the next day it would be spoilt.
I started buying idlis from Matunga (north central Mumbai) and distributing it to patients and their family at the Tata Memorial Hospital (Parel, central Mumbai).
After that, donations started pouring in from the generous citizens of Mumbai. I now have 11 vans, an operations manager and other staff.
We are delivering on an average 30,000 meals a day.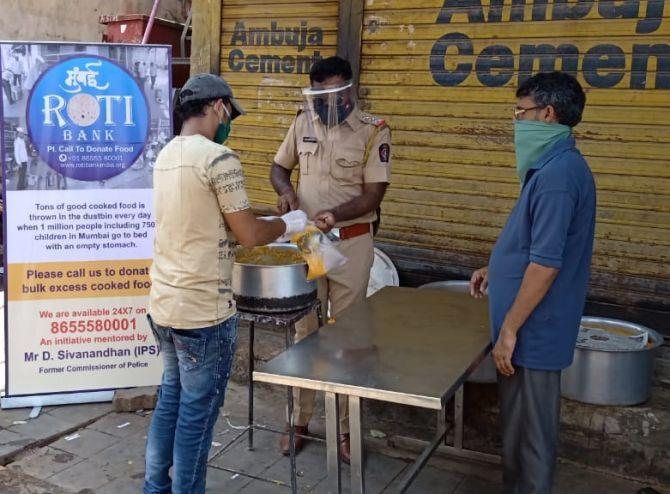 How is your NGO funded?
It is funded by the people. Tax concessions are available to our donors. Corporates are helping with their CSR funds. Individuals have also donated.
Shah Rukh Khan has donated 10,000 meals for 30 days.
Vidya Balan has donated.
Diana Penty has given.
Boman Irani has donated.
Amitabh Bachchan has given an endorsement.
There are too many individuals to recall just now. I thank all of them profusely. The citizens of Mumbai have been very generous.
From providing 4,000 meals a day you have scaled it up to 30,000 meals a day during the lockdown. How was this achieved?
When the lockdown was announced we stopped our operations for three days.
After I saw that migrants and the poor were suffering more now, we started again in cooperation with the Mumbai police.
Earlier, we were cooking in one location only. Now the cooking is done in many places.
Many more people have come forward with donations and we are providing more meals. Like I told you earlier, you put money in this bank and roti comes out.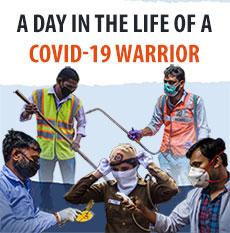 How is the delivery done in the containment zones?
We ask the concerned people to come to a specific point. Our vans deliver to various locations in the city. Local organisations deliver from there.
In Dharavi (north central Mumbai) we deliver 8,000 to 10,000 meals to the police station there.
When people collect the food from us, physical distancing is maintained. All our workers wear protective gear.
Apart from your own distribution, how many other NGOs are you providing food to?
We are providing food to between 45 and 50 NGOs. You must understand that we are fighting a huge war against hunger.
Yesterday (April 20) we delivered 32,000 meals. Today we delivered 35,000 meals.
During the lockdown, how are you managing your purchases of essential commodities?
The government has allowed the transport of essential commodities. I am buying from Raigad and Khopoli and they are bringing it in trucks.
I have not faced any problems in purchase. I just bought four tonnes of rice and two tonnes of dal.
You have also expanded your operations to Nagpur.
Retired assistant commissioner of police P G Chowdhury is in charge there. I provide everything that is needed there. We are supplying 2,500 meals a day there.
Tell us what you provide in a typical meal.
We used to provide a lot of variety before the lockdown.
After the lockdown, as the number of meals has gone up, we are supplying one wholesome eatable meal. It is normally vegetable pulao or dal khichdi.
We serve it hot.
Tell us your daily routine since the lockdown.
I wake up at 5 am. I either go to the gym or walk 12,000 steps.
I have breakfast at 8.30 am.
After that I read and write.
Then I check on deliveries. I sometimes go to the cooking places. I have to look after the backroom operations.
Retired inspector Tambe manages the transport section.
I pay my staff salary, they are all insured. I have given them protective gear. I also give them dry rations.