Every psychiatrist and psychologist Rediff.com spoke to said one thing: Avoid news channels and social media.
Ramesh Menon reports.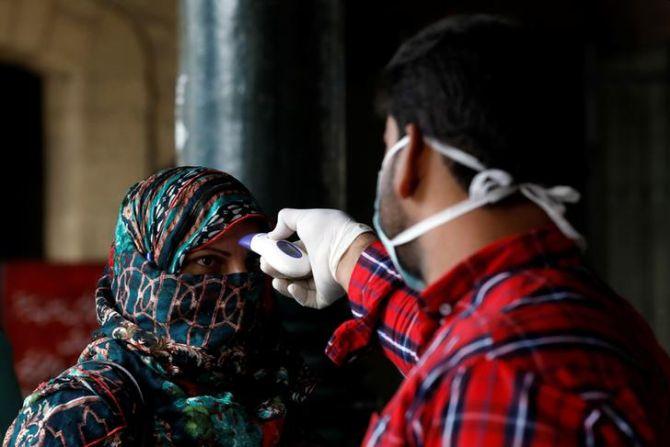 "Is the world coming to an end?"
"There is no cure for COVID-19. Many of us will die."
"I just cannot sleep well at night. If I do, I suddenly wake up shaking in fear."
"Our lives are never going to be normal anymore."
"Working at home is driving me mad as my office is not happy with my performance."
"My company has cut my salary. I might soon lose this job."
"Age is not on my side. People like me are certain to die."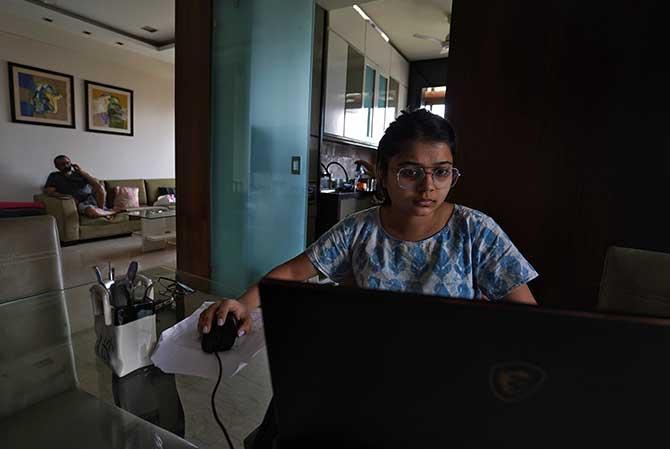 These are some of the questions and statements that psychiatrists and psychologists are grappling with as their patients battle their fears and apprehensions.
Most of them are ghosts of their imagination.
The mental disorders that are cropping up due to the spread of COVID-19 are going to haunt many of us. It is going to hang around much after the virus has disappeared.
It will radiate different kinds of symptoms and emotions that health professionals will have to handle for months to come.
Like panic attacks.
Anxiety.
Depression.
Obsessive-compulsive disorder.
Financial worries.
Fear of losing jobs or losses in business.
Fear of contracting the infection while stepping out.
Fear that the elderly who are infected will not be taken care of as priority will be to save youngsters.
Fear that the lockdown will happen again and again.
Fear of another wave of infections after the current one dies down.
Fear that some loved ones may die in the coming months.
Recurring worries about how a poor country like India can battle the virus and win when the richest countries are losing the war.
The list goes on.
Where are all these fears and complexes coming from?
Answer: News shows on television that borders on paranoia and social media are the triggers.
Every psychiatrist and psychologist that Rediff.com spoke to said one thing: Avoid news channels and social media.
The plethora of fake news on social media and the fear psychosis created by screaming anchors on television triggered anxiety and fear in normal people who were perfectly navigating their lives earlier.
The constant bombardment of information about the virus and its scathing effects worldwide was causing panic as it mainly painted a picture of an uncertain future.
One Noida student had self-quarantined though she had no symptoms. She had become paranoid watching television and WhatsApp forwards.
A recent Pew Research Centre Survey in the United States showed that 18 per cent of those surveyed reported nervousness or anxiety when they thought of the virus outbreak.
Thirty per cent said their financial situation was threatened.
A study by the Christian Medical College, Vellore, indicated that existential questions of survival and death rose out of the fear of uncertainty.
Those who had an earlier history of anxiety and depression are rushing for therapy again as their phobias have returned.
Those who have suffered financial losses in business or in the stock market are worried and anxious.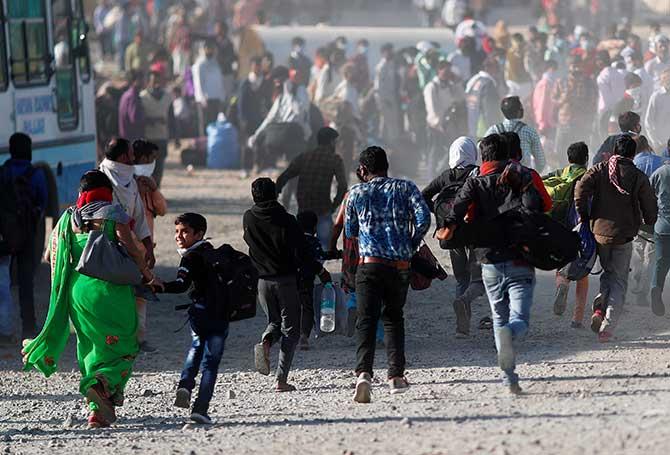 Pune-based psychiatrist Dr Dayal Mirchandani warns that a huge wave of mental health cases is going to swamp India.
He is already seeing it.
Patients talk to him about their worries about their relationships, finances, jobs, salary cuts, insomnia and other issues related to mental illness.
"We have never seen something so lethal. People are naturally worried. Patients with absolutely no symptoms or history of travel are gripped by the fear of falling victim to the disease," Dr Mirchandani tells Rediff.com,/strong>.
Patients, the psychiatrist adds, shared their anxiety about going back to their crowded offices. They feared the virus would be lurking around for months as just one infected person in a building is enough for the virus to spread it to dozens within a day.
"The offices of the future will have to be remodelled as working spaces will go through a change all over the world," Dr Mirchandani says.
Employees may want to sit away from each other and not cramped together.
Delhi-based psychologist Dr Bhawna Chaudhary found that those who have to go back to hostels were suddenly fearful of consuming food there and had issues with cleanliness.
Just a few weeks ago, they were living there without any apprehensions and it was seen as a place to bond, enjoy and sculpt their careers.
This virus changed that perception.
Initially, Dr Chaudhary asked patients to look inward during the lockdown as they had lots of free time. But she found that it did not work with many youngsters.
"When they looked inward, they got into a spiral of negativity," Dr Chaudhary says. "So, I changed tack and asked them to be physically active, exercise at home, dance and listen to music."
Many patients who had recovered from mental health issues regressed, experiencing panic attacks, anxiety and depression.
The spread of the disease all over India has worsened it for them.
The Indian Psychiatry Society says there has been a 20 per cent rise in mental illness after the outbreak.
At least one in five Indians are suffering.
Gurugram-based psychologist and hypnotherapist Dr Deepika Chamoli says this is mainly due to the negative reinforcement that television channels and social media were whipping up.
Many, Dr Chamoli says, felt working from home had led to more stress as they were not able to perform well.
They could not concentrate on work with their wife and children around.
They feared losing their jobs as their bosses were unhappy with their output.
She found many housewives could not handle their husbands and children as they had done before and were getting irritated and angry for even simple, sundry things.
It had shattered domestic peace.
Many were not able to handle obsessive parents and in-laws who would keep on talking of how they would soon die.
Psychologists noticed adjustment problems with both men and women.
They were suddenly spending 24 hours together.
Dr Chamoli says some patients who were positively disposed were responding faster to suggestions of meditation, focusing on one activity, enjoying quality time with their families and exploiting this once in a lifetime opportunity to be with them.
Some patients asked Dehradun-based psychologist Dr Mnayitre Ghoshal if the world was going to end.
Many previous patients started bringing up earlier illnesses or fears, saying they were once again sick and needed therapy.
"When we are confused or apprehensive about the future, our minds naturally gravitate towards anxiety-related issues. Many of us live normal goal-oriented lives. Suddenly, there is a shock forcing us to look away from our jobs or goals to uncomfortable truths," says Dr Ghoshal.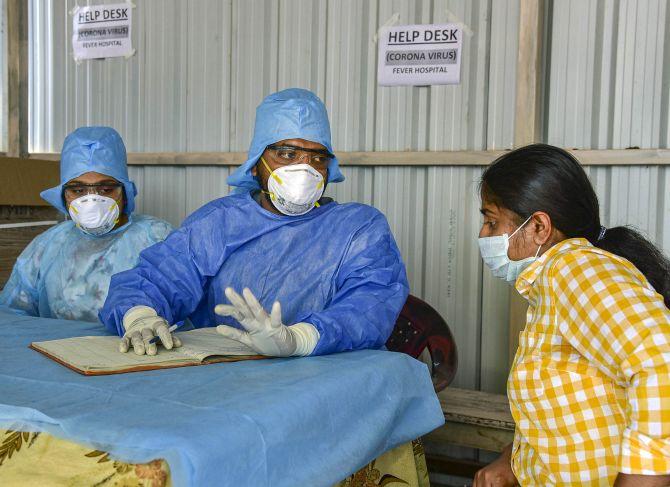 March and April usually see a plethora of parties on every campus as placements get finalised and students get wings to fly out and build exciting careers.
Not this year.
Students who were earlier placed are now unsure.
Organisations are reconsidering their offers and many are not offering the promised salaries.
Result: Anxiety and pessimism.
Dr Rita Kumar, who teaches at the Amity Institute of Psychology and Allied Sciences at Noida, answers numerous calls every day from students who are worried about their careers, job opportunities and have anxiety-related issues.
Many complain of insomnia.
Dr Kumar says the trick is to maintain a regular routine even during the lockdown and continue to either work out of home or engage in some activity like enrolling in an online course and completing it.
"Remaining positive during these troubled times is very important not only for each of us to become resilient but also to help others to cope," she says.
She was happy when students told her that they were using their time doing household work, helping their parents cope and spending quality time with their family.
Dr Debanjan Banerjee, a geriatric psychiatrist at the National Institute of Mental Health and Neurological Sciences in Bengaluru, told Rediff.com: "India also needs to get ready to integrate mental health into the public health system to meet the challenges of pandemics like the one we are witnessing. It is going to be a long haul.
"We need to convert this tragedy into an opportunity by introducing family bonding to get rid of other illnesses caused by loneliness and lack of moral support," he adds.
One fallout that has not been talked about is the domestic violence that women are witnessing during the lockdown. Closed in the confines of their house, they are helpless.
The National Commission for Women said in the first 10 days of the lockdown, 257 women contacted it to complain about abuse like rape, attempt to rape, domestic violence and even online harassment.
Women are hesitant to call helplines as they fear more abuse if the police release their abusers and they then have to live with them locked in their houses.
Medical professionals have their own worries.
Dr Divya Manchanda from Delhi says she lives in constant fear of being infected. Like many other doctors, she feels certain that it will happen sooner or later.
"There is a fear that there will not be enough beds in any hospital someday. I am more afraid about my mother's plight as she lives alone and I cannot even go and meet her. She also lives in fear, not about herself but about me. She wants me to return home, but I cannot do that," Dr Manchanda says.
In the months ahead, we are going to see mental tremors shake our lives as never before.
In some form or another, each one of us will experience it.
---
Ramesh Menon is an author, journalist, documentary film-maker and corporate trainer.