Like the last time, Ghulam Nabi Azad is believed to have taken the lead in preparing and despatching the letter this time too, reports R Rajagopalan.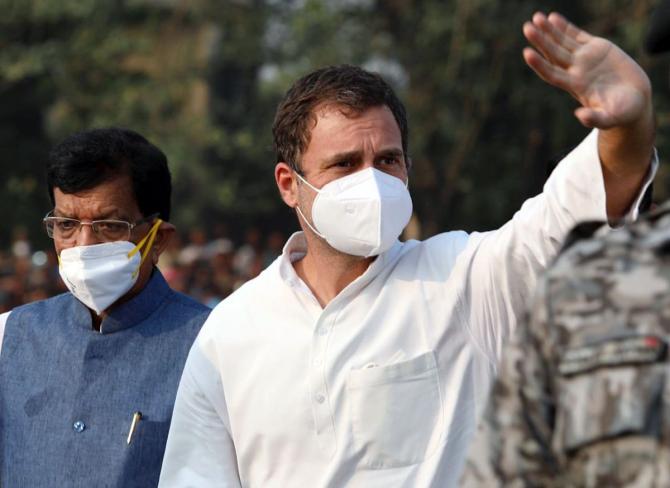 With the Bihar debacle stinging it, 23 senior Congress leaders are believed to have sent a letter to Sonia Gandhi, interim president of the All India Congress Committee, on Thursday demanding that the Congress Working Committee meet at the earliest to discuss the election result and the holding of organisational elections for the party president's post.
In August as well, a group of Congressmen had sent a similar missive to the high command, causing ructions within the party.
Five CWC members confirmed to this correspondent that such a letter has indeed been sent this week.
Though the CWC had initiated the poll process, insiders feel it will once again be a unanimous/unopposed poll process.
To make things worse for the party, the adverse remark by former US president Barack Obama about Rahul Gandhi -- that he has a nervous, unformed quality about him, as if he were a student who'd done the coursework and was eager to impress the teacher but deep down lacked either the aptitude or the passion to master the subject -- could not have come at a worse time.
Senior Congress leaders point out that during the peak of the Bihar poll campaign and the election results on Tuesday, Rahul and sister Priyanka Gandhi-Vadra were holidaying in Shimla.
The Congress, which contested 70 seats in Bihar, could win only 19 of them.
Can such a casual approach happen in any other party which has a national presence, asked a senior Congress leader.
The absence of Sonia Gandhi in the Bihar campaign, the absence of her political advisor Ahmed Patel due to coronavirus, infighting in Bihar Congress were the main cause of concern for the senior leaders.
The Congress is run by the spokespersons on television debates only, said one leader commenting on the present political vacuum in the party.
The Left parties, a few party leaders point out, did well in Bihar bagging 16 seats. The All India Majlis e Ittehadul Musslimeen won five seats.
With the pandemic and Ahmed Patel, who is undergoing treatment for coronavirus, the AICC headquarters at 24, Akbar Road in New Delhi, wears a deserted look with no visible political activity.
Thursday's letter by 23 Congress leaders clearly enunciates that regaining of voter confidence in the Congress was of utmost importance.
Like the last time, Ghulam Nabi Azad is believed to have taken the lead in preparing and despatching letter this time too.
'We young leaders have no way out but to be in the Congress for its ideology,' former Union minister of state Jitin Prasada, who turns 47 on November 29, is learnt to have shared his views with senior Congress leaders.
Interestingly, Kapil Sibal, Abhishek Manu Singhvi and other leaders maintained silence when asked about the existential crisis facing the 135-year-old party.