Terrorism has to be fought at its root of origination.
Today we are just removing cobwebs but not killing the spider, asserts counter-insurgency expert Brigadier Narender Kumar (retd).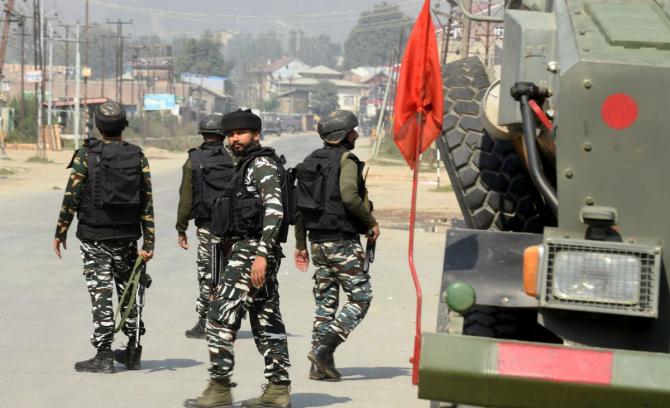 Terrorism undermines the State and its democratic institutions.
Killing of 11 civilians mostly non-Kashmiris and non-Muslims in Jammu and Kashmir has discredited the state administration for failure to protect unarmed civilians, empowered political extremes, distorted public debate and will ultimately polarise society.
Violence especially against non-Kashmiris by Pakistan sponsored terrorists has not been condemned by Valley-based political parties.
Whereas, political leaders should emphasise societal resilience in order to decrease the psychological impact of terrorism.
The only exception has been the mayor of Srinagar who has come out openly against the sponsored terrorism and called every Kashmiri to stand up against the terrorists.
If people and political parties do not call a terrorist a terrorist, society and the State will succumb to the intimidation of terror organisations.
There are few fundamental questions why such extreme acts of violence at this stage?
Are terror organisations upbeat after the Taliban takeover of Afghanistan, or is the attrition of the rank and file of terror organisations so heavy that they had to resort to such sensational acts of terrorism to regain the sagging morale of terrorists?
The Taliban impact has certainly lifted the morale of terror organisations, especially Lashkar e Tayiba and Jaisha e Mohammed. Both these organisations had fought alongside the Taliban in Afghanistan.
Now their entire focus is on J&K and want to up the ante.
These organisations have no shortage of weapons since they have laid their hands on US weaponry left behind.
One of the main reasons for the surge in acts of terrorism is because terrorists had their back to the wall and the friction on their cadres was too heavy for terror organisations to sustain.
Another factor is that October is the month when apple and paddy crops are already processed and by Diwali most labourers return to their homes before the onset of winter.
Even the exodus of labourers at this stage will not impact the local economy since crops are already marketed. Construction work will also cease in anothermonth due to the onset of winter.
The worry is the rise of white-collar terrorists and hybrid terrorists who move around in jeans and motorbikes during the day.
Some -- even maybe students -- who are given pistols to carry out the targeted killing of non-Kashmiris.
These white collar terrorists follow a normal routine and in most cases even their parents are not aware what these hybrid terrorists do.
They are given targets and accordingly they carry out the reconnaissance on the orders of their masters from across the border.
If one analyses the pattern of killings, the terrorists strike at different places so as to avoid being tracked by the security forces.
Hybrid terrorists -- civilians during the day and terrorists at night -- are difficult to track down since most of them are not reported missing by their parents and have no criminal records.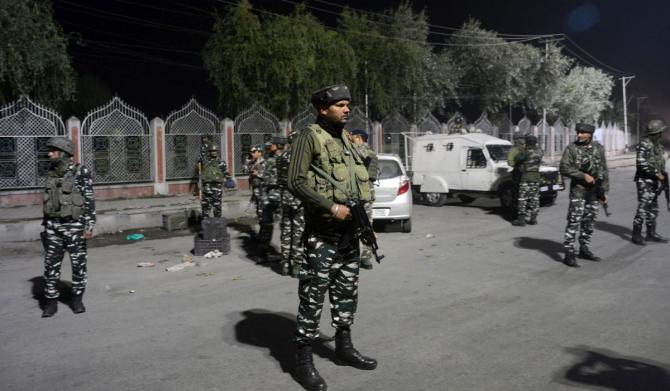 So far the terror organisations have not targeted tourists, but it cannot be said with guarantee that they will not be attacked in future.
However, the white collar terrorists know that Kashmir's tourism industry is too big and the loss will impact the local economy in a big way and could be an economic hara-kiri.
Whereas, civilian labourers will only be needed next year before the cropping season begins.
One more factor is that this is the time for labourers to take the wages from their employers and if an exodus take place now, most of them may lose their hard-earned money.
Therefore, intelligence agencies must investigate the role of contractors in the intimidation of migratory labour work force.
So far local employers have no liability towards the labourers.
It is high time that every migratory labourer is registered by the labour bureau and the police giving out the name of employer, location, terms of engagement and the employer's liability in case of loss of life or threat to life.
Every migratory labourer must have distress emergency numbers to alert security forces.
In addition, the local employer should be made accountable for the safety and security of their employees.
The role of white collar terrorists cannot be ruled out in triggering a fear psychosis and exodus.
Surprising, not many locals have shown any kind of empathy or solidarity with the victims who contribute immensely to the local economy.
Let there be no doubt that Pakistan wants to trigger ethnic cleansing in the Valley and invite some kind of retribution in other parts of the country so that it can portray India as violator of human rights and a nation that propagates Islamophobia.
After a decade of peace, the south of the Pir Panjal (Poonch-Rajouri) has been again activated by Pakistan-based terror organisations.
India recently lost nine soldiers in counter-terrorist operations in Poonch and Rajouri.
The terrain and thick vegetation preclude extensive employment of UAVs or drones.
Thus, the only option is re-establishment of a robust counter-terrorism grid South of the Pir Panjal that had been thinned out over a period of time.
Determined terrorists will not hesitate to harm innocent citizens, including professionals, security forces, at any vulnerable location in the state.
The mission to defeat Pakistan's strategy to destabilise J&K is more important than ever in the current threat environment.
Terrorism has to be fought at its root of origination.
Today we are just removing cobwebs, but not killing the spider.
The cease fire is in a way helping Pakistan to infiltrate terrorists into Indian territory without being punished.
Therefore, selective rogue posts notorious as launch pads for infiltration must be razed to the ground.
Strengthening of the intelligence grid and deploying plainclothes security forces in labour camps could be an answer to thwart targeting killings.
A diplomatic blitzkrieg to highlight the killing of innocent non-Kashmiris by Pakistan-based terror organisations must be spread across the globe.
Feature Presentation: Aslam Hunani/Rediff.com