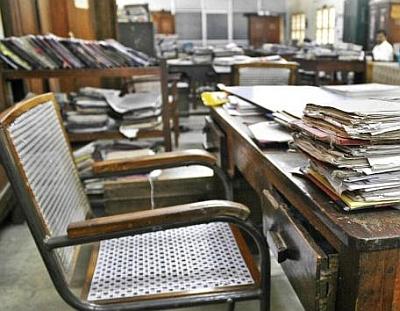 More than 24 years later, case of wilful absence has finally been proven against the bureaucrat. Ritika Bhatia reports

On January 8, Union Urban Development Minister M Venkaiah Naidu issued orders dismissing a civil servant for unauthorised absence from duty. Anil Kumar Verma went on leave in 1990 and never reported back to work.

More than 24 years later, the case of "wilful absence" has finally been proven against the electrical engineer.

According to a former colleague, Verma had joined the Central Public Works Department, or CPWD, in 1980 after graduating from the Indian Institute of Technology Delhi.
Pleasant and amiable, he became executive engineer by 1990 and went on furlough in December of that year.

In 1992, he expressed the desire to resign but was told that he would have to rejoin first. According to the ministry, he failed to report back to duty.

The office grapevine has it that he had got married to a doctor and they were planning to move abroad.

Verma could not be contacted for this report -- even the ministry and his ex-colleagues don't know his whereabouts. But the iron frame didn't forget him.

A fresh charge sheet was filed in 2005, and the investigation report followed in July 2007.

The ministry accepted it in August that year.

During the enquiry, many letters were sent to him, but Verma stopped replying after the first few.

His salary too was blocked a few months after he stopped reporting to work. His provident fund savings are still with the office, which he has not bothered to collect.

Naidu's spin doctors say this is a part of the minister's drive to "streamline the functioning of CPWD" because the agency is not "seen in a positive light in the public and the media".

"Discipline is a major area of concern," says the ministry spokesperson.

"Naidu is keen on instilling the fear of God in the organisation."

More such cases could follow, he insists.

Others have a different story to tell.

Pramod Kumar Garg, who handles transfers and promotions at CPWD, says he came across a "seniority list" a few weeks ago with Verma's name on it.

"He was an executive engineer and up for promotion to superintendent engineer. But when I tried to proceed with the promotion, everything unravelled," he says.

"I don't know where he is now but he should have definitely resigned in a proper way. He had 24 years to do so."

Verma's case has put the spotlight on absenteeism in government offices.

"There is neglect, and there is possible collusion too. There have been cases in Uttar Pradesh where officials have taken leave to go abroad and taken up other positions. This case is completely unprecedented," says M Ramachandran, a former secretary in the ministry of urban development.

"How could Verma have been due for promotion, where was the record of his year-to-year performance? This case has thrown up a lot of questions, and the higher echelons need to be more responsible to avoid such cases in the future."

Absenteeism is particularly rampant in government-run schools and hospitals, especially in remote areas.

Many teachers and doctors keep dateless leave applications ready at all times which can be produced before inspectors by the subordinate staff.

"Government jobs were the original marriage without divorce," says Manish Sabharwal, founder and chairman of TeamLease, a human resource consultancy.

"The government does a bad job at performance management -- either punishment or reward -- and needs to use the Seventh Pay Commission to create a bigger fear of failing or hope of rising."

Prime Minister Narendra Modi had promised to clean up the bureaucracy, consistently voted among the worst in Asia, when he took office last year. But it won't be easy to clear the Augean stables.