Lance Naik Mohan Nath Goswami met a hero's end battling Lashkar-e-Tayiba terrorists in the jungles of Kashmir.
His valour earned him the nation's highest gallantry award in peacetime this Republic Day.
Archana Masih/Rediff.com travelled to Lal Kuan, Haldwani, to find out who this hero was.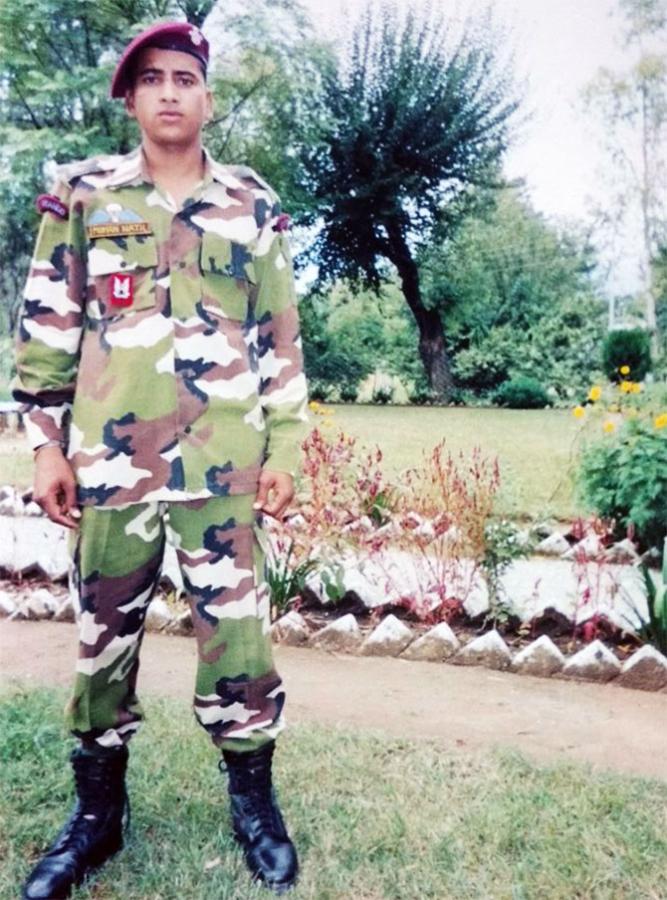 IMAGE: Lance Naik Mohan Nath Goswami spent 13 years in the Indian Army. He belonged to the highly trained Special Forces. Photograph: Kind courtesy Bhawna Goswami
Martyr Mohan Nath Goswami rests under a mango tree in a mound of sacred earth circled by red bricks outside his home. The wind has dislodged the paper tricolour inside the hallowed ground which a visitor stops to fix with delicate care.
The green and white tiled house is surrounded by green rice fields. Grains of wheat dry on a cot in the courtyard from where neighbouring houses can be seen scattered at uneven distances.
The path has a white board with 'Shaheed Mohan Nath Goswami Marg' painted in red. It was put up before the chief minister came to visit the soldier's widow last September.
This afternoon, Bhawna Goswami is standing in her courtyard with her seven-year-old daughter, Bhoomika, wrapped around her waist. Reed-like thin, she weighs 40 kilograms and as she looks at the spot where her soldier husband lies under the earth at the entrance to their home -- her eyes seem to encompass the world's sadness.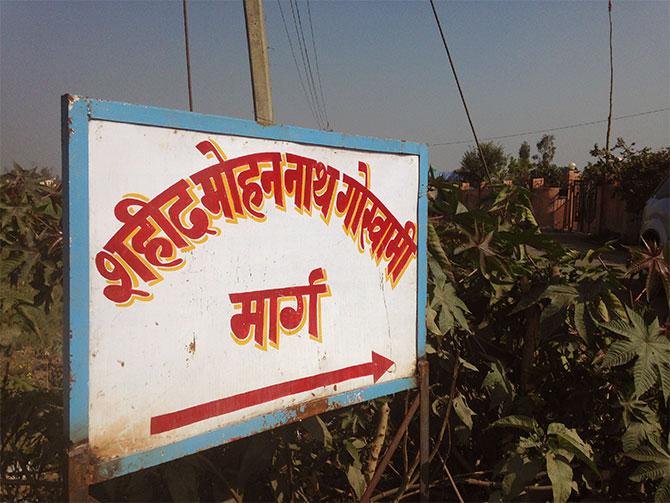 IMAGE: In the quiet village, everyone knows where the martyr's home is. Photograph: Archana Masih/Rediff.com
Two weeks ago, on Republic Day, she had walked up to receive the country's highest award for gallantry in peacetime before the grand parade began on Rajpath. She fought hard to hold back tears as she received the Ashok Chakra, while the announcer provided an account of Lance Naik Goswami's act of bravery in eliminating India's enemies in the mountains of Kashmir.
"I was able to walk the dais because I felt my husband was pushing me. I felt him walking beside me. It was a moment of immense pride and acute sadness," she says sitting in a room with photographs that chronicle the life of Lance Naik Goswami, a Special Forces commando from the 9 Parachute Regiment, the first SF battalion raised in the Indian Army.
Permanently located in Jammu and Kashmir, 9 Para is affiliated to the Northern Command where all the action is. "Therefore, you will find their personnel earning gallantry awards every year," says Lieutenant General P C Katoch (retd), a Special Forces veteran who was commissioned in and commanded 1 Para.
"An encounter can take anything from 1 to even 8 to 10 days, the latter where terrorists are hiding in caves in high altitude areas," adds the general who commanded 1 Para in the Indian Peace Keeping Mission in Sri Lanka.
"The Special Forces soldier is physically and mentally tough," he says, "but over and above he is much more confident because he is attuned to operate in a 5-man squad independently, usually led by an officer or a JCO."
IMAGE: Bhawna Goswami and daughter Bhoomika outside their home. Across the road is the unfinished foundation of a house the martyr had hoped to build. Photograph: Archana Masih/Rediff.com
The sun shines brilliantly outside but a gloomy sadness pervades the house. On the first anniversary of the martyrdom which will fall on September 3, Bhawna Goswami will build a small temple at the spot where her husband's remains lie. She will put a framed photograph of him in it.
Sitting cross legged on the bed, with the Ashok Chakra medal in a box, she says it is more precious than any silver or gold.
"He was a daring man and loved the risks that came with being a Special Forces soldier. He used to always say that he would never go down fighting alone but take 10, 12 of the enemy with him. His officers said he was fearless," says Bhawna showing photographs of her husband in uniform from a thick photo album. Gently pushing the photographs towards the light coming in through the sole window for a better look.
In the forested mountains of Kupwara in the Kashmir Valley, Lance Naik Goswami's words had rung true. In three consecutive operations in August-September, spanning 11 days, he and his fellow soldiers eliminated 10 Laskhar-e-Tayiba terrorists and captured one.
On the night of September 2-3, he volunteered to be a part of another operation to take on four terrorists. He killed two terrorists, assisted in neutralising two others and saved the lives of three of his wounded colleagues.
'He first assisted in eliminating one terrorist. Sensing grave danger to three of his wounded colleagues, Lance Naik Mohan Goswami with utter disregard to his own personal safety, charged at the remaining terrorists drawing intense fire from them. He was hit in the thigh. Unmindful, he closed in and eliminated one terrorist, injured another and was again shot in the abdomen.'
'Undeterred by his injuries, he hurled himself on the last terrorist and killed him at point blank range before succumbing to his wounds.'
'Lance Naik Mohan Goswami made the supreme sacrifice in the highest traditions of the Indian Army.'
The parchment bearing this citation was handed to Bhawna Goswami by President Pranab Mukherjee in the most poignant and sacred part of the Republic Day celebration.
The citation is presently displayed with the 9 Para unit and will be sent to her in a few days.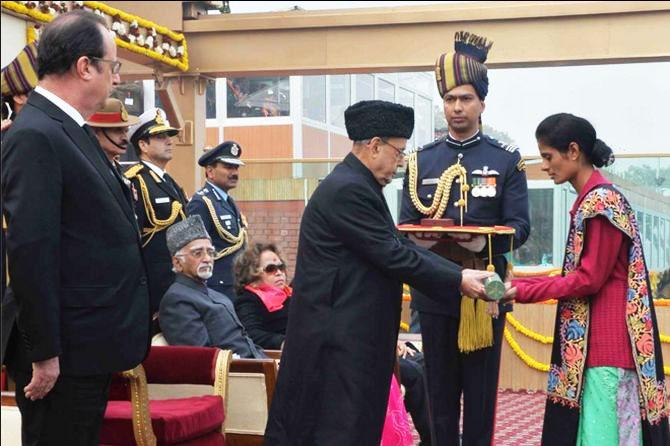 IMAGE: Bhawna Goswami receives the Ashok Chakra from the President on Republic Day. Photograph: President of India/Facebook
"No one will remember whether I lived, but as long as this country celebrates Republic Day, his name will be remembered," says his wife.
Next month she has been invited for a felicitation in Nagpur and for the Raising Day function of the unit in July. "Jaha jaha mere husband ka naam ayega main khushi khushi jaoongi (I will happily go wherever my husband's valour is recognised)," she says looking out of the window into the fields.
Across the road, in the middle of a patch of green, is an unfinished foundation of a house. With iron roads silently emerging ghost-like from a line of bricks, it wears an abandoned look.
On a previous visit, Lance Naik Goswami had got the foundation laid on a piece of land he had bought. In the last conversation on the telephone with his wife a day before his martyrdom, he had asked about its progress.
It had not been easy to arrange the cash but he had made a promise that he would move her into a new house this year and he wanted to go through with it.
But Bhawna Goswami does not want to finish it without him. She wants to fulfill his other dreams instead -- to complete her MA and BEd; to get a job as a teacher; to provide Bhoomika with a good education.
"He dreamed of making Bhoomika a doctor. Her name is an almagam of ours and I was told that he breathed his last with her name on his lips."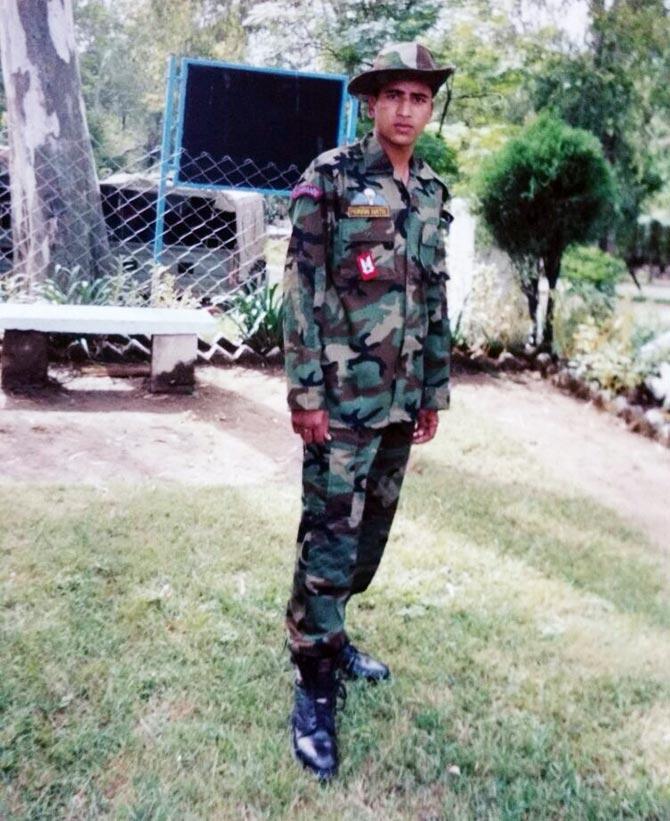 IMAGE: 'He loved the risky life of a Special Forces soldier. His officers said he was fearless,' says his wife. Photograph: Kind courtesy Bhawna Goswami
The last time the martyr was home was for his daughter's birthday in August. It had been a happy fortnight, they had visited relatives and made plans for a holiday in Goa in December. But in less than a month, Mohan Goswami was martyred.
When his mortal remains were brought home in a coffin, it was hard to explain to Bhoomika why her father was in a box. There were around 10,000 mourners for the last rites on a day that is shrouded in a heavy haze of grief.
Bhawna remembers uncovering his face and sitting beside the coffin for half an hour, looking at the man whose phone she had answered herself by chance when he had called with the proposal of marriage eight years ago.
They were married five months later and he had introduced the village girl to a different world outside. They had spent three years in the Agra cantonment, the only time he was in a field posting in their years of togetherness. The visit to the Taj Mahal... Photographs of them in front of the iconic monument are among the first in the pages of the thick photo album that she had just shown me.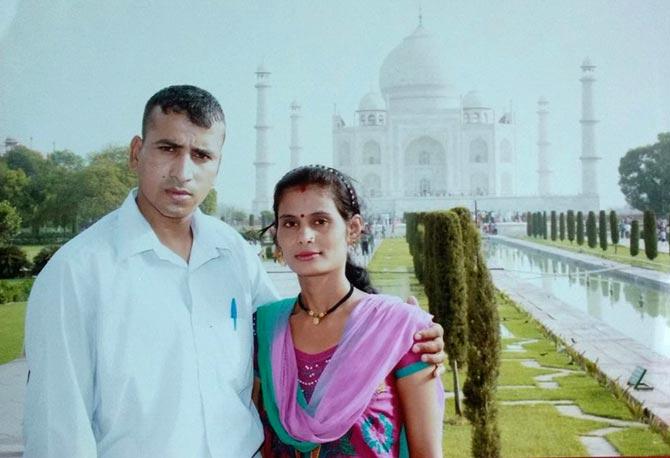 IMAGE: The couple at the Taj Mahal in Agra. Photograph: Kind courtesy Bhawna Goswami
"I would often think that while he sleeps on the floor in a tent during operations, I sleep in a bed with a thick mattress. He melts ice to drink water and I have to just reach out for a bottle. He eats food that must have turned cold and I eat it hot off the pot," says Bhawna with a sad smile as her younger brother who has come to spend few days with her makes tea.
In the verandah outside is a framed photograph of Lance Naik Goswami in uniform with a garland strung over it. Someone has fixed a paper Indian flag to it. In the room upstairs, she has kept his washed and ironed uniforms in a trunk -- not mustering the courage to open it because it is too painful.
As Bhawna Goswami walks me out, the driver of the car that I had travelled in, folds his hands and bows to her. "It is an honour to meet you. Never think you are alone, this country is with you," he says and she gives him a weak smile with folded hands.
"It is an honour to be his wife. I can live my life on the eight years of memories he has left me with," she says turning towards me, "It is hard, but good people are needed both in heaven and earth."