'War is won by team work. War is won by sacrifices,' says Subedar Sanjay Kumar, Param Vir Chakra.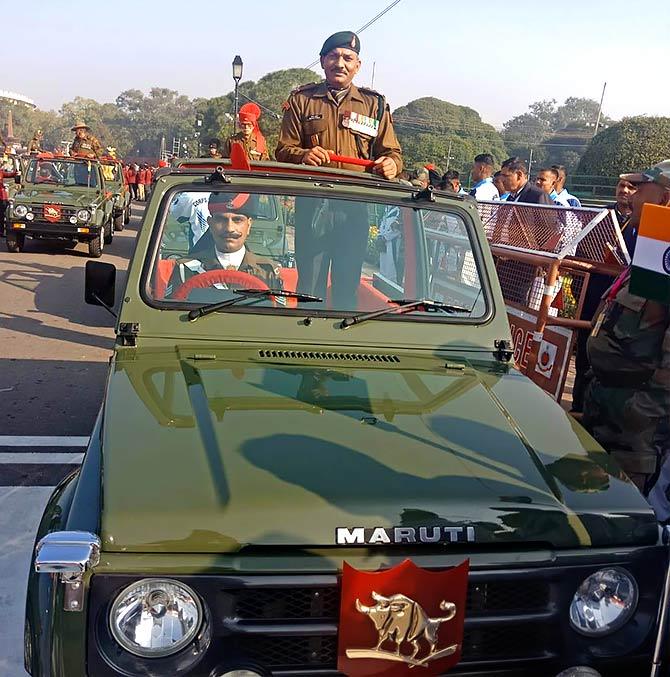 A few days before January 26, the three living Param Vir Chakra awardees assemble in New Delhi in the run-up to the parade. They carefully bring their medals, the highest award for gallantry in war, and proudly wear it on their chests for the Republic Day parade.
The Param Vir Chakra is worn only on ceremonial occasions -- Republic Day, Kargil Diwas and at the National War Memorial.
Once the medal is worn, the only person a Param Vir Chakra awardeed salutes is the President of India.
"War is the most important aspect of a soldier's life. That is the reason he joins the force. Soldiers wait for the time when they will be called to defend the country," says Subedar Sanjay Kumar, who was awarded the Param Vir Chakra for exceptional courage in capturing Flat Top in the Mushkoh valley during the Kargil War.
He took two bullets on his chest and knee, eliminated three enemy soldiers and lead his team into wresting control of that area from Pakistani soldiers.
Currently posted in one of the Indian Army's premier training academies, he spoke in detail about that day of battle to Rediff.com's Archana Masih.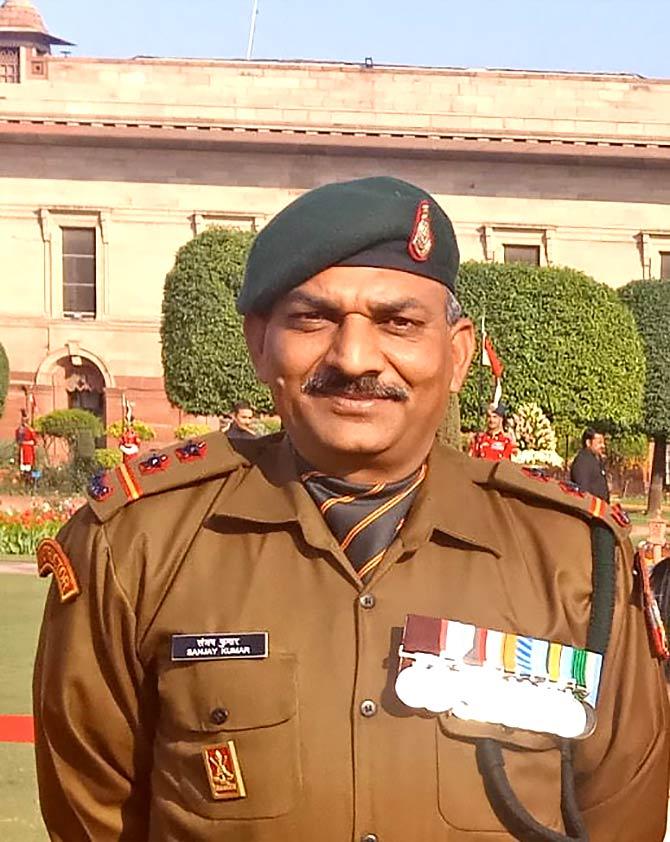 "I was privileged to fight for the country, two years after I joined the army. Before that I had only heard about war from my uncle who fought in the 1965 war with Pakistan, and in Hindi films," he says.
"I come from Himachal Pradesh from where many men join the armed forces. I too tried several times and got selected in my last attempt. I served in Kashmir before we went to war in Kargil."
"For two months I saw different aspects of the Kargil war. I did various duties -- worked as a porter, administration duties, casualty evacuation etc, so when we were tasked for the final operation, we tried to implement all that we had learnt and heard about the war on the ground."
How the battle was fought and won:
"The task was difficult because the enemy was deeply entrenched and well prepared. We reached the top after climbing up the steep mountain after three days. After that we had to launch an assault.
My section had a team of 8 soldiers, 6 of us were very young. Young men were selected because they tend to cover more ground on those heights.
Our work was to make the way up for those behind us.
After walking the entire night, we were still unable to get to the point we were asked to reach. The enemy on top knew all the routes up and had closed almost all to us.
We stopped and took cover behind a small hill. Our company commander made us halt because an advance was dangerous during the day. The enemy could have spotted us and that would have resulted in more casualties.
The enemy was 250 metres above us. But as the day progressed our position became visible to the enemy. Our jawans started getting injured by their fire.
As our casualty ratio started increasing, my company commander decided that if he waited for the evening to launch an attack, he would have many more wounded and not have many jawans left to attack the enemy."
"Our commanding officer Colonel Y K Joshi (now a lieutenant general, he takes over as General Officer-Commanding-in-Chief, Northern Command, on February 1, 2020) spoke to the higher command and arranged fire support for us.
At around 10.30 am, we received artillery and mortar cover. We had 40 to 45 seconds between enemy fire to make the advance. There was a 20 metre area that was dangerous for us. We had to take cover behind rocks and small hills as we progressed.
As we climbed higher, the lack of oxygen made progress slower. In between gaps during the fire support, we had to run for advance, making sure that the enemy did not spot us.
We were determined that if we had to defeat the enemy, we had to get to him. With the fire cover we received, we were able to cross that area and reached just below the hill occupied by the enemy."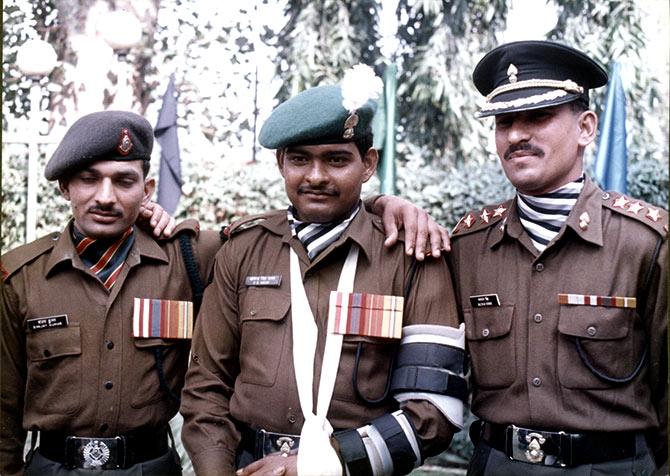 "Our plan was executed in silence. If we were heard, they could have thrown a grenade or rolled boulders down at us. The enemy would have killed us if they knew of our position.
My buddy and I crawled up. We got so close to the enemy that if we stood up our heads would have touched the Pakistani gun positions.
We spoke in sign language.
The platoon commander signalled to us to pull those guns out because the firing from those guns was causing many casualties for our troops.
We did not have much time. My buddy told me to take the bandage out of our medical kits and wrap it around my hands to pull the guns out.
I also had my AK-47. My buddy crawled to a rock and said he would throw a grenade into their bunker. After that, I had to pull those guns out and open fire at them.
Throwing a grenade from a lying down position to a height above you needs extra effort and tact. The grenade can hit a rock and explode injuring you.
The first grenade fell behind the bunker and the enemy realised that we were there. Time was running out, but the second grenade fell into the bunker, the splinters hit and the firing stopped."
"I pulled the guns out of the loopholes and threw them down. I put my AK-47 in the loophole and emptied a magazine. When I stood up I saw 2-3 enemy jawans getting ready to fire. I opened fire and they were killed.
We checked the bunker and sangar to make sure all were dead. One of their automatic guns was loaded with ammunition and we opened fire at a feature occupied by them.
A junior commissioned officer and three jawans in our team were injured. Under fire cover, we shifted them for medical aid.
The remaining six jawans pressed on because they couldn't afford to reduce the pressure on the enemy. We started advancing to another bunker. The enemy fired from the left and two of my fellow soldiers were killed in action.
The four us who remained took cover and lay down behind a rock. The enemy was at a height. My left leg was visible, they fired and two bullets hit my knee, two other bullets ricocheted and hit me.
Two other jawans on my right were also injured. My buddy was the only one who was safe. For half an hour, he did not let us move and kept firing. We had lost two and 4 were injured.
We lay there without firing, moving or advancing.
The Pakistanis thought we are dead. One of them left his position and started going to the bunker. As he walked, stones on his path rolled down and we could make an estimate of his position.
One of our jawans spotted him and signalled to us that he was climbing up to his bunker. My buddy signalled to me to fire. I was lying down and I set my gun on a rock. The enemy was killed and those in the bunker thought the Indians have got reinforcements and more troops have come.
We crawled to the bunker, threw a grenade, but there was no response, we broke into the bunker and saw dead bodies. We waited for 20, 25 minutes and spotted two enemy jawans. My buddy and I opened fire and killed them.
It was 5.30 pm, we had started at 10.30 am."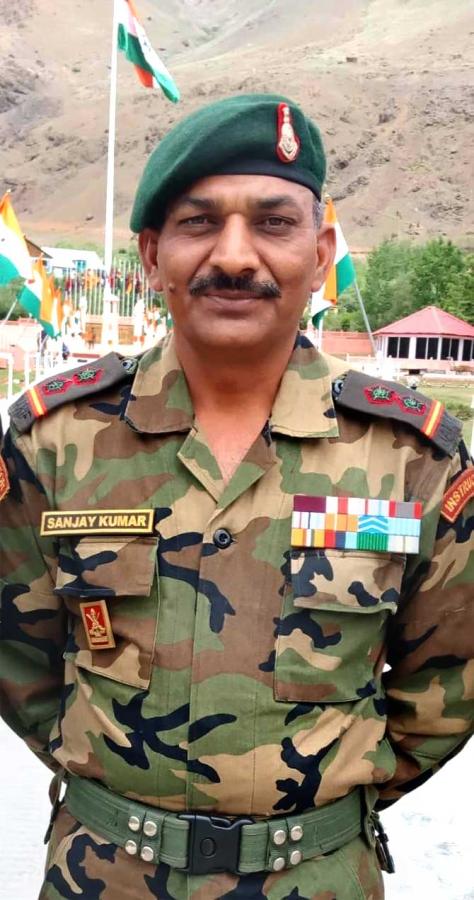 The battalion doctor who won a Sena Medal for Kargil
"Our wounds were bleeding. We didn't have any dressing. By that time 20, 25 of our boys reached us.
Our doctor Rajesh Adhau (now a colonel and recepient of the Sena Medal for gallantry) also reached in half hour. By the evening our company had captured Flat Top.
Meanwhile, our Delta company conducted another operation on July 6-7 in which Captain Vikram Batra was killed in action and awarded the Param Vir Chakra.
Injuries during operations lowers the morale of troops greatly. Dr Adhau used to accompany the troops going for attack so that he could attend to the injured quickly. Dr Rajesh said that if a jawan reached him or he reached a jawan, he would 100% save him, however grievous his injuries."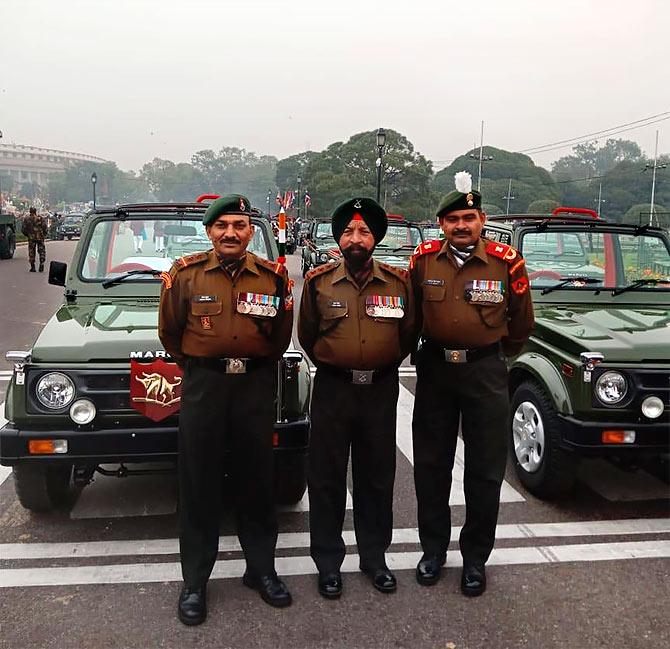 The void left by fallen friends can never be filled
"There were many who put their lives on the line to achieve victory. War is won by team work. War is won by sacrifices.
Two officers and 14 jawans died from our unit. The void left by those who fought shoulder to shoulder, but did not return home, can never be filled. No one can fill that gap."