'The safety regulations drastically reduce the chances of contracting the virus on a two-hour flight.'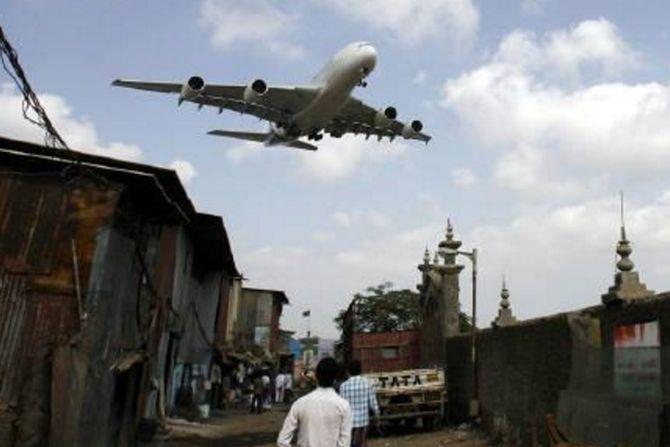 In face masks, gloves and maybe face shields, those boarding flights today after a two-month lockdown will be in for some new learnings.
From minimum contact points at the airport terminal to seeing the crew in gloves, masks, gowns and getting used to no food on board, flyers will encounter a new standard for air travel.
"We all have to re-learn. Gone are the days of rushing to queue up for boarding or for getting into the bus. No jumping out of seats the moment the aircraft comes to a halt after landing. Entry and exit will be regulated, row by row, so it will be much more organised and faster," a crew member with over a decade of flying experience tells Archana Masih/Rediff.com.
"People who are used to air travel, if you ask them if they want to travel by air of train, they will say plane. I think air travel will come back in a much bigger way because people will feel that travelling by plane is less infectious than by train," the crew members adds.
As airlines begin operating a fraction of their flights on Monday, pilots who will take to the skies have gone through tests to make themselves "current" again because they have not flown for over two months.
Pilots have taken online tests, done simulator tests and then undertaken three takeoffs and landings in an aircraft before deemed fit to operate after the break in flying.
The crew has also been briefed on how to don masks, face shields and gowns. Hazmat suits/PPE kits will be essential for crew if they undertake any repatriation flights.
Airline staff already used these precautions a few days before the lockdown and on repatriation flights.
"It was uncomfortable, but it has to be done so it has to be done," says a cabin crew staff.
"All aircraft have high efficiency filters to catch viruses. Each seat has an air outlet overhead whereby the air flow from above gets sucked out from floor panels on the sides. The air flow in an aircraft is uni-directional, it is not cross aisle," says a veteran pilot who has operated domestic and international flights for over 30 years.
"All this makes the aircraft a safe mode of travel. In addition, everyone will be in masks and would have only boarded if they had a green tick on the Arogya Setu app and gone through the fever check," the veteran pilot points out.
"These safety regulations drastically reduce the chances of contracting the virus on a two-hour flight," he adds.
The first few flights will largely be restricted to two sectors. Crew will be back at their individual bases at the completion of each flight to avoid hotel stay in order to prevent exposure to the virus.
Though food will not be provided on board, some dry snacks will be available for crew. Crew have also been encouraged to carry food from home.
The panels in the cockpit and aircraft will be sprayed and sanitized.
The turnaround time for aircraft will be around 45 minutes because the aircraft will be fully sanitised, each tray table wiped, each button cleaned.
The headsets with microphones used by pilots will be thoroughly sanitised while some airlines have asked pilots to get their own headsets to prevent sharing of equipment.
The orange jacket worn by pilots when they take a walk-about (after the last passenger has deplaned and the first passenger boards) will also be provided for individual use only.
Efforts are afoot to digitise the paperwork between ground crew, cabin crew, first officer and captain.
The crew has been given the option of travelling by their own vehicles or using company transport.
"The transport cars will have the plastic shield to isolate driver and crew," says a first officer who points out that probably senior captains, first officers and cabin crew will be rostered in the initial days.
"They have the experience to deal with tough situations and uncertainties," she says.
"We are in virgin territory. No one has faced this and no one is an expert. In probably 15 days to a month, the process will get streamlined," says another pilot, awaiting his roster.
"Many may be reluctant to travel, but there are many who are desperate to reach somewhere," he adds.
"The Indian population is so large that the number of people requiring essential travel is also large and tickets are really not that expensive as many had expected."
A civil aviation expert believes that the government's confidence in opening air travel may have come from the experience gathered from the Vande Bharat repatriation flights.
"All those passengers are being monitored. They have been quarantined, tested, treated and sent home," he says. "That group of 30,000 to 40,000 passengers would have provided a good study group and the policymakers would have seen what ratio of people were infected by sitting next to each other."
"Many passengers travelled on 14-hour flights from America. If they haven't infected others on the flights, then the statistical chances of being infected in 2-hour flight is very low," he explains.
"The contact history of air passengers is easy to trace. As more and more people resume travelling and it is observed that it is not leading to a significant increase in infections it will boost the confidence to open the skies further," the expert asserts.
On Sunday evening, as a pilot readies to command the first flight after the lockdown, he says he is raring to go like other crew members he met at the airport.
"It is all in the mind. If we take it as a new normal, we -- both passengers and crew -- will be less apprehensive," he says.
"After all, we are all going to enter the same terminal, the same aircraft, same pilots and be greeted by the same cabin crew, but with some new rules for our collective safety."