A Ganesh Nadar/Rediff.com reports on a wedding in Tamil Nadu at which guests were asked to gift only school books -- and got 1,500 of them!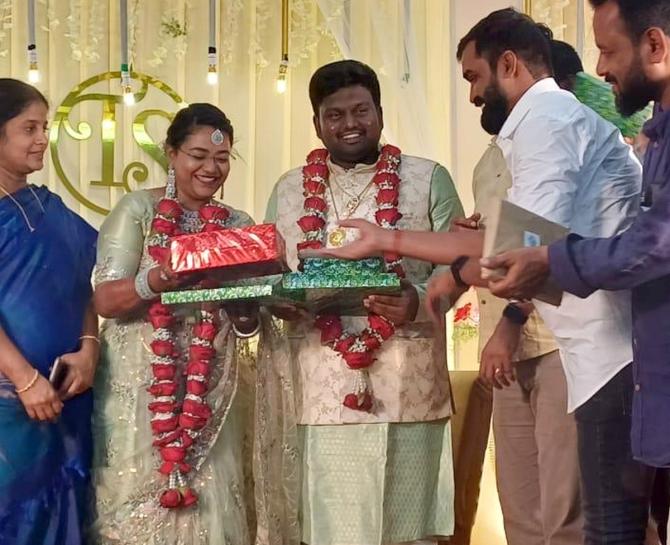 On May 31, Swarna Prabha and Thiruvikram wed at the Ayyappa Seva Sangam marriage hall in Ramnagar, Coimbatore.
As with most marriages, presents there were in plenty.
But unlike most marriages, the presents here were not gift cheques or cash or household appliances.
This marriage was unique as in the guests were requested to gift only textbooks for school students.
The father of the bride, Jawahar Subramaniam, a businessman dealing in masalas, is also a social worker and is involved in planting trees, cleaning lakes and the like.
It was his idea to collect books at his daughter's marriage.
To make sure that everyone remembered the request, he even put the message in the invitation cards he gave out.
To make it easier for donors, he also listed the books that were needed.
10th and 12th standard guides
Notebooks
Geometry boxes
History books
Wikipedia in Tamil
Self-help books
Poetry and literature
Books on the Constitution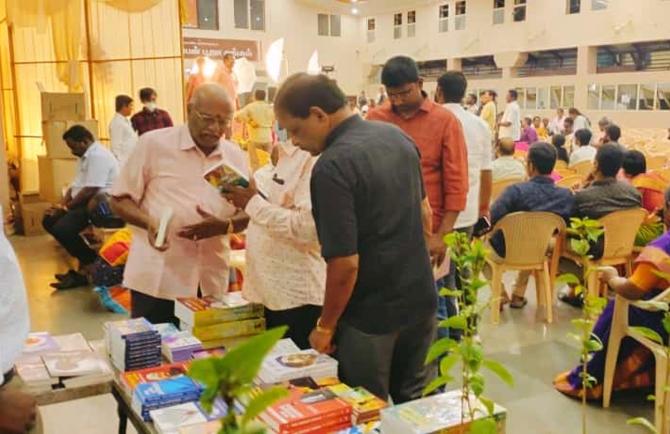 "We were already working in schools. In government schools students are provided with textbooks and notebooks, but no reference books for competitions or entrance exams like UPSC, JEE, NEET," says Subramaniam.
"I expected some 50 books, but 1,500 books were collected that day. It was not only my guests, people who did not even attend the marriage sent books because they liked the idea," Subramaniam adds.
Apart from being involved in cleaning water bodies, Subramaniam has been working with an NGO called Siruthuli, which is based in Coimbatore, for 15 years now. Its latest venture is Sewage to Usage, in which they plan to put up water purification plants.
They have also planted 250,000 trees with 90 per cent success -- meaning 90% of the trees they planted have survived.
"Jawahar is my friend, we planned this together. I spoke to a couple of publishers and they had put up stalls at the wedding hall," says Kishore Chandran, managing trustee of the Kalam Foundation in Coimbatore. "Some guests had brought books from home and others bought it at the venue itself and presented it."
The books are now with the Kalam Foundation and will be distributed among six libraries it runs in Coimbatore.
All the libraries are located in government schools and students have free access to them.
"He recently bought a guidebook for a 12th standard student and realised that it would be very helpful to all students. He is always interested in sending a message to society, so he wanted to use my marriage to collect books," says Swarna Prabha, the bride.
"Everyone gets gifts for marriage, but people will remember my marriage as it was for a good purpose. I am very happy with what my father did," she adds.
"I didn't know about this school books gift idea till I saw the bride's wedding invite," says Thiruvikram, the groom, adding, "It was a good initiative. A couple of our guests who had heard about this also presented books."
"I appreciate what my daughter-in-law's father did," says Krishna Kumar, Thiruvikram's father.
The initiative was confined to the bride's side. "We are from Dharmapuri and most of our guests attended the reception in Dharmapuri, only a few close relatives came to Coimbatore," says Krishna Kumar. "We did not print any message on our invitation cards, and our guests gave normal, regular, gifts."
Jawahar Subramaniam hopes families will use marriages and other family events to do something to help others.
Like T Kirtikumar, who recently celebrated his son's first birthday at a marriage hall in Chennai.
Guests were given a sapling on the way out which they could plant in their homes.
Feature Presentation: Rajesh Alva/Rediff.com