'We have taken technology to the mandal and booth level.'
Aditi Phadnis reports.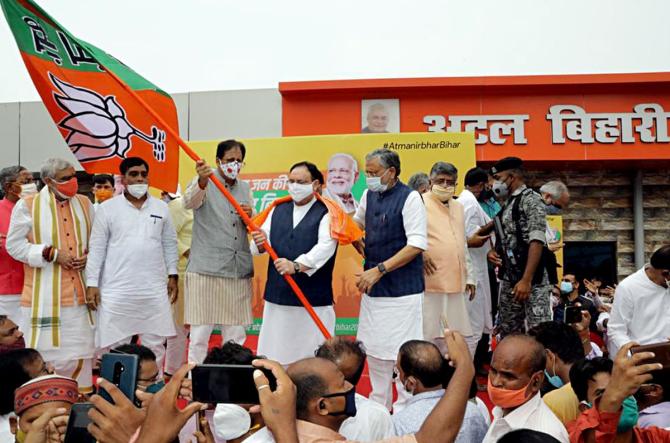 The year was 2002 (September-October) and campaigning for assembly elections in Gujarat was in full swing.
The crowd was waiting for Narendra Modi. As the Mazda truck, redesigned as an air-conditioned chariot (rath) glided to a halt, a makeshift podium with a canopy emerged slowly from the middle of the rath via a hydraulic lift.
Standthe ing at the centre, raising his hands, smiling, was Modi, in a scene that was a cross between the Mahabharat and Star Wars.
The gasp of the crowd was almost audible.
However, COVID-19 has changed all of that. There will be few public meetings, even fewer yatras.
Zoom and Cisco Webex are now the favoured modes of communication with voters.
The rath will still be there -- but fitted with LED lights, playing clips from the prime minister's past speeches and nationalist songs, festooned with posters, a kind of mobile audio-visual display, as it trundles through villages and towns.
Instead of public meetings, much of the Bharatiya Janata Party's campaign in the election will be conducted digitally.
"We have taken technology to the mandal and booth level," says Devesh Kumar, the BJP general secretary and co-convenor of the campaign committee.
There is no choice. Guidelines issued by the Election Commission stipulate that no more than five people will be allowed for a door-to-door campaign, a maximum of five vehicles can be used in road shows and public rallies will be allowed in grounds pre-identified by district election officer, with social distancing, sanitisers, masks and a cap of 100 people.
"Even at the panchayat level, people have begun to understand Zoom and Cisco Webex," Kumar adds.
The Bihar BJP has undertaken extensive workshops to train cadres on how to download and operate the systems, including the 'mute' and 'unmute' functions and how to speak.
"Our office-bearers have visited every assembly segment to train people: First, we held virtual conferences and then we visited the locations personally to hold small sessions with people -- no more than 50 or 55 people at a time, all wearing masks. The last round was in Araria and Kishanganj," he says.
When Union Home Minister Amit Shah held the first virtual public meeting in June, the party was expecting 100,000 people to join; however, 15 million heard him.
This was a result of the technology familiarisation exercise. The meeting was Webcast on Facebook Live, YouTube and Zoom.
All news channels aired the meeting live. Small screens were also put up at the booth level. Nobody had to go far to attend the meeting.
Kumar says in the future too, the same pattern will be followed, even for rallies addressed by the prime minister.
"For example, he might hold a rally of 100 in Muzaffarpur. That will be beamed all across the state using technology," Kumar says.
Earlier this month, Chief Minister and Janata Dal-United President Nitish Kumar also held a virtual public meeting.
BJP MP Rajeev Chandrashekhar, who has interests in media, says campaigning will be via paid time on television in addition to digital media.
All political parties will have to tailor their campaigns accordingly. "You will see campaign spends on TV go up," he says
Social scientist Milan Vaishnav cautions against blithe assumptions about the capabilities of technology to power elections.
"If you look at all other walks of life -- consumer products, sports, film, music, work -- data and digital applications are all the rage. Why should politics be exempt from these sweeping changes?" asks Vaishnav.
"But let's also not forget the realities of India. There are still barriers to digital communications."
"Smartphone penetration is highly uneven," Dr Vaishnav points out. "There is a tremendous potential to misuse digital platforms, which could spark a backlash."
"If technology were the determining factor," he adds, "the BJP would not have lost major state elections going back to 2017."