'Your achievements are many, Nitish babu, but it needs a sustained campaign to remind us, the good people of Bihar, what we may have forgotten,' points out Asmita Bihari.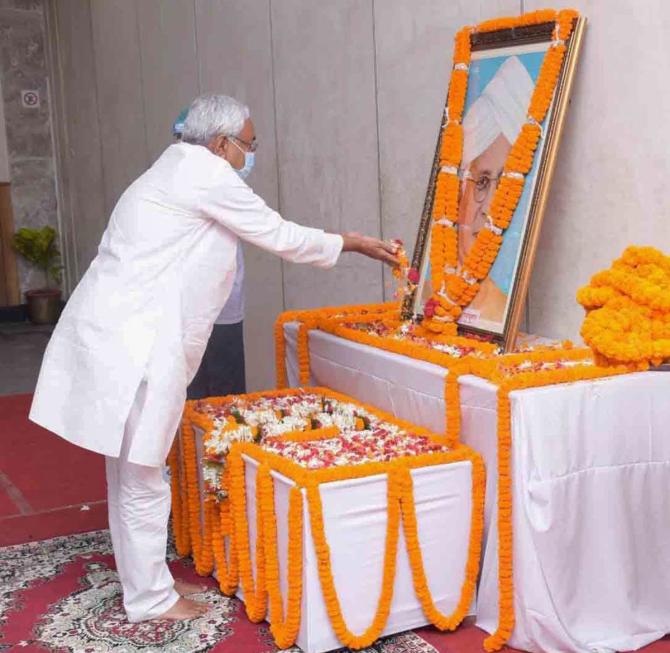 Nitish Kumar, who has led Bihar for 15 years, has finally realised the importance of digital campaigning and the power of social media.
More so now, when there is little chance of conducting large election rallies at Patna's Gandhi Maidan and at other rally grounds around the state.
However, he will have to do better than just conduct a virtual rally.
As a Bihari myself and like many, many, migrant Biharis across the country and the world, -- an ever increasing population due to non-existent opportunities within our state -- I follow the chief minister on Twitter. Where his presence is as good as dead.
Apart from announcements of some random meeting he held at his 1, Anne Marg residence cum office, there is nothing that would interest the voting public.
The silence is astonishing in the current scenario of over the top shrieking and shouting about genuine and false accomplishments.
The necessity to promote self and party through truth and fake claims on social media with the backing of a troll army disseminating information and destroying the Opposition.
The absence of Prashant Kishore, who was instrumental in Nitish Kumar's 2015 assembly election victory -- and someone who would have managed the digital and social media platforms for the Janata Dal-United and the chief minister -- has left the JD-U with a massive handicap compared to the other political parties in the fray.
The Bharatiya Janata Party, which is part of the ruling coalition in Bihar, is, of course, the master of playing the SM game.
The Rashtriya Janata Dal, led by Tejaswi Yadav, is now upping its game.
Owing to the lack of any accomplishments of his own or of his party, Tejaswi's tweets and messages are restricted to rants against the Nitish Kumar government.
The RJD Web site launched on Saturday, September 5, for unemployed Bihari youth to register for employment may appear a sharp move on the cusp of the assembly election, but as any educated Bihari will tell you, just registering on a job portal does not fetch you employment.
The RJD should explain in detail how it plans to usher in employment with the absence or even a sign of any new industry or investment coming in to the state.
At his virtual rally on Monday, September 7, Nitish Kumar mentioned that he wants to communicate the comparative touch points between the past and present government to the new generation. As they may be unaware of the realities of Bihar under the Lalu Prasad/Rabri Devi rule in the 1990s.
The status of law and order, condition of roads, electricity and schools in the years preceding his tenure to that of today.
They would have been children then and might not know that grim reality and may be gullible enough to get swayed by the false narrative being spread by the RJD.
Valid point there, but who will put these points across to these young people, many of whom might be first time voters this time around.
And more important, how.
Nitish Kumar listed his various accomplishments and its effects at Monday's virtual rally.
The list was long, but voter memory is limited.
It is essential that you keep harping on your deeds and bombard them day in and day out.
It may be a good idea to take a leaf from your ally's media management plan.
When I say media management, I only refer to the BJP's dominance of social media platforms, and not what you may be tempted to conclude.
The media in Bihar has still not been managed yet.
Perhaps, because not many of those shrieking television channels have bureaus in Patna.
But now that assembly elections are near, their hordes will descend on Bihar with their jingo journalism.
Crime. Corruption. Communalism. Nitish Kumar tried to sum up his tenure under those three 'Cs'.
Any resident Bihari would accept that these are accomplishments to highlight in bold.
If these are your government's main achievements, Nitish babu, it is time to own it and run with it.
Use your party and your own social media accounts to highlight your achievements and successes many times a day.
Get your MLAs to do the same in their constituencies.
It needs to be a two way street, where there is interaction, not just force feeding of information.
Refute the charges levelled by the Opposition.
Call out their false narratives.
Don't under-estimate the numbers using the Internet. The evidence lies in the massive search numbers for a particular Hindi word during the lockdown.
If you need domestic inspiration, follow the PM. If you prefer international inspiration, there is another leader who faces an election in November.
The need of the hour, if not already thought of and implemented, is the employment of an effective digital campaign.
Your achievements are many, Nitish babu, but it needs a sustained campaign to remind us, the good people of Bihar, what we may have forgotten.
We may ultimately vote based on our caste and religion.
But we are also Biharis, smart enough to gauge the direction of who the winner will be and hence will not waste our vote.
The Bihari is selfish enough to judge and decide what is best for him or her.
So just refresh our memory and up your game.
Asmita Bihari is a non resident Bihari.
Feature Presentation: Aslam Hunani/Rediff.com