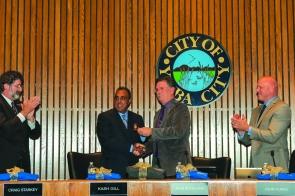 Kash Gill, who began his political career in 2006 and was first elected as mayor in 2009, was sworn in as the Yuba City mayor on December 3 for the second time.
"The road to this point has been very exciting. I've lived in Yuba City my entire life. I'm honored to be serving as the mayor once again," Gill told India Abroad.
Gill's parents came to America from Punjab when he was two years old. He attended the BarryElementary School, and earned a bachelor's degree in agricultural business from California State University Chico. Currently he is the vice president of Mechanics Bank in Yuba City.
Gill said his election was not easy, but he had the support of the police and fire departments.
"They walked door to door with me," he said. "Many times, elected officials do not keep their promises. But I am not one of those."
Gill pledged that he would strengthen ties with Punjab since Yuba City has a sizable Sikh and Punjabi population.
"We have been working with the state department for the last four, five months," Gill said. "Yuba City has strong ties with Punjab. We want to enhance our relationships culturally, socially and educationally."
He added that the city was planning to partner with the University of California, Davis to share educational ideas. He said he is planning to send a business delegation to India in February or March to India.
"Our farmers will be partnering with Indian universities because being an agriculture city, Yuba City has a lot to offer to India," Gill said.
By next year he plans to reduce the 10 per cent-furlough agreement employees have been working under since 2011, but at the same time he wanted to ensure a balanced budget.
By the end of his mayoral term, he also wanted to launch an updated smart-phone application that would expand on the existing app and provide residents direct access to information in real time about city business, public works, road closures, public safety and other important matters.
Image: Kash Gill, second from right, at his swearing-in ceremony.