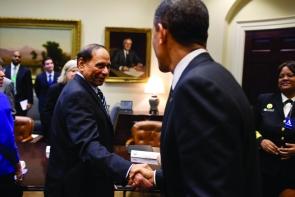 Ambassador Islam 'Isi' Siddiqui, one of the highest ranking Indian Americans in the Obama administration, has resigned from his position as chief agricultural negotiator in the office of the United States Trade Representative.
Siddiqui and Dr Rajiv Shah, administrator, US Agency for International Development, were the only two senior Indian Americans, who had stuck it out for the entire first term of the Obama administration.
Siddiqui had earlier told India Abroad that he had decided to stay on with the administration as it began its second term. According to informed sources at the time he was said to be in line for a senior position, possibly at the cabinet level.
On December 12, Siddiqui announcing his resignation, told India Abroad, "My sole focus has been a successful completion of the World Trade Organisation Bali agricultural negotiations and achieving progress on priority bilateral agricultural trade issues as I end my tenure in government."
"In the weeks ahead, I am looking forward to contemplating new opportunities and next steps in the New Year."
United States Trade Representative Mike Froman thanked Siddiqui for his services to the organisation.
"Since President Obama took office, the USTR has achieved great wins for American farmers and ranchers and Ambassador Siddiqui has been a key part of our team from the beginning. He will be missed not only by his colleagues in Washington but by counterparts around the world," Froman said.
"He played a key role in the Panama, Colombia, and Korea Free Trade Agreements as well as progress on a variety of bilateral and multilateral issues," he added.
Early this year, with the advent of the Obama administration's second term, sources had told India Abroad that history could be in the making. Shah could be up for secretary, Health and Human Services or even Secretary of Agriculture as could Siddiqui since both have served in this department in their earlier incarnations as under secretaries.
But that was not to be as neither Kathleen Sebelius, the HHS Secretary, nor Tom Vilsack, Agriculture Secretary, resigned, and although Ron Kirk, the USTR, did resign, President Obama, appointed Froman in his place.
In January, in an interview with India Abroad, Siddiqui had said, "Both Raj and I are honored to serve this administration. My plans are if the President were to ask me to continue, I would continue."
Asked if he would be looking for a cabinet position, Siddiqui had said, "This is for the President to decide. I am available to serve in whatever capacity they ask me to serve. The challenges I have had in my career, I have been working at it throughout my career, and like I said, I'll continue to serve in whatever capacity I am offered.
Two months ago, at the Agricultural Leadership Summit in New Delhi, Siddiqui was bestowed the award for 'providing exceptional leadership to international agriculture.'
Late last year, Haldwani, Uttarakhand-born Siddiqui was honored by his alma mater -- the G B Pant University of Agriculture & Technology, Pantnagar -- by naming the soon to be constructed Alumni Guest House after him.
Image: Islam 'Isi' Siddiqui with President Barack Obama.