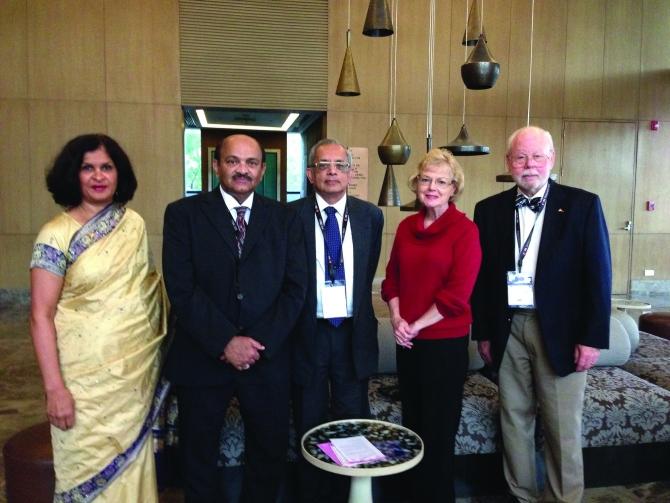 At the Indian Cancer Congress held in New Delhi on November 20-24, health-care professionals from the United States launched the Open Educational Resources in Cancer for Doctors and Nurses in India, a Web portal maintained by the California State University.
About 4,000 cancer experts from India and abroad participated in the congress.
Ocean Education Research Centre India is an open web portal for India's oncology professionals to remain updated in knowledge and skills. The scientific material will be prepared by cancer experts in India who may seek help from their peer groups abroad if need be.
The Indo American Cancer Association, an organisation of oncologists in the US, will also provide academic support.
The website, which may take about six months to be fully operational, will help design and customise latest cancer care knowledge tailored to Indian situations instead of blindly adopting Western standards, said Madhavan V Pillai, clinical professor of oncology, Kimmel Cancer Center, Thomas Jefferson University, Philadelphia. He is chairman of the OERC's India Task Force.
The growth rate of cancer in India is alarming, Dr Pillai and other experts who attended the congress, noted.
Age adjusted incidence rate in India for all types of cancer ranges between 106 to 130 per 100,000 people among men, and 100 to 140 for women. Those figures are expected to increase seven-fold by 2025.
With the current patient load of 1 million new cancer patients every year, the ratio of cancer patients to oncologists in India is 1,600 to 1. In the US the ratio is 100 patients to 1 doctor.
Information technology entrepreneur Raj Shah funded the initial stages of the nonprofit project and has supported program efforts over the past several years. The portal will be led by Bhaskar Balakrishnan, former Indian ambassador to Greece and Cuba.
Image:
Dr Savitri Singh-Carlson, Dr Madhavan Pillai, Dr Bhaskar Balakrishnan, Jeanne Sewell and Dr Lawrence Lessin at the Indian Cancer Congress.