'Why was he killed? What was his fault? Whoever did this is so inhuman.'
Mohammed Ayoub Pandith's family grieves for the police officer who was murdered outside a Srinagar mosque.
Umar Ganie reports for Rediff.com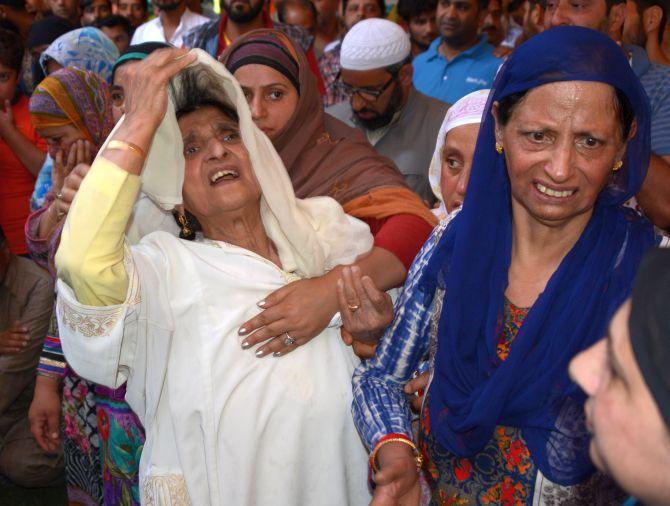 "I am his sister, he was my younger brother. I raised him, pampered him. What has happened to my beloved brother?" wailed Deputy Superintendent of Police Mohammed Ayoub Pandith's sister.
DySP Pandith was lynched by a mob outside Srinagar's Jamia mosque on Thursday, June 22.
A pall of sadness descended on Pandith's home in Srinagar's Nowpora area following the police officer's gruesome death.
"Our innocent and honest uncle has been killed. We are Indians," said a teary Alia, whose husband is Pandith's nephew.
Pandith was killed on Thursday, Shab-e-Qadr, an auspicious night for Muslims.
Danish Ayub, the murdered police officer's son, family members said, has not spoken since he heard of his father's death.
Danish collapsed when he saw his father's body.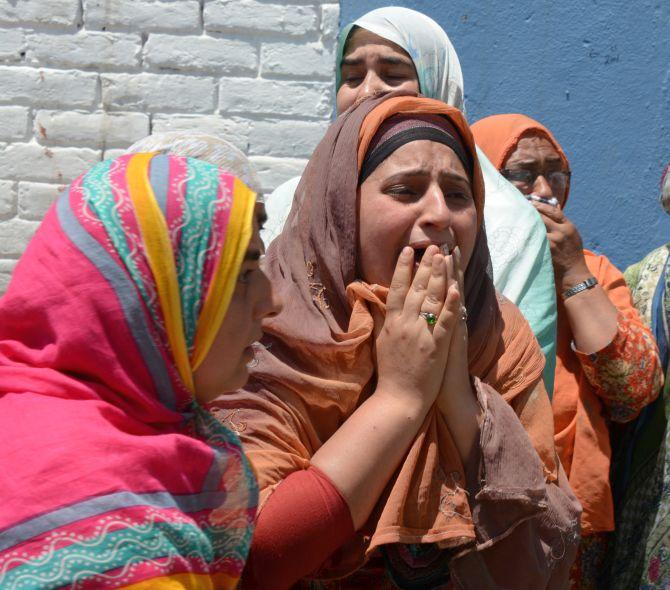 Amreen, Pandith's daughter who is pursuing a medical degree in Bangladesh, had returned home only two days earlier to celebrate Eid-ul-Fitr with her family.
"Why was he killed? What was his fault? Whoever did this is so inhuman," wept Amreen.
"He was on duty for the security of the people. He fired only in self defence."
Hundreds of people gathered outside the murdered police officer's home to mourn his death.
Some wept, others beat their chests in sorrow.
"Your killers will face the same fate," Pandith's wife shouted among the wailing mourners.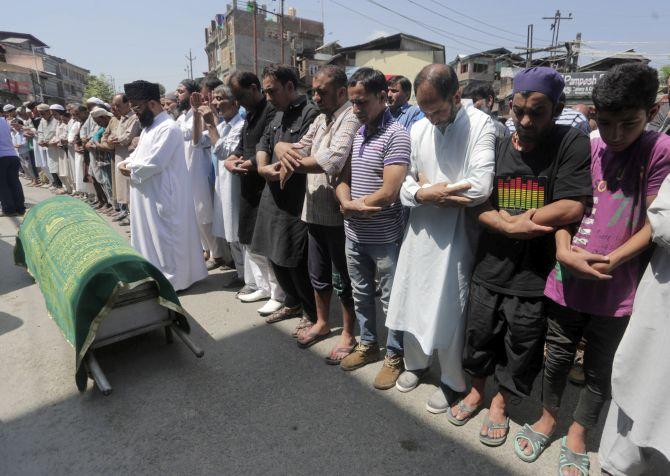 "He was loveable, kind hearted, down to earth," said Ghulam Mohammad, a neighbour, adding, "He was helpful and very kind to everyone."
Pandith, his cousin said, had participated in a security meeting on Thursday.
"He informed the family that he was on duty at the Jamia Masjid. He was performing his duty like any other government employee."
"We have lost a man with principles, a humble soul," his friend Tariq Ahmad said.
"I am deeply disturbed by this brutal act," Hurriyat Conference leader Mirwaiz Umar Farooq said on Friday.
"Mob violence and public lynching is outside the parameters of our values and religion," the separatist leader added.
"It is very important and imperative for us that we do not allow our social fabric to be brutalised and keep our basic values intact," the Mirwaiz, who is also a religious figure in Kashmir, felt.
"We cannot allow State brutality to which we are subjected to each day snatch our humanity and values," the Mirwaiz said, asking, "What will be the difference between them and us then?"
"The murder is a murder of trust," Jammu and Kashmir Chief Minister Mehbooba Mufti said, mourning Pandith's death.
"The officer had allowed his guards to go home. Jammu and Kashmir has one of the finest police forces in the country who exercise maximum restraint while dealing with law and order situation, but for how long," the chief minister asked.