Samajwadi Party chief Akhilesh Yadav on Monday thanked Congress leader Rahul Gandhi for inviting him to his 'Bharat Jodo Yatra' and wished it a success, even as the party said he will not be attending it.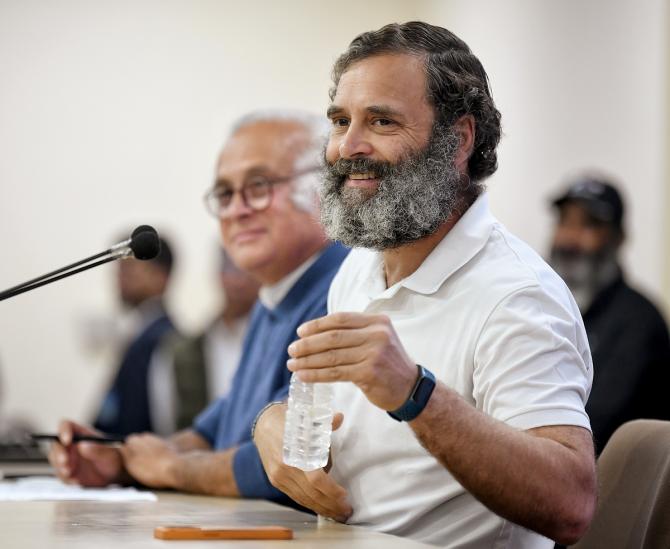 SP chief spokesperson Rajendra Chaudhary said Akhilesh will not participate in the yatra, nor will any other leader from the party.
The nationwide yatra will enter Uttar Pradesh from the Loni border in Ghaziabad on January 3 afternoon and will halt for the night in Mavikala village in Baghpat.
It will pass through Shamli in UP on January 4 and enter Haryana through Sanauli in Panipat on January 5 evening.
In a letter addressed to Rahul Gandhi, Akhilesh said, "Thanks for the invitation to the 'Bharat Jodo Yatra' and wishes for the success of the 'Bharat Jodo' initiative."
"India is a feeling which is beyond geographical expansion, where there is love, non-violence, emotions, co-operation and bonhomie -- the positive elements, which unite India. Hope that this yatra achieves its aim of conserving this inclusive culture," the former UP Chief Minister said in the missive he posted on Twitter.
Chaudhary, when asked whether Akhilesh or any other SP leader will be going to the Yatra, told PTI, "Akhilesh will not participate in the yatra and there is nil possibility of any other leader of the party going there."
Senior UP Congress leader Nasimuddin Siddiqui, when contacted, told PTI, "Rahul Gandhi ji had written a letter to Akhilesh Yadav on Saturday to be a part of the yatra."
"I do not have any information on this," he added, when asked whether Akhilesh will be attending it.
In a tweet in Hindi, BSP chief Mayawati said, "Best wishes for the 'Bharat Jodo Yatra' and thanks to Rahul Gandhi for writing a letter to me to take part in the yatra."
However, there was no information as to whether Mayawati will participate in the yatra.
Meanwhile, in Ballia, the president of Suheldev Bharatiya Samaj Party Om Prakash Rajbhar told PTI, "A few days ago, I got the invitation for the Bharat Jodo Yatra of Rahul Gandhi, and former Union minister Salman Khurshid called me discussing this."
"The matter was discussed on Sunday with the party's office bearers, and it was decided that the party will not be a part of Bharat Jodo Yatra."
Rajbhar also asked what was the need to integrate India, when it was never disintegrated in the first place.
"When has India disintegrated? Neither the Hindus living in the country nor the Muslims living in the country are in danger," he said.
"The country is also not in danger. Yatras are being taken out to strengthen one's party, so that it may make a strong connection with the masses," he added.
Bhartiya Kisan Union National Spokesperson Rakesh Tikait said he will not be attending the Yatra.
"I am not going to participate in the Bharat Jodo Yatra. But we are not stopping anyone from participating in it. The BKU workers who want to participate in the yatra are free to do so," he said.
"However, office bearers above the rank of district presidents will not participate in the yatra," Tikait added.
"Ours is an apolitical organisation. People from different ideologies are in our organisation," he told PTI over phone.