Monday, November 8, 2021, Lal Kishenchand Advani -- the politician who took the Bharatiya Janata Party from its parliamentary nadir in 1984, when it won just two Lok Sabha seats, to establishing the edifice for its present dominance in Indian politics -- will turn 94.
Cast aside by one of his political proteges Narendra Damodardas Modi before the 2014 Lok Sabha election, Advani is now a resident of the political wilderness.
The man who wanted to be prime minister now watches the BJP national executive committee meeting -- where once his presence was greeted by cheers and rousing slogans -- on a laptop, far, far, from the action.
Please click on the images for a better look at revealing glimpses from the BJP national executive meeting in New Delhi.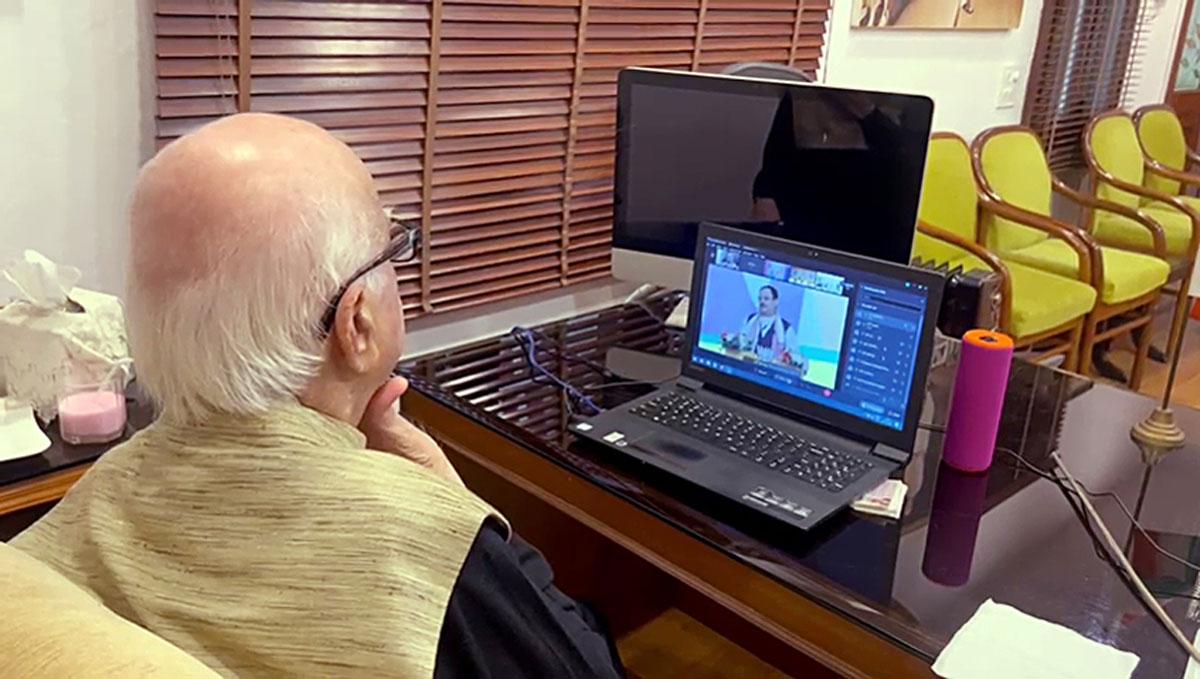 IMAGE: Mr Advani, who was denied an opportunity to contest the 2019 Lok Sabha election, is a member of the high-sounding, but little meaning Margdarshak Mandal, the committee of party elders formee to guide its leaders.
How many times have Modi and Amit Anilchandra Shah, who inherited Advani's Gandhinagar Lok Sabha seat in 2019 (Advani had won it in 2014 by 483,121 votes), sought the elder's counsel? Photograph: ANI Photo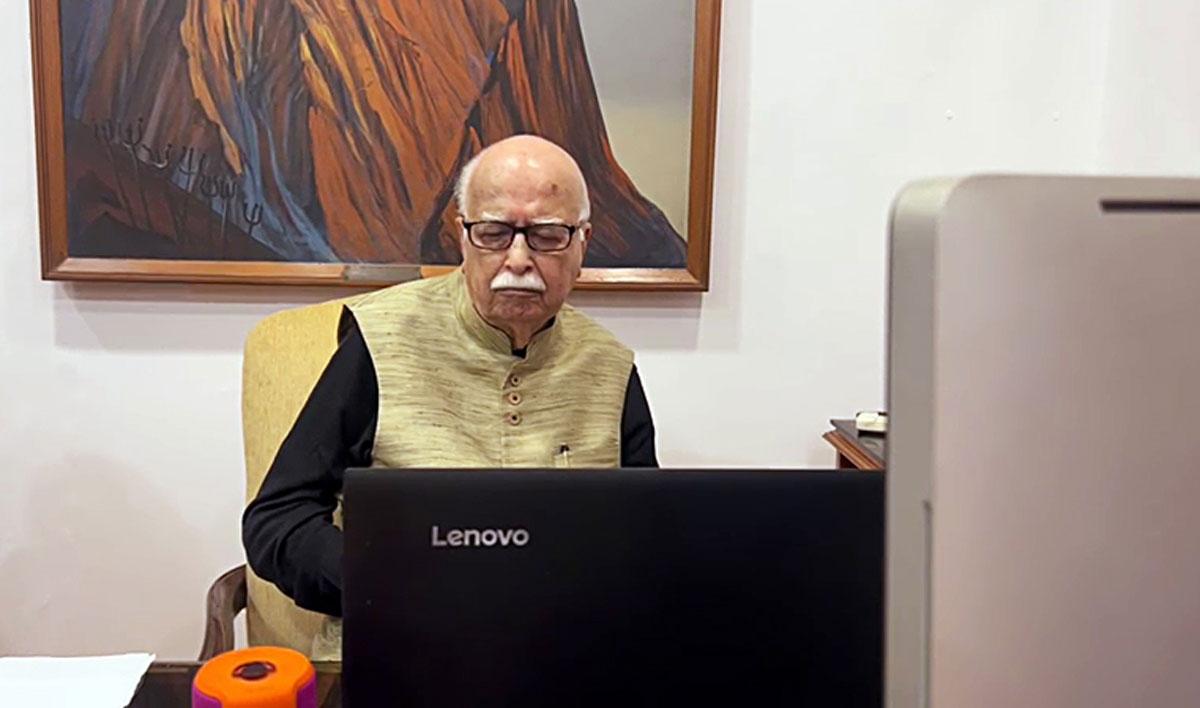 IMAGE: Mr Advani has never given the impression of someone who is in the eighth or ninth decade of his life, always willing to engage with a mind that has just refused to age. Photograph: ANI Photo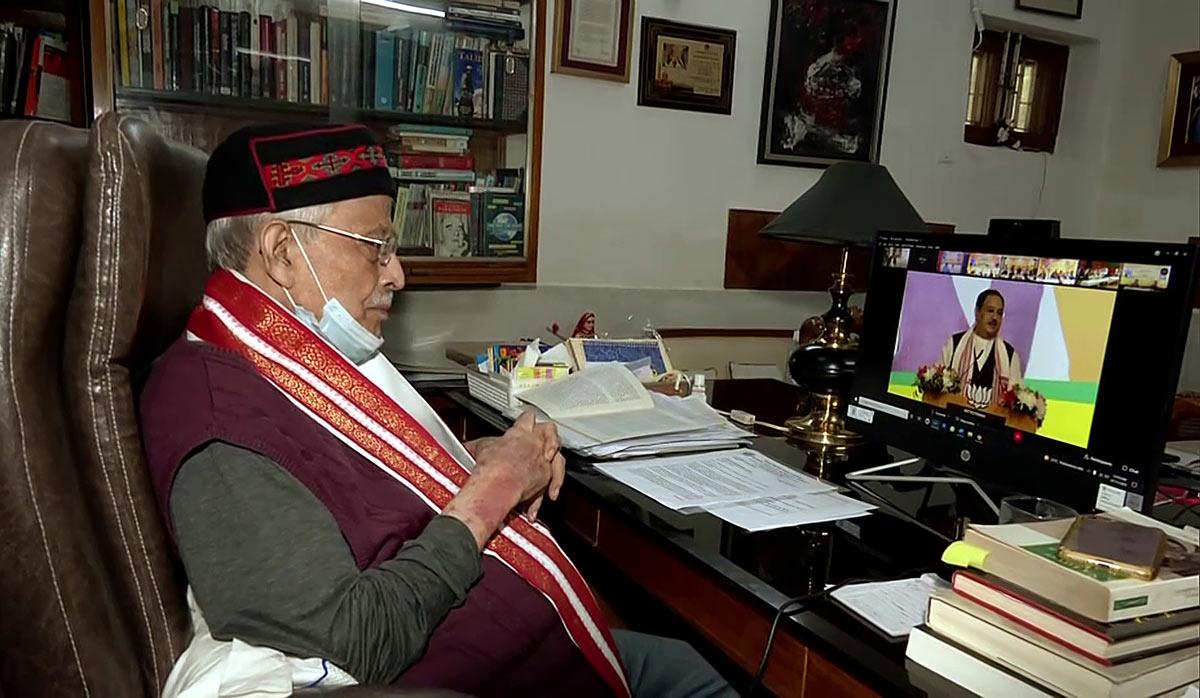 IMAGE: Another member of the BJP's Margdarshak Mandal, Dr Murli Manohar Joshi, who Modi accompanied on his Ekta Yatra from Kanyakumari to Kashmir in January 1992 -- just as he accompanied Mr Advani on his Rath Yatra in 1990 -- attends the BJP national executive meeting on Sunday, virtually. Photograph: ANI Photo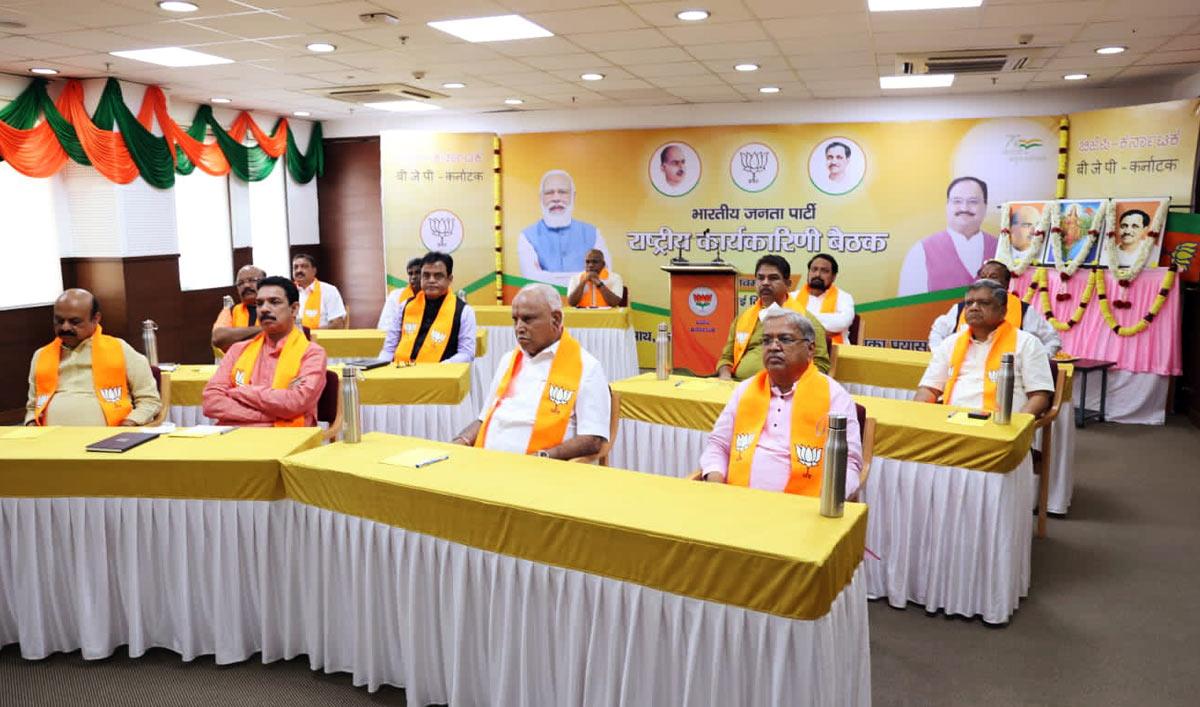 IMAGE: Karnataka Chief Minister Basavaraj Bommai, left, former chief minister B S Yediyurappa, second from right, state BJP President Nalinkumar Kateel, second from left, and other bigwigs from the first state to elect the BJP to power in an assembly election attend the national executive committee meeting at the party office in Bengaluru, virtually of course. Photograph: ANI Photo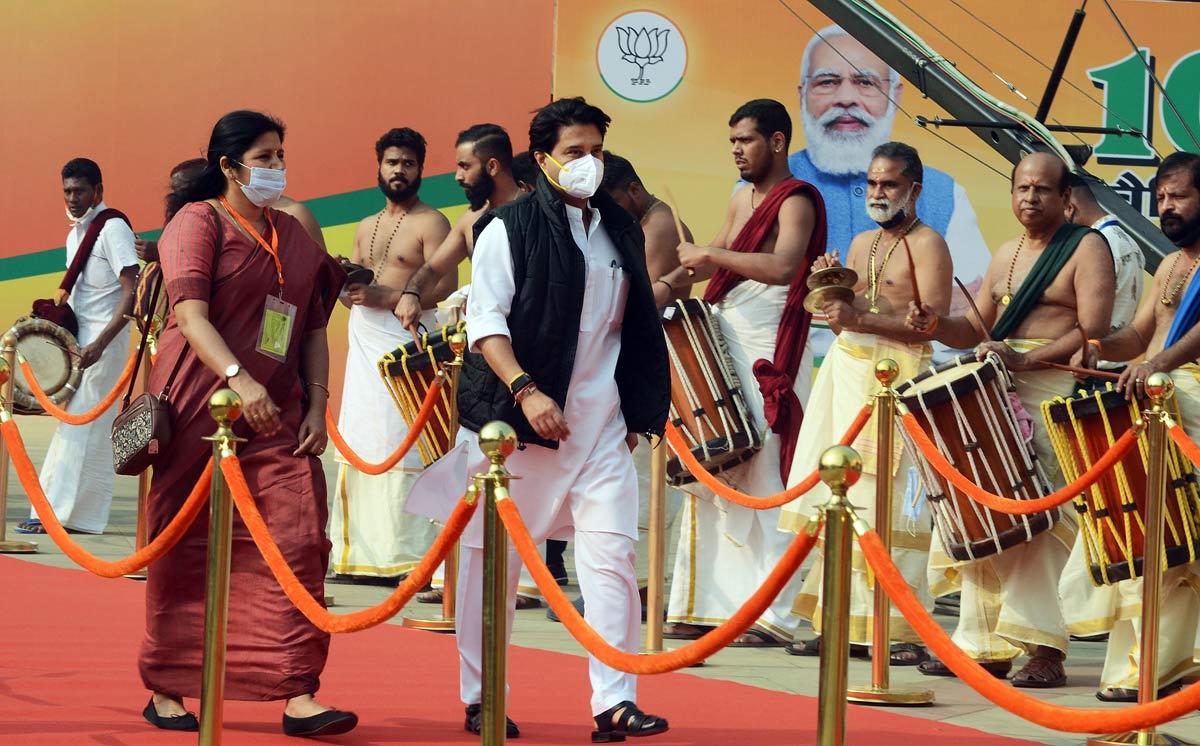 IMAGE: Jyotiraditya Scindia arrives to attend his first BJP national executive meeting after he was nominated to the committee.
His late paternal grandmother, Rajmata Vijayaraje Scindia, was, of course a founder of the party which 'Maharaj' joined in March 2020.
Applause for the musicians from south India playing music for the attendees barechested in the capital's rather nippy weather. Photograph: ANI Photo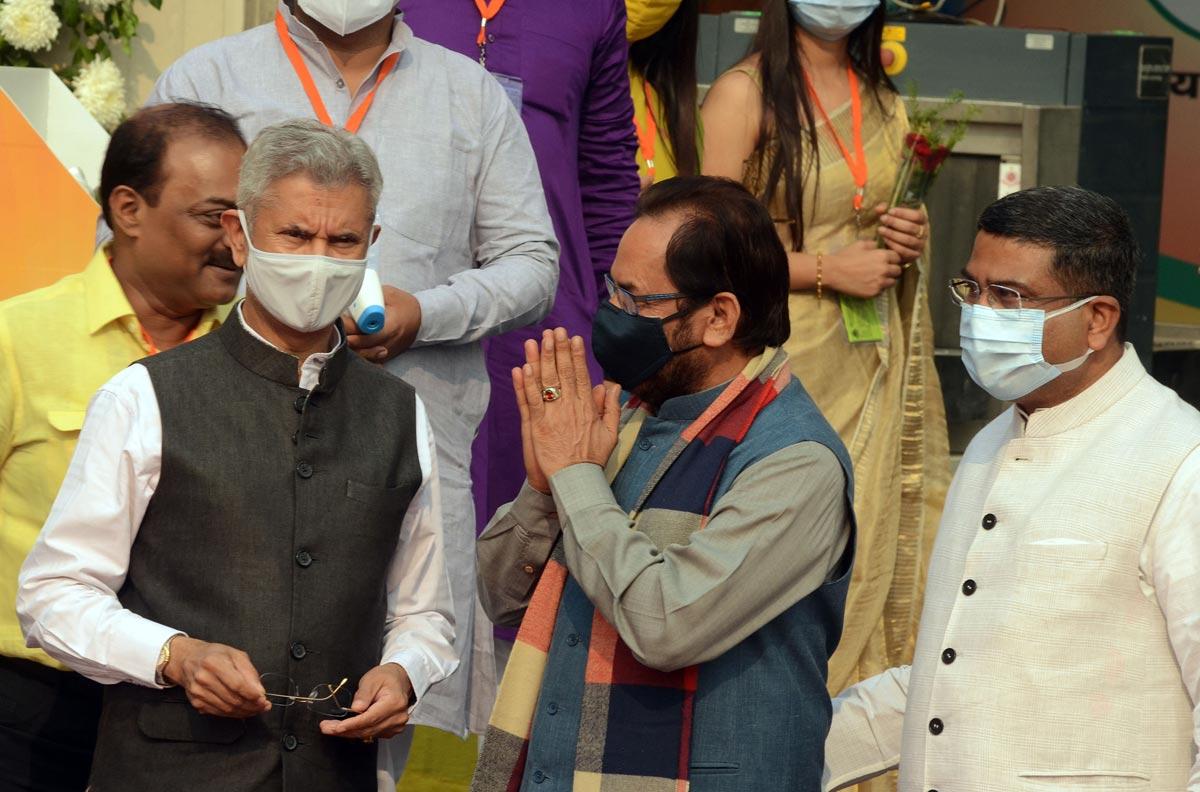 IMAGE: Subrahmanyam Jaishankar, India's external affairs minister and a career diplomat till not so long ago, arrives to attend the meeting with fellow Ministers Mukhtar Abbas Naqvi and Dharmendra Pradhan.Photograph: Sanjay Sharma/ANI Photo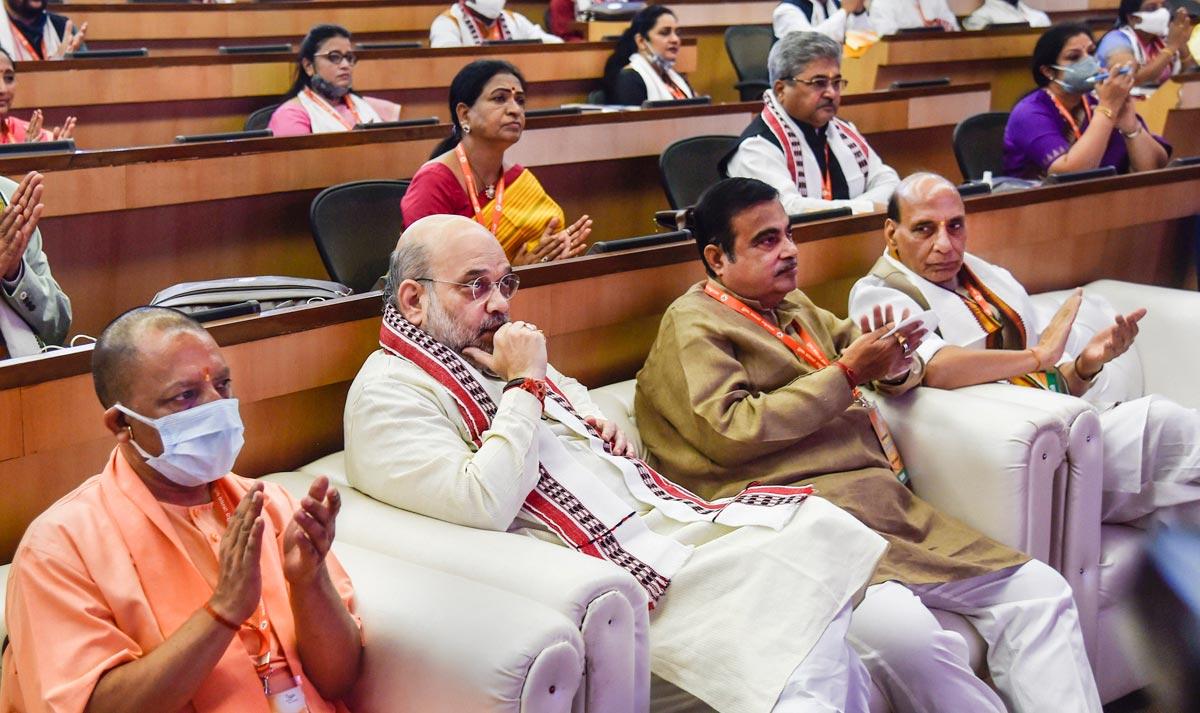 IMAGE: The BJP has several chief ministers, but who gets to sit alongside the party's senior leaders Amit Anilchandra Shah, Nitin Gadkari and Rajnath Singh?
Yogi Adityanath's pivotal presence among Shah-Gadkari-Singh indicate that the UP chief minister may be moved to New Delhi after the state assembly election in March, regardless of its outcome for the BJP. Photograph: Shahbaz Khan/PTI Photo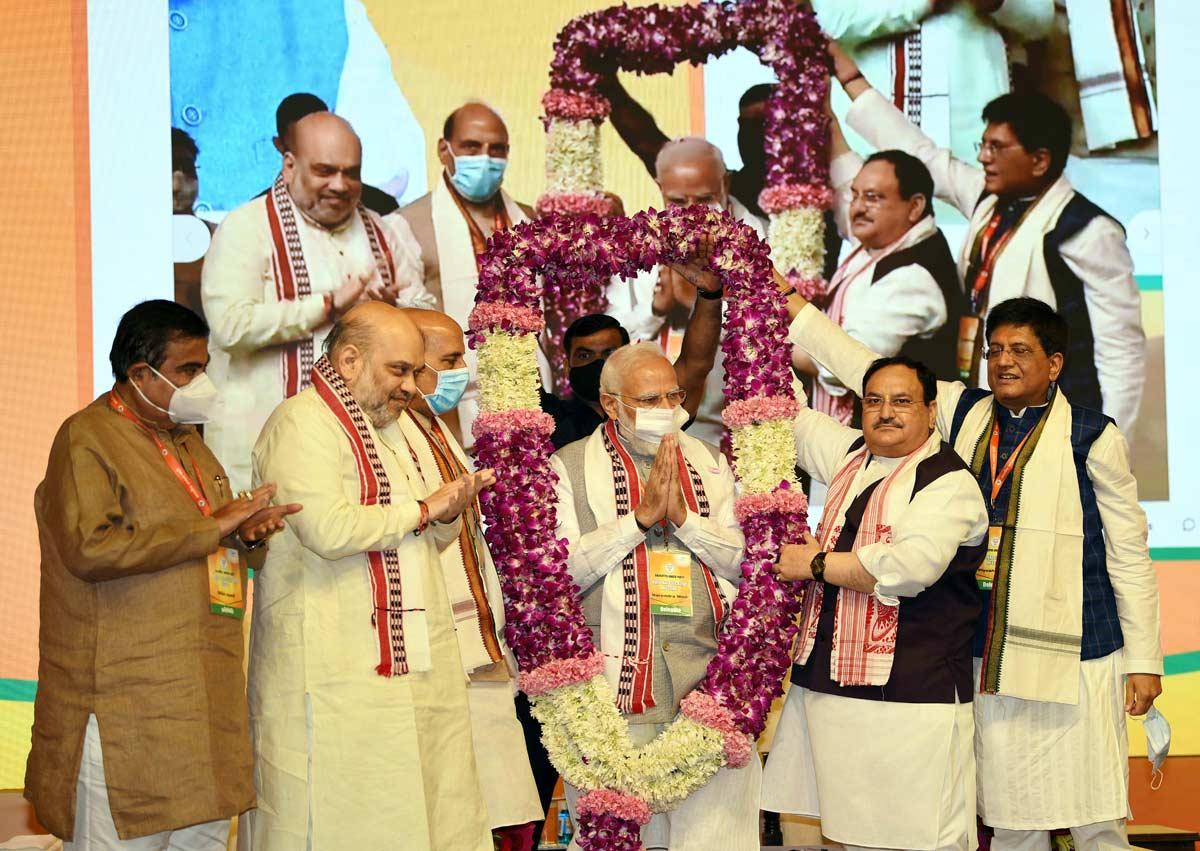 IMAGE: Hark back to BJP national executive meetings in the Advani-Vajpayee era and it would be difficult to locate such fawning images accompanied by fawning flood of constant praise for the Supreme Leader's leadership.
In the Advani-Vajpayee era, the BJP was a democracy whose leaders could vigorously contest and debate the then prime minister or his deputy's decisions or instructions.
In the Modi era, not even Amitbhai, the second most powerful man in the Republic, would dare to question Narendrabhai.
The BJP, it seems, is no more a party with a difference.Photograph: ANI Photo
Photographs curated by Anant Salvi/Rediff.com
Feature Presentation: Rajesh Alva/Rediff.com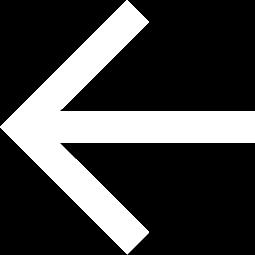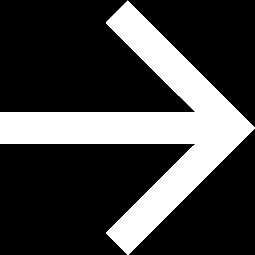 X