According to Rajeev Jayadevan, co-chairman, national Indian Medical Association Covid Task Force, the current scenario qualifies as a wave.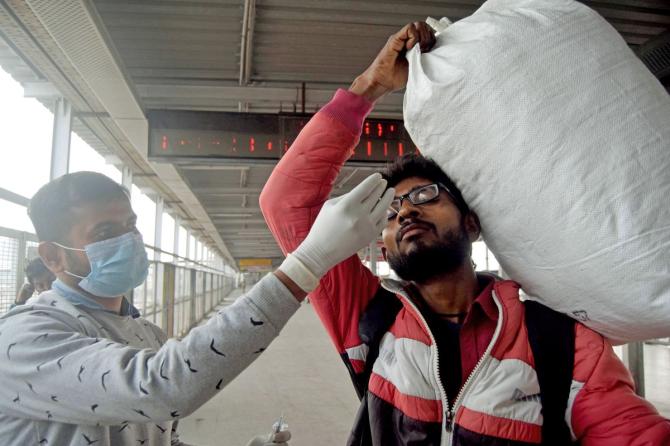 India reported 3,016 fresh Covid-19 cases as of Thursday morning, recording a 40 per cent jump over the previous day.
But the jury is out on whether this is the beginning of a fresh wave -- while some experts say the country is already experiencing one, others point out that this may pass off as a "ripple".
The daily positivity rate for India is now 2.73 per cent. Some districts like Solapur and Sangli in Maharashtra, one of the worst-affected states, reported positivity rates of 20.05 and 17.47 per cent respectively as of Wednesday. The positivity rate indicates the number of Covid cases per 100 tests.
Worryingly, around four weeks ago Maharashtra had a positivity rate of 1.05 per cent but between March 22 and 28 it went up to 6.15 per cent. The districts with a spurt in positivity rate include Solapur (20.05 per cent), Sangli (17.47 per cent), Kolhapur (15.35 per cent), Pune (12.33 per cent), Nashik (7.84 per cent) and Ahmednagar (7.56 per cent).
State health secretary Sanjay Khandare told Business Standard that genome sequencing of RT-PCR positive cases is already one of the priorities.
"We are witnessing a newer mutation -- XBB.1.16 -- that is behind the rise in cases in some districts," he said. For example, Pune has 151 cases of XBB.1.16, an Omicron sub-variant, out of 230 such cases recorded in the state.
On Thursday, Maharashtra reported 694 fresh cases and no deaths. Around 9.4 per cent of lab samples have tested positive till March 30, the public health department said on Thursday. Mumbai has the maximum number of active cases (846) in the state, followed by Pune (773) and Thane (524).
In the last 24 hours, Kerala saw 765 cases. Out of the 14 deaths nationwide, eight were from the southern state.
Thursday's 3,016 cases is the highest figure since October 2, 2022.
Cases had been in decline at the time, falling by 22.3 per cent on October 2 compared to seven days prior. Cases are currently rising, up 97.9 per cent as of March 30 over the previous seven days. This growth rate has been far sharper in earlier waves.
For example, cases went up by over 500 per cent week-on-week in January 2022, during the Omicron wave.
The current growth rate is the highest since a spike in April 2022, when cases were up over 100 per cent week-on-week. Weekly growth was rarely in triple digits during the first two waves.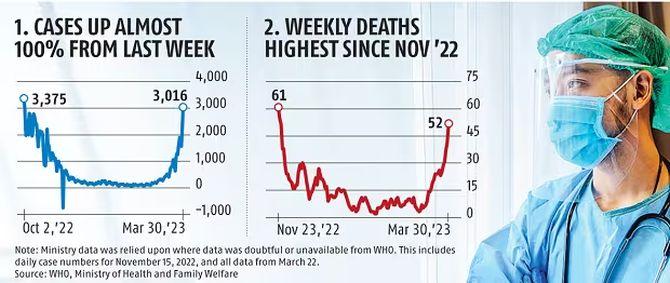 The 52 deaths for the week ending March 30 were the highest since November 2022. There were 55 deaths for the seven days ending November 24. Deaths were also in decline then. The number of weekly deaths has doubled since the 26 seen on March 23.
India ranks 12th on the list of countries by weekly cases, show numbers from the World Health Organization. The data is updated with a lag. The US leads with 152,968 cases. India's weekly cases were under 10,000. The latest data shows that they are over 13,000.
According to Rajeev Jayadevan, co-chairman, national Indian Medical Association Covid Task Force, the current scenario qualifies as a wave.
"The severity of this cannot be gauged now. However, since these are all variants of Omicron, we can expect that it may not be as severe as previous waves. In Kerala, not many cases of XBB.1.16 are being reported. States should focus more on genome sequencing to track fresh variants," he added.
Manindra Agarwal, an IIT Kanpur professor involved in mathematical modelling to understand the pandemic, told Business Standard that vaccination does not stop infection but reduces severity.
"We are witnessing a rise in cases and on a low base the numbers will jump sharply. But once the daily fresh cases touch the 10,000 mark, it may not grow that sharply," Agarwal said, adding that the current situation may not escalate into a "wave" but cause a "ripple".
The Kerala government has asked various districts to be on alert.
"We were given instructions to ensure that those above 60 years of age are wearing masks in public places. Moreover, we have asked officials to direct those in A category with no severe infection to stay at home and those under the severe categories of B and C to get admitted to hospitals immediately," said a health department official.
Is the recent mutation behind the case spike or is it because of waning immunity among the population?
Virologists have said that there is need for data on those getting infected to assess whether immunity is waning. Renowned virologist Jacob John said that those who did not take the booster dose are likely to lose immunity.
John said there was a need to give a second booster to senior citizens and those with comorbidities.
India has lower booster coverage than others at around 17 per cent of the population. Coverage in the US is around 35 per cent, while it exceeds 60 per cent in South Korea, France and Japan.
Jayadevan added that for healthy people, a vaccine booster may not be a necessity. This is after the WHO recommended additional booster shots after the first one only for people at the highest risk. According to experts, a large share of people might have already achieved immunity through infection and vaccination.
Doctors are reporting milder cases of Covid with high-grade fever and upper respiratory tract infection. Most of such patients have taken the booster dose. Delhi's Fortis Hospital admitted two Covid patients, both elderly, in the ICU in the last two weeks.
"Immunity has gone down among patients. In influenza, every year there is an assessment of strains for the vaccine. We need to see if we have reached that stage for Covid as well," said Vikas Maurya, director and HOD, pulmonology, Fortis Hospital.
The Delhi government, meanwhile, has assured that while the positivity rate in the capital is more than 10 per cent, the number of tests is low and so there is no need to panic.
"We have issued an advisory that all those who are symptomatic must wear masks. Those visiting hospitals must mask up," said Delhi Health Minister Saurabh Bhardwaj.
Similarly, in Mumbai, the municipal body has set in motion a plan to activate 4,000 Covid beds. It has asked all civic-run hospitals to keep beds ready for Covid patients, and has held a meeting with private hospitals.
Covid-19 war rooms are back in Mumbai -- the municipal corporation has decided to activate these again from April 1. One MBBS doctor and a qualified social worker would be deputed in these war rooms across wards.