In view of a rise in COVID-19 cases, the Yogi Adityanath government has put all the frontline workers and government as well as private hospitals on "alert mode", according to an official release issued on Thursday.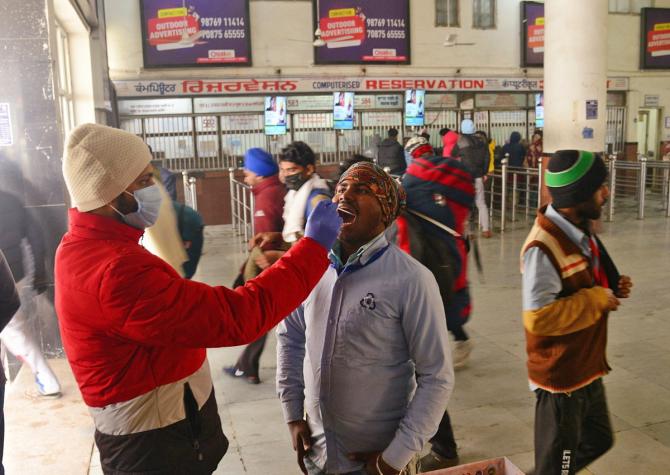 Instructions have been given by the government to take necessary action immediately in districts where confirmed cases are found.
Along with this, instructions have also been given to strictly monitor the cases of respiratory tract infection, influenza like illness and severe acute respiratory infection in all the districts, the release issued in Lucknow said.
As of March 28, the number of active cases of COVID-19 in Uttar Pradesh was 340.
In view of this, the Yogi government has issued instructions to make necessary arrangements for COVID-19 management.
Instructions have been issued in a presentation regarding communicable disease control and dastak abhiyan before the chief secretary.
Accordingly, officials have been directed to inform immediately about the increase in RTI, ILI, SARI cases, according to the release.
Besides, there are also orders for intensive sampling of COVID-19 at places where cases of the fatal disease are reported.
The samples will then be sent for genome sequencing to KGMU Lucknow, it said.
The government has asked officials to take special care and precautions for elderly patients. Apart from this, instructions have been given to ensure availability of logistics, medicines, PPE kits, gloves, masks and equipment, oxygen plant and concentrator in hospitals.
The district administration has been asked to ensure that dedicated hospitals and wards are activated immediately.
However, as of March 28, the districts affected by COVID-19 are Gautam Budh Nagar (57), Ghaziabad (55), Lakhimpur Kheri (44), Lucknow (27), Bijnor (12), Lalitpur (9) and Saharanpur (8).
Officials have been directed to carefully monitor the situation in these districts.
Directions have also been issued for increasing testing and treatment in the affected districts and taking special precautions in districts that were most affected in the previous COVID-19 waves, it said.
It is noteworthy that a communicable disease control campaign will be launched in the state from April 1 to April 30. The Dastak campaign will run from April 17 to 30.
Under this, arrangements will be made for cleanliness and water logging disposal in rural and urban areas.