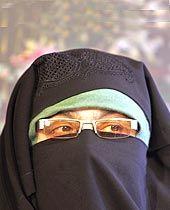 Ridiculing separatist leader Asiya Andrabi who is seeking Indian passport for her son's studies in Malaysia, Jammu and Kashmir Chief Minister Omar Abdullah on Wednesday termed it as "sheer hypocrisy", which shows the gulf between what separatists say and what they do.
Also Read: Exclusive! Kashmir's most wanted woman speaks
"She (Andrabi) has filed an affidavit seeking an Indian passport for her son to go to Malaysia for studies", Abdullah said adding it was "sheer hypocracy and shows the difference in what they (separatists) say and what they do."

"She wants to take her son out of the Valley for pursuing studies when other children there are unable to go to schools and colleges due to ongoing violence," Abdullah told media persons in Jammu.

About National Conference's demand for autonomy for Jammu and Kashmir, Omar ruled out any amendment in the autonomy document as the state assembly had passed it.

However, he said, the party is not taking an extreme posture on it as well, he said, adding this was only the starting point for NC for holding talks with the Centre.

"Our stand is that let us begin talks and during the course of it see what can be mutually agreeable", he said.

The chief minister also made it clear that it was not possible to pursue single track of autonomy between the Centre and the state.

It was more important to look at internal autonomy within the regions and sub-regions in order to dispel any impression among the regions being discriminated, he said, adding this is possible only with devolution of powers as soon as possible.

A beginning in this direction can be made with the holding of panchayat and local bodies elections, he said.

Ruling out revocation of Armed Forces Special powers Act (AFSPA), Abdullah said he has asked security forces to exercise maximum restraint in order to avoid civilian casualties.

"There is no question of AFSPA getting revoked at this point of time," he said, adding, "However, what we are looking at is to remove certain areas from the purview of this Act where militancy has become a thing of the past".