In the caste-based politics of Uttar Pradesh, Samajwadi Party chief Mulayam Singh Yadav felt it necessary to bring in a strong leader to retrieve the party's eroding Thakur support base. Sharat Pradhan reports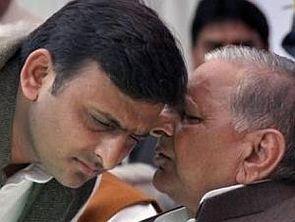 Controversial independent Member of Legislative Assembly Raghuraj Pratap Singh -- better known as Raja Bhaiya -- was re-inducted by Uttar Pradesh Chief Minister Akhilesh Yadav on Friday in a special swearing-in ceremony at the Raj Bhawan.
The controversial MLA was dropped earlier this year on allegations of his involvement in the killing of a deputy superintendent of police.
Raja Bhaiya was sworn in by Governor B L Joshi, who was specially flown back from Jaipur where he was holidaying.
Political insiders claim that the haste with which the swearing-in was organised indicates an apprehension in the SP as Raja Bhaiya was being wooed by Bhartiya Janata Party chief Rajnath Singh, who has been busy baiting prominent Thakurs from other political parties in a caste-oriented state.
Even though Raja Bhaiya has been contesting and winning elections as an independent for years, he is widely regarded as among the prominent leaders of the Thakur community. Samajwadi Party chief Mulayam Singh Yadav, for whom caste remains at the core of politics, could not have taken any chances .
While Raja Bhaiya got a clean chit from the court, his re-induction was being debated in SP circles. One section of the party was opposed to his re-entry. They feared it would send a wrong signal to the Muslim community who saw him as the villain behind the killing of deputy superintendent of police Zia Ul Haque in his constituency, Kunda. Also, Mulayam Singh Yadav was in no position to annoy his Muslim voters who are already disillusioned with the recent communal riots in Muzaffarnagar.
Barely a week ago, the BJP chief had managed to win over the elder son of former prime minister Chandrashekhar, a prominent leader representing the community. While the younger son, Neeraj, was well entrenched in the Samajwadi Party, the elder son, Pankaj took up Rajnath Singh's offer to join the BJP.
The BJP chief is believed to have made an offer to Raja Bhaiya too. Knowing his old affiliation with the BJP, which gave Raja Bhaiya his first ministerial stint in the nineties, the Samajwadi Party leadership was not prepared to take any chances.
SP chief Mulayam Singh Yadav persuaded senior minister and the party's most prominent Muslim face Azam Khan to personally call on Raja Bhaiya, who was always looked at with suspicion by the Muslims. The idea was to mollify the erstwhile prince of Kunda, who now stood on a clean slate as far as his alleged involvement in the killing of a Muslim police officer, was concerned.
Mulayam felt that it was time to act or else it could be too late to retrieve the party's slipping Thakur support base. After all, every political party believes that caste will continue to play a major role in the 2014 Lok Sabha elections.
Uttar Pradesh's 80 seats could make the difference in shaping the country's political destiny.