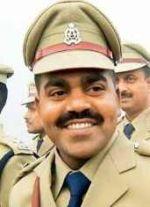 The wife of slain Kunda Deputy Superintendent of Police Zia-ul Haq on Wednesday moved a special Central Bureau of Investigation court seeking quashing of the probe agency's closure report, in which it had given clean chit to former UP minister Raghuraj Pratap Singh alias Raja Bhaiya.
Parveen Azad moved her application in the court of Special Judicial Magistrate (CBI) Shraddha Tiwari through her counsel Khaliq Ahmad. The court fixed October 1 as the next date for hearing.
On August 14, Azad had moved the CBI court for a copy of the agency's closure report and other documents related to her husband's murder. The documents were later provided to her by the probe agency.
On Wednesday, in her application, Azad has again alleged that Raja Bhaiya and four others named in the FIR filed by her conspired and got her husband killed. Her counsel Ahmad said that in her application Azad has said that on March 2, first FIR was lodged by the then SHO Hathgawan Manoj Kumar Shukla against 10 persons under various sections of the Indian Penal Code, including dacoity and murder. He said that next day the DSP's wife lodged another FIR against Raja Bhaiya, Gopal Yadav, Hariom Srivastava, Rohit
Singh and Guddu Singh.
Azad said that she had said similar thing in her statement, but "importance was not given to it". She said that while chargesheet was filed in the first case, the CBI, however, filed a closure report in the second one.
In her application, Azad has sought rejection of the closure report filed by the agency. She has appealed that all the five persons should be summoned and the CBI should be directed to probe uninvestigated facts.
The CBI on August 1 had filed a supplementary chargesheet in connection with the murder before a special court in which it had given a clean chit to Raja Bhaiya.
The agency also filed a "technical" closure report in the FIR filed by Haq's wife, in which she had accused Raja Bhaiya of conspiring to murder the officer. The CBI had requested the court to tag it along with the case registered by the state police after the incident, which was also being probed by the agency.