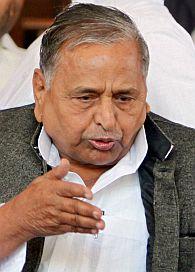 In a big relief to Samajwadi Party chief Mulayam Singh Yadav, the Central Bureau of Investigation closed a six-year-old disproportionate assets case against him on Friday citing lack of evidence.
"The CBI has closed the preliminary enquiry against Mulayam Singh Yadav and his family on account of grossly insufficient evidence," the agency said.
In a detailed reasoning, the CBI cited Supreme Court's order of December 13 last year whereby it was said that the income, assets and expenditure pertaining to Dimple Yadav, wife of Uttar Pradesh Chief Minister Akhilesh Yadav, should be excluded from those of her other family members.
"This order necessitated re-assessment of the evidence collected during the inquiry, and a fresh look in accordance with the order of the Supreme Court," the CBI said in its statement.
"We are being very transparent about all cases including this and are ready to stand any legal scrutiny," CBI Director Ranjit Sinha told PTI.
The CBI said the PE in the case which was registered in 2007 could not be concluded earlier due to litigations and pendency of review petitions.
The CBI said that since Mulayam had not joined the probe earlier in 2007, the agency had calculated his income, that of his sons Akhilesh and Prateek and daughter in law Dimple to Rs 2.63 crore. This had to be changed after the December 2012 judgement of the Supreme Court.
CBI will inform the Supreme Court about its decision next week.
During its inquiry, the agency examined a large number of persons including the Yadav family and collected several documents.
"Careful examination of documents, statement of witness and the version of the suspects during the course of further inquiry, has not brought out sufficient evidence supporting
the allegation of possession of any disproportionate assets, jointly or individually, against Mulayam Singh Yadav and his family members," the CBI said.
The CBI listed seven points to show why there was difference in the figures of disproportionate assets from 2007 and 2013, claiming large advances were earlier shown as assets as well as expenditure, leading to double accounting.
"The same stands corrected now," the CBI said.
A number of heavy advances, despite being refunded subsequently, were earlier taken as assets. "These refunds stand corroborated from the bank account statements.
"Earlier these advances were shown as assets on the basis of their reflection in a particular income tax returns, even though such amounts were not be found in subsequent returns," the CBI said.
The third point, CBI reasoned that the gifts received by the Yadav family, which had been accounted as income tax, "have now been validated by examining the donors, donees, bank statements, income tax returns and personal ledgers".
The CBI also said a large number of expenditure items have been found to be refund of loans taken during the check period of April one, 1994 to March 21, 2004.