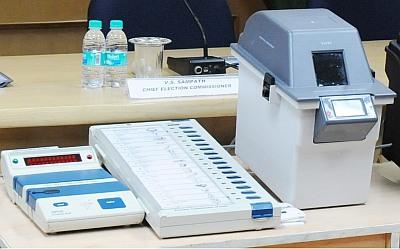 For many Muslim voters in Gujarat, if there is an issue of concern in the coming assembly election, it is the electronic voting machine.
EVM -- described as the "devil" by one worried voter -- was the hot topic of discussion among the people, who, however, said they would vote in the December 14 election in the state, despite their concerns.
With the circulation of messages on social media sites about EVMs being tampered with, many in the border district of Chhota Udaipur feared their votes might be transferred to other candidates.
"Our vote is the only power we have and if somebody changes it, what are we left with in a democracy," asked 57-year-old Sayed Mala, a small-time construction contractor.
Mala said he did not trust the electronic machines, adding that ballot papers were the more credible option -- a sentiment shared by many others across the district with three assembly constituencies.
Educated sections of the people, with access to social media platforms such as WhatsApp and Facebook, were more worried about EVMs than the others.
"I know who I will vote for. But I am not assured if it will be counted in his favour. But with a ballot paper, my vote can't be changed," said Kalol college student Sultan Hussain.
Another constituent said he was not convinced about the Voter Verifiable Paper Audit Trail, a process to verify that the vote cast had gone to the candidate concerned.
Farooq Sayeed from Timla village in Chhota Udaipur compared EVMs with the "devil".
"There are so many videos of EVMs being tampered with on social media. My vote can be changed," he said.
The worries about the machines were not largely shared by Hindu voters.
Narendra Sinh Bari, a 38-year-old man who runs a mobile shop, said any method could trigger doubts.
"We should trust the machines," he said.