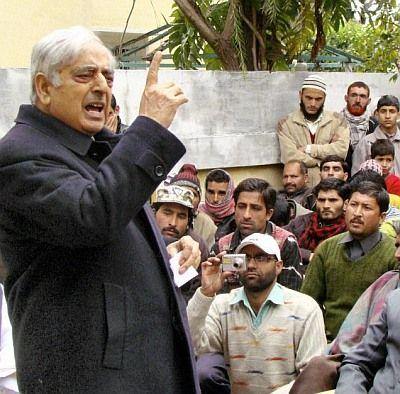 A man of perseverance and great survivor, Mufti Mohammed Sayeed has an astute political sense honed by decades of experience in Kashmir politics that has stood him in good stead in crafting a delicate alliance with Bharatiya Janata Party to return as chief minister for the second time.
Sayeed, 79, who was the country's first Muslim home minister, however, saw his image dented when his government headed by V P Singh accepted the demand by a militant group that 5 of their men be set free in exchange for release of kidnapped Rubaiya, one of his three daughters.
The release of the militants in exchange for Rubaiya's freedom had a far-reaching impact on the politics of the sensitive state of Jammu and Kashmir. Rubaiya was abducted just 5 days after the National Front government assumed office on December 2, 1989.
A suave politician, Sayeed, who has changed political allegiance frequently, was at the helm of internal security as home minister when militancy reared its head in the Valley triggering the infamous exodus of Kashmiri Pandits in 1990.
Before launching his own political outfit Jammu and Kashmir People's Democratic Party in 1999 with his daughter Mehbooba Mufti, Sayeed spent considerable part of his political career in Congress with brief stints in Jan Morcha under V P Singh and also as Democratic National Conference member led by G M Sadiq in 1950s.
An avid golfer like his arch rival Farooq Abdullah of National Conference, Sayeed was able to form the government in J and K within 3 years of launching his own party with support from the Congress.
His party was, however, ousted in 2008 Assembly elections as young Omar Abdullah led his party to victory in the state.
Much of the credit to his electoral success is given to Mehbooba Mufti, who has mobilised and organised cadre for the party and is known as a hard bargainer. Her bargaining prowess came to the fore after the assembly elections last year threw up a hung verdict.
Mehbooba is believed to have worked hard behind the scenes in ensuring that her father is agreed upon by the BJP as chief minister for a complete 6-year term and that the post is not on a rotational basis.
Born on January 12, 1936 in Bijbehara in Anantnag district of the state, Sayeed is an almunus of SP College in Srinagar and Aligarh Muslim University from where he obtained a degree in Law and Arab history respectively.
Sayeed started his electoral journey from his birth place in 1962 winning the seat under DNC and retaining it in 1967 which saw him being made a deputy minister by Sadiq.
In 1972, he became a cabinet minster and also Congress party's leader in the Legislative Council. In 1975 he was made the leader of the Congress Legislature Party and president of Pradesh Congress but lost the next two elections.
He joined Rajiv Gandhi's Government at the Centre in 1986 as union minister for tourism. A year later, he resigned in protest citing the alleged complacency of the Congress party in handling Meerut riots.