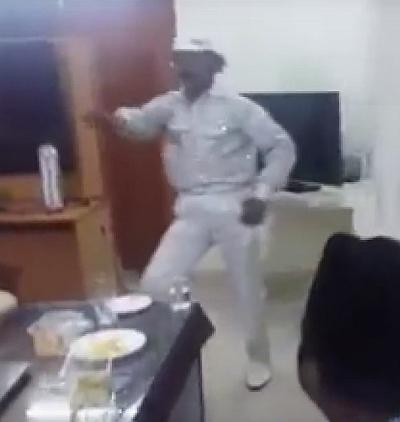 Turning an arrest into a mockery of sorts, the police in Hyderabad made a conman dance to the audience reportedly inside the city Deputy Commissioner of Police's office.
The video, released by ANI, shows 'Disco Baba' aka Anwarullah Khan -- who was among the 16 conmen who were arrested from the Old City area of Hyderabad for indulging in black magic -- grooving on Mithun Chakraborty's popular disco number, 'I am a disco dancer'. The video has since gone viral.
According to a NewsX report, instead of charging the conman with fraud, he was made to dance in the DCP's office. The video shows the policemen, along with some other people in civil dresses, enjoying the dance.
According to media reports, when middle class or upper class people approached him to solve health related problems, 'Disco Baba' -- a self-proclaimed unani doctor -- would immediately suggest that a treasure trove in their houses to be the cause of all maladies.
"By posing to perform special rituals to unearth treasure troves, 'Disco Baba' used to plant fake gold bars at victim's houses and collect lakhs of rupees from them. He duped one Syed Iftekar Hussain of Riyasatnagar and his relative to the tune of Rs 45 lakh in this manner," the DCP told the Times of India.
"It is because of hidden treasures of gold in your house that ill health has befallen your family. Let me take out the 'khazana' and your family will be released from the curse," 'Disco Baba' reportedly used to tell people.
Police seized 66 gold-coated bricks, 176 gold-coated biscuits, 30 gold-coated coins and three gold-coated brass bracelets from his residence.