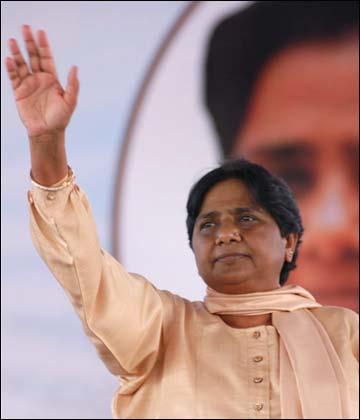 While Bharatiya Janata Party's countrywide vote share shot up by over 12 per cent at the expense of other parties, the chart throws some contrary pictures as parties like Bahujan Samaj Party got no seat in spite of third-highest vote share, but Trinamool Congress and All India Anna Dravida Munnetra Kazhagam clinched over 30 seats each with less than 4 per cent vote share.
An analysis of vote share data between Lok Sabha polls of 2014 and 2009 shows that BJP's vote share at national level has gone up to 31 per cent from less than 19 per cent during last elections. During the same period, Congress' vote share has dipped to nearly 19 per cent from over 28 per cent.
On the other hand, BSP's nationwide vote share has declined from over 6 per cent to 4.1 per cent and still remains third largest party in terms of vote share after BJP and Congress.
Within Uttar Pradesh, BSP has got nearly 20 per cent votes – third largest after BJP (42.3 per cent) and Samajwadi Party (22.2 per cent) -- although it has failed to win a single seat.
Bahujan Samaj Party has interestingly come third with 4.1 per cent vote share or 2.3 crore votes, but it has no seat in its kitty. Its candidates came second on 34 seats.
Samajwadi Party is also not far behind with 3.4 per cent vote share, although Mulayam Singh Yadav-led party could manage to win only five seats.
BJP has got 71 seats and its ally Apna Dal has got two seats, while SP has won 5 seats. Congress has won two seats (Sonia and Rahul Gandhi from Rae Bareli and Amethi respectively), while its vote share now stands at 7.5 per cent.
In Bihar, Janta Dal United has seen a sharp decline in vote share to 16 per cent, while it could win only two seats.
Even among those having won some seats the number of seats is not in proportion with their respective vote shares.
Mamata Banerjee-led Trinamool Congress has got 34 seats with about 3.8 per cent vote share.
The number of seats won by AIADMK is even larger at 37, although vote share stands at 3.3 per cent. At the same time, CPI(M) with a similar 3.3 per cent vote share has managed to win just nine seats.
Biju Janta Dal, the fifth largest party in terms of seats after BJP, Congress, AIADMK and TMC, has got 20 seats although it stands much lower on the vote share tally at 14th position with 1.7 per cent share.
The DMK has also got 1.7 per cent vote share, but has no seats to show in its kitty.
As per Election Commission figures, BJP has come out with flying colours in these elections winning 282 seats on its own, while it got nearly 17.16 crore votes accounting for 31 per cent vote share.
The Indian National Congress, which has been left with just 44 seats, has managed to get 10.7 crore votes or about 19.3 per cent share.
Shiv Sena has got 1.9 per cent vote share with 18 seats, while Aam Aadmi Party has 2 per cent votes and four seats.
Nationalist Congress Party has managed six seats with 1.6 per cent.
The data shows that a total of 18 parties have managed to win 1 per cent or more vote share in these elections, while those getting less than 1 per cent of total votes include CPI (0.8 per cent), Janta Dal Secular (0.7 per cent), Shiromani Akali Dal (0.7 per cent) and Indian National Lok Dal (0.5 per cent).
Others with lesser vote shares include AIUDF, Ram Vilas Paswan-led LJP, DMDK, PMK (0.4 per cent), RSP, Jharkhand Mukti Morcha, JVM, MDMK, AIFB, SWP, IUML, BLSP, CPI(ML)(L), Naga Peoples Front, Apna Dal and BMUP.
A vote share comparison with past Lok Sabha elections shows that BJP's vote share has gone up from 18.8 per cent in 2009, while that of Congress has fallen sharply from 28.55 per cent at that time. BSP's vote share has also come down from 6.17 per cent in 2009.
BSP was third largest in terms of vote share in 2009 elections also, but it had won as many as 21 seats at that time. During 2004 Lok Sabha elections, BSP got 6.17 per cent votes and bagged 19 seats, while the party's tally in 1999 polls stood at 14 seats and 4.16 per cent votes.