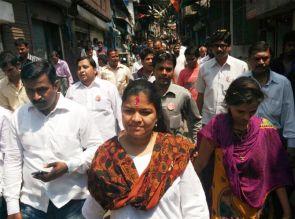 Bharatiya Janata Party Rajya Sabha MP Nitin Gadkari, late BJP leader Pramod Mahajan's daughter Poonam, former Maharashtra Deputy Chief Minister Vijaysinh Mohite Patil are a few of the 29 new entrants to the 16th Lok Sabha among the 48 MPs from Maharashtra.
Gadkari won his maiden Lok Sabha poll from Nagpur, defeating Congress veteran Vilas Muttemwar by a margin of 2.85 lakh votes.
Family members of politicians from Maharashtra also figure in the list of 29 new faces.
Late Telecom Minister Pramod Mahajan's daughter Poonam Mahajan wrested the Mumbai North Central seat from Priya Dutt by a margin of 1.87 lakh.
Heena Gavit, daughter of former Maharashtra Minister Vijay Kumar Gavit, defeated Congressman Manikrao Gavit from Nandurbar, who was seeking a record tenth term, by a margin of 1.07 lakh votes.
Shrikant Shinde, son of Shiv Sena MLA Eknath Shinde, won the Kalyan parliamentary seat defeating Anand Paranjpye of NCP by a margin of over 2.50 lakh votes.
Raksha Khadse, daughter-in-law of Leader of Opposition in the legislative assembly Eknath Khadse won the Raver Lok Sabha seat by a margin of 3.19 lakh votes.
Krupal Tumane (Ramtek) and Nana Patole (Bhandara-Gondiya) of BJP and Ramdas Tadas (Wardha) and Gajanan Kirtikar (Mumbai North West) of Shiv Sena, who had unsuccessfully contested the 2009 Lok Sabha polls, wrested the seats from the incumbents this time.
Hemant Godse (Shiv Sena) who had unsuccessfully contested the Nashik seat as MNS candidate in 2009, wrested the seat from NCP as Sena candidate.
Kapil Patil, who has won from Bhiwandi had quit NCP less than a month before the polling and joined BJP.
Rajan Vichare of Shiv Sena defeated Sanjeev Naik of NCP from Thane by a margin of 2.82 lakh votes.
Chintaman Wanga of BJP defeated sitting MP Baliram Jadhav from Palghar by a margin of over 2.39 lakh votes.
Ashok Nete, a former MLA of BJP wrested the Gadchiroli-Chimur seat from Congress, which had replaced its sitting MP Marotrao Kowase with sitting legislator Namdeo Usendi.
Sanjay Jadhav of Shiv Sena won the Parbhani seat against NCP's Vijay Bhambale by a margin of over.127 lakh votes.
Rahul Shewale of Shiv Sena, who defeated two-time MP Eknath Gaikwad of Congress from Mumbai South central is the standing committee chairman of Mumbai civic body.
Other newcomers are Arvind Sawant (Mumbai South) of Shiv Sena, Gopal Shetty (Mumbai North) of BJP, Shrirang Bharne (Maval) of Shiv Sena, Anil Shirole (Pune) of BJP, Sadashiv Lokhande (Shirdi) of Shiv Sena, Ravindra Gaikwad (Osmanabad) of Shiv Sena, Sunil Gaikwad (Latur) and Sharad Bansode (Solapur) both BJP candidates winning by more than 2 lakh votes.
Sangli strongman Sanjay Patil, who was NCP MLC, is an arch rival of state home minister R R Patil in Sangli. Sanjay Patil trounced Pratik Patil of Congress winning by over 2.30 lakh votes.
Vinayak Raut, former MLA from Vile Parle and a sitting MLC, trounced Nilesh Rane, son of Maharashtra Industries Minister Narayan Rane, by a margin of over 1.5 lakh votes from Ratnagiri-Sindhudurg.
Dhananjay Mahadik of NCP is another newcomer defeating Shiv Sena's Sanjay Mahadik in Kolhapur by over 30,000 votes.
Subhash Bhamre of BJP defeated Congress leader Amrish Patel in Dhule by a margin of over 1.30 lakh votes, considered a favourite this time.
Rajeev Satav of Congress is another newcomer from Hingoli.
Vijaysinh Mohite Patil, former Deputy CM, is another new entrant in the Lok Sabha, winning from Maadha constituency by a margin of over 2.53 lakh votes.
Former Maharashtra Chief Minister Ashok Chavan (Congress) and Kirit Somaiya (BJP) have been MPs earlier.
Image: BJP leader Poonam Mahajan