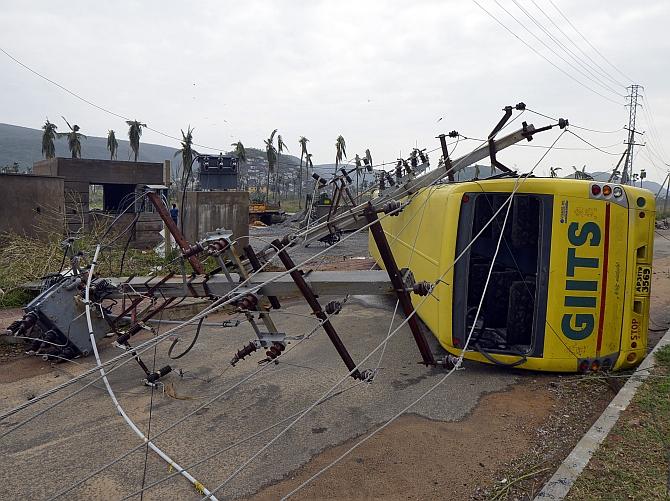 Power lines and a passenger bus are seen after being damaged by strong winds caused by cyclone Hudhud in the southern Indian city of Visakhapatnam. Photograph: R Narendra/Reuters
Under the impact of Hudhud that made a landfall in Visakhapatnam on Sunday, accompanied by gusty winds and heavy rains, the city looks like a war-ravaged zone with uprooted trees, knocked down cell towers, transformers, and telephone poles lying strewn at several places.
Communication systems and electricity broke down in the city since Saturday night and people are falling back on the radio to receive important updates.
Death toll in the cyclonic storm rose to 21, with sixteen more people reported to have died, authorities said. "Fifteen deaths were reported from Visakhapatnam district, five in Vizianagaram and one in Srikakulam," Special Commissioner in State Disaster Management Authority, K Hymavathi told PTI.
Advisor (Communications) to the government Parakala Prabhakar said most of the deaths occurred due to falling of trees on the victims.
Hudhud did not spare Visakhapatnam airport either blowing away its roof in gales. Lights and boards in the facility are either knocked down on ground or swept away.
"We were scared. We closed windows but the sound of winds itself was scary," a woman resident said.
The flood water has entered residential and apartment complexes at some places and it needs to be pumped out now.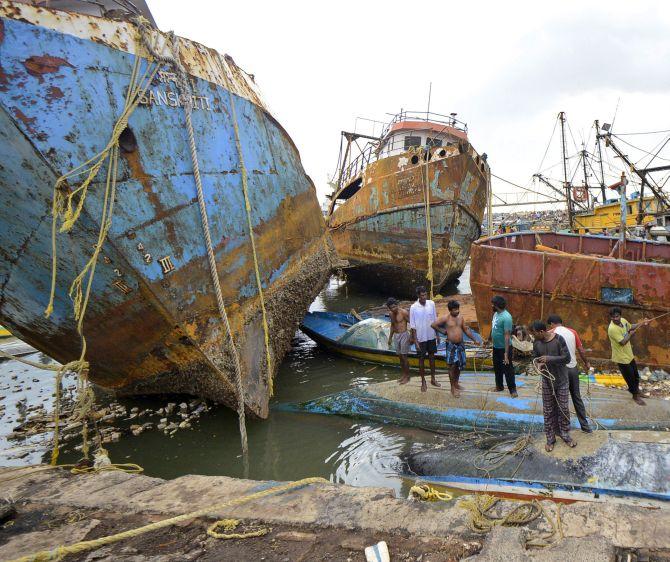 People stand on boats damaged by strong winds caused by Cyclone Hudhud in Visakhapatnam. Photograph: R Narendra/Reuters
"Visakhapatnam is a place I like very much. But, it is painful to see the city this way," said Andhra Pradesh Chief Minister N Chandrababu Naidu who is camping in the city to oversee relief operations.
The residents of the port city, who were confined to their homes, ventured out on Monday with dry weather prevailing after Hudhud tapered off into a deep depression over south Chhattisgarh and its neighbourhood as per the IMD bulletin issued on Monday morning.
Long queues were witnessed at petrol pumps and citizens sought to buy essential food items like milk.
The National Highway 5 (Kolkata-Chennai) was shut as a precautionary measure and uprooted trees and electric poles disrupted the flow of traffic in the city.
With rescue workers, including NDRF personnel, clearing the way, traffic movement revived on Monday afternoon.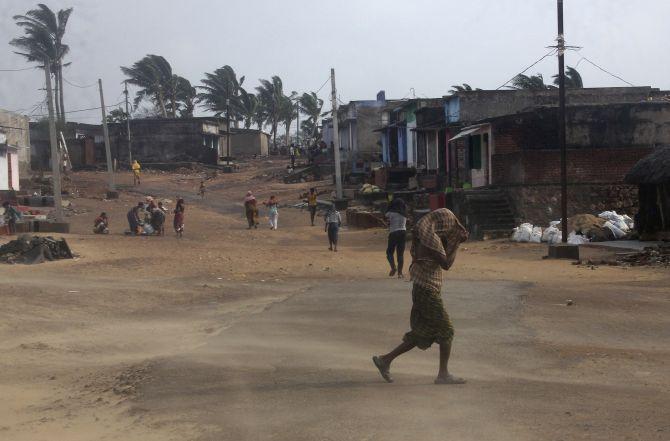 A man covers his face as wind blows dust near a beach in Gopalpur in Ganjam district in the eastern Indian state of Odisha. Photograph: Reuters
Naidu, who undertook an aerial survey of the city and later held a review with officials, said he would stay put till confidence is instilled among citizens that they can get on with their normal routine.