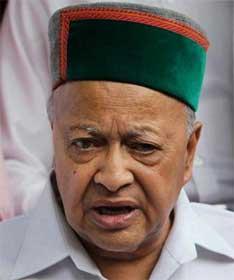 Himachal Pradesh Chief Minister Virbhadra Singh has unilaterally withdrawn the defamation case filed against Arun Jaitley, the Union finance minister.
The chief minister, who had filed three defamation cases in January against former Chief Minister P K Dhumal, his son Anurag Thakur and BJP leader Jaitley for making "defamatory allegations" against him, has withdrawn the case against Jaitley.
"The defamation case against Jaitley stands withdrawn as I do not wish to press the issue now as Jaitely is finance minister of the country and the state government has to interact with the Union ministry on important financial matters concerning the state," the chief minister told reporters on Thursday.
The case was withdrawn recently.
Reacting to the move, BJP spokesman Ganesh Dutt said that "by withdrawing the defamation case filed against Jaitley, it has become clear that Virbhadra Singh had filed a false case in the first place".
"Such a move by the chief minister has damaged the reputation of Jaitley and he should apologise for it," he said.