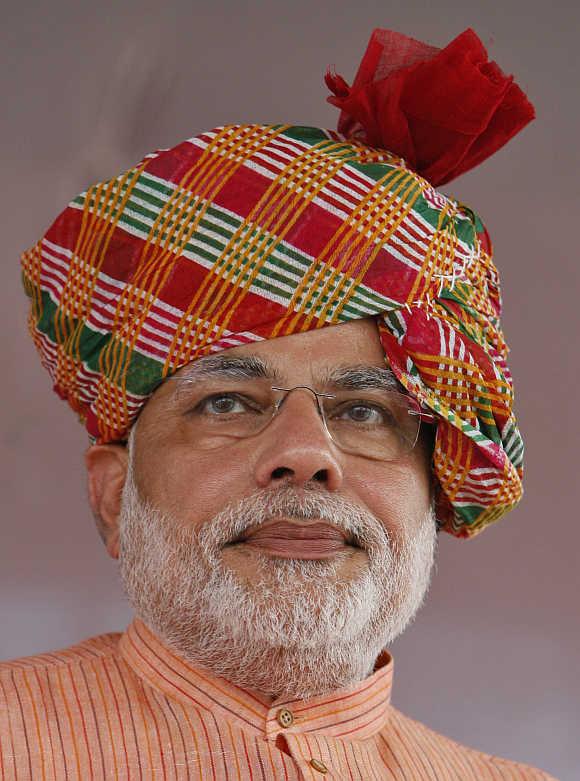 Prime Minister Narendra Modi on Friday opposed the move by BJP-ruled states of Gujarat and Madhya Pradesh to include his life story in education curriculum, saying living individuals should not be part of the school syllabus.
"I firmly believe that the life story of living individuals should not be included as a part of the school curriculum," he tweeted.
"I am reading in the news that some states want to include Narendra Modi's life struggles as a part of their school curriculum," he said.
Noting that India has a rich history of several stalwarts who made India what it is today, Modi said, "Young minds should read about these greats & emulate them". He was commenting on the moves by the Anandiben Patel government in Gujarat and the Shivraj Singh Chouhan government in MP to include his life story in school syllabus.
With the prime minister expressing displeasure over the move, the Gujarat government dropped the idea of incorporating the story of Modi's life in school syllabus across the state. After receiving a call from Modi at around 7 am, State Education Minister Bhupendrasinh Chudasama dropped the idea of teaching Modi's life to schools kids.
"Narendrabhai called me this morning and told me that it is not appropriate to include life and events of a living person in the school syllabus. He was not happy with the idea of teaching his life in primary schools. He asked us not to go ahead with that project," Chudasama told reporters.
On Thursday, Chudasama had announced that important chapters of Modi's life will be included in the syllabus of primary schools to teach leadership skills to the next generation.
"The chapters may include events starting from his birth, his humble family background, school days, how he faced struggle at different stages of his life and what are the circumstances behind his decision to become a monk," the Gujarat Education Minister had said.
He had said that selected important and inspiring events which took place until Modi became prime minister would be included and a process has been initiated to form a committee to prepare the final list of events to be included.
"These events will be included in the syllabus of primary schools, such as fifth, sixth and seventh standard. Since this initiative is at a primary stage, the new syllabus will come into effect only in 2015-16," the minister had said.
Earlier, Madhya Pradesh government had said that lessons on the life of Modi may be included in the school curriculum to "inspire" students.
"We have received suggestions from various quarters that a life-sketch of Modiji be taught in the schools, to inspire students from early age," School Education Minister Paras Jain had said.