A purported video in which veteran Congress leader A K Antony's wife Elizabeth was seen justifying their elder son's recent entry into the Bharatiya Janata Party has gone viral on social media platforms, putting the Congress party in a fix in Kerala.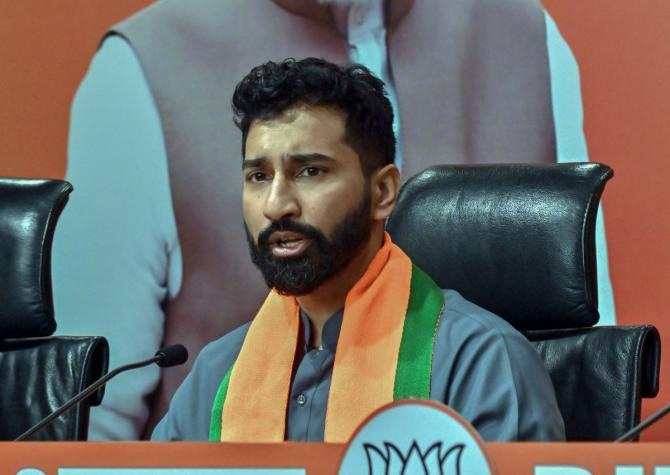 In the video, released on the YouTube channel of a Christian meditation centre, an emotional Elizabeth could be seen admitting that she knew about the invitation Anil Antony received from the saffron party much earlier.
Claiming that her son got the new opportunity in politics because of the intercessory prayers, she said it had also helped resolve the issues that cropped up in the family due to his unexpected entry into the BJP.
She said though both her sons wanted to join politics, the resolution passed by the Congress party in its recent Chintan Shivir against dynasty politics was a setback.
She said she prayed intensely for the good future of her son and then she received a call from Anil.
"My son turned 39...He called me and said he got a call from the Prime Minister's Office, and they asked him to join the BJP," Antony's wife said in the video.
She said she and her family lived and believed in the Congress Party, but her son told her that he would get good opportunities if he joins the BJP.
She said though she had contempt for the BJP, it was later changed through prayers, and she didn't reveal Anil's decision to join the BJP to anyone in the family.
However, Elizabeth admitted that Anil's BJP entry became a shock to A K Antony when he came to know about it through TV channels four days later.
She said Antony admitted his son's decision later and asked him to come home whenever he wanted, on the condition that politics should not be discussed in the house.
In the video, she was also seen saying that Antony became a member in the Congress Working Committee (CWC) due to her prayers.
Various news channels telecast Elizabeth's video, which went viral on social media platforms as well.
The Congress leadership, A K Antony or Anil Antony were yet to react to the matter.
Anil Antony, son of former Defence Minister A K Antony, had joined the BJP in April this year.
After joining the saffron party, he slammed a section of the Congress leadership for 'serving the interests of a single family' instead of working for the country.
Anil, who headed the Kerala Congress' digital media cell before quitting the party earlier this year, was welcomed into the BJP by Union ministers Piyush Goyal and V Muraleedharan, as the ruling party seeks to increase its foothold in the southern state.
A K Antony, a close confidant of former Congress president Sonia Gandhi, had termed his son's action 'wrong' and 'very painful' for him.