If you can't control law and order, then resign, VHP tells NDA government in Bihar.
M I Khan reports.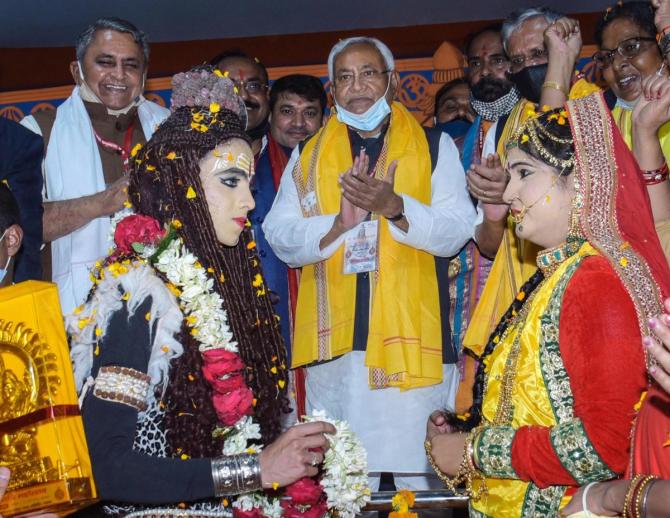 The Vishwa Hindu Parishad, part of the Sangh Parivar, has questioned the growing lawlessness in Bihar and termed the Bharatiya Janata Party-led National Democratic Alliance rule as 'jungle raj'.
This is probably the first time in 16 years that the NDA has been in power in the state that a BJP cohort has publicly criticised the state government over deteriorating law and order.
Angry over the killing of VHP and Bajrang Dal workers in Bihar in the last three months, the VHP has demanded that the NDA government control law and order or resign.
'VHP and Bajrang Dal workers are being regularly killed in the state, but the NDA government led by Chief Minister Nitish Kumar has closed its eyes and sleeping,' the VHP says.
Keshav Raju, the VHP's organisational secretary for Bihar-Jharkhand, has described the Nitish Kumar government's rule as 'jungle raj'.
'Agar kanun vayvastha nahi sambhal raha toh istifha dekar ghar mein baithe (if you can't control law and order, then resign and go home),' Raju told the NDA government in Bihar.
Keshav Raju and the VHP's prantiya mantri Rajkishore visited the family of fruit trader Dipu, a Bajrang Dal worker who was shot dead on March 8 in Darbhanga district, and demanded that Dipu be awarded the Shaurya Chakra as he had 'sacrificed his life for society'.
Raju and Rajkishore said 13 people were killed in Sitamarhi district alone in the last month, and a VHP worker was attacked in Darbhanga.
'What are the district magistrate and superintendent doing, where are they, why did they fail to manage law and order? We will not allow this to continue,' Raju said.
So far the Mahagathbandhan including the Rashtriya Janata Dal, Congress and Left parties have been attacking Nitish Kumar's NDA government over deteriorating law and order.
The VHP's attack against the state government is a new development as the BJP is the dominant partner in the coalition government and enjoys more clout today than at any time in the past.
In recent months, at least three BJP workers were shot dead while two party leaders were shot and seriously injured in the state.
According to state government data, 2020 -- January to December -- witnessed 3,149 murders in Bihar, an average of nine a day.
As per official data, there were about 8,004 kidnapping cases and 42 kidnapping for ransom last year.
Similarly, 1,438 rape cases, 31,971 cases of theft, 4,031 cases of looting, 170 dacoity cases, 12 bank dacoity and 11 bank robbery cases were reported last year.